5 Ways to Recruit Recent Graduates for STEM Jobs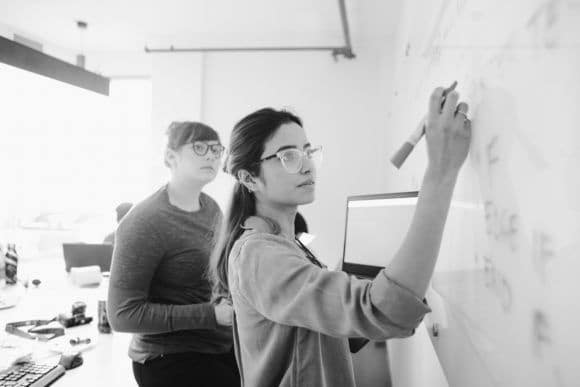 The STEM fields—an acronym comprising science, technology, engineering, and math—continue to grow at a fast clip, and employers are having a hard time filling these positions. Talent is out there, but competition is stiff. With companies of all sizes trying to fill a high volume of STEM jobs with limited resources, how can your company compete?
Recruiting recent graduates is a great way to bring highly motivated professionals with cutting edge skills into your organization. They're anxious to kickstart their careers and put their best foot forward, and may be more receptive to your company's culture and processes.
Of course, your recruiting strategy should never be limited to just one demographic. However, if you want to win the race to fill STEM jobs, you'll need to step up your efforts among recent graduates. These five tips will help you get started:
Approach every job postings as an advertisement for your company.
Put your mission statement on your website.
Highlight opportunities for social engagement at your company.
Connect current employees with colleges and universities.
Don't dimiss less-polished candidates.
We'll discuss these in greater detail below. But first, some important background about STEM graduates and the overall climate for recruiting them.
Demand for STEM Grads is High: Plan Accordingly
Data from the National Association of Colleges and Employers shows companies of all sizes respond to the competition for STEM college graduates with tactics such as:
Establishing internships and co-ops well before senior year
Recruiting throughout the entire academic year
Sponsoring campus events to gain the inside lane on student recruitment
While those tactics are a good start, your competitors are probably doing the same things. In order to stand out, you'll need to understand your company's unique advantages, which may include being a small business or startup and getting a handle on local economic conditions and trends.
Your small business may have a competitive edge over larger corporations, since smaller organizations tend to provide a greater degree of responsibility and autonomy. New graduates may want to make their mark early as opposed to being a small fish in a large pond. Keep in mind that recent grads preferring to work for a large company cite competitive compensation, formal training programs, and challenging, meaningful work as motivators.
While national trends are informative, local market conditions also influence graduate hiring. Before you post your STEM job, it's imperative that you research salary trends in your area, the types of perks and benefits people want, and any other ways you can make your role more attractive to recent graduates.
How to Find Recent Grads for Your Open STEM Jobs
Here are five concrete ways that you can upgrade your recruitment strategy to find the right STEM candidates:
1. Make Every Job Posting an Advertisement
A well-written job description presents an opportunity to sell both the position and the organization, so be descriptive about why your company is a great place to work. This means starting off your job ad with a paragraph on the vision of your organization, which will help orient readers to your management philosophy while emphasizing the fact that you care deeply about the global impact of your business.
In the skills and responsibilities sections, highlight the soft skills your company values in outstanding employees, including a passion for your mission and enthusiasm for making a positive impact in the world. Soft skills include important qualities such as the ability to clearly communicate, collaborate with others, and keep cool under pressure.
Location and work-life balance are also important selling points in the job description, especially for recent grads. A hybrid workplace or other remote work options may even be more valuable than additional pay to many candidates.
2. Include Your Mission on Your Website
Recent grads care about company purpose and opportunities to do actual good. To appeal to millennial and Gen Z STEM graduates, put a mission statement on your website emphasizing why your company is in business rather than what it does. Focus your employer brand messaging on the core set of values and beliefs that motivate employees to go to work every day, rather than the products and services that your organization offers.
3. Create a Social Atmosphere
Younger workers want great employment experiences that go well beyond the day-to-day activities of their particular position. For instance, employee resource groups (or ERGs) that provide a meeting place for individuals who have similar interests or challenges are particularly valuable.
Friday happy hours, catered lunches, company team-building events outside the office, and other such events can go a long way toward cultivating a social atmosphere at your company. Promoting these types of activities in your employment ads can help you recruit recent graduates for your STEM jobs.
4. Send Alumni Back to Campus
Since recent college grads may hold negative stereotypes of older workers, it can help to bring younger employees with you to campus for recruitment events. Even better if you can match fresh alumni to college career fairs where they're likely to know students. Finally, offer incentives for referring potential hires to help young employees feel extra motivated.
5. Consider Less Polished Applicants
STEM graduates are in short supply, but there are always some candidates that don't make it past the first round of interviews due to a lack of polish and social skills. However, those students, when paired with the right mentor, can pick up soft skills on the job.
Other groups that employers sometimes overlook include chemistry, physics, and biology majors who anticipated moving on to graduate or professional schools but didn't make the cut. They may lack pre-professional work experience, but they're often smart candidates who just need a chance. Companies with time to devote to on-the-job training will find they make great hires.
Find Great Candidates for Your Open STEM Jobs
Much like the STEM candidates that you're hoping to hire, you need to be calculating, precise and thorough in planning your recruitment strategy. This means staying informed about what's motivating recent grads and how to most effectively reach them. That's where Monster can help. With our New Grad Hiring Guide you'll be armed with the right strategies to keep you ahead of the curve.