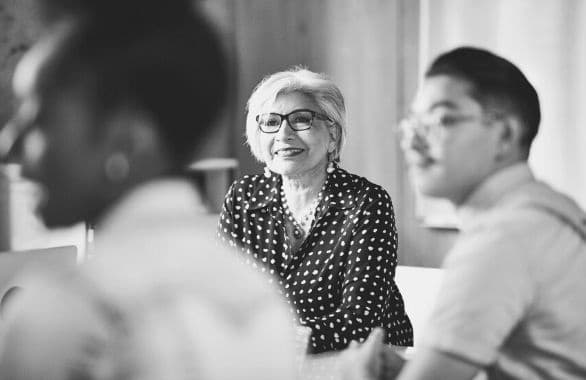 Is your company struggling to find skilled, reliable full-time or part-time workers? It turns out that the most knowledgeable and reliable portion of the potential workforce is also among the most overlooked: older workers.
Contrary to popular assumptions, research shows that knowledge and expertise increase across the human lifespan—well into our 80s. As people continue to live longer, healthier lives, the portion of the workforce age 55 or older is projected to increase faster than other age groups. Still, older workers not yet ready to retire have been pushed out of the workforce at a steady rate due to widespread misperceptions about this age cohort.
This means hiring seniors could be the solution to filling that position you just can't seem to find a good fit for. Are you having trouble finding part-time help? Workers 65 and older are twice as likely as younger workers to work part-time.
Not only are workers age 55 and older under-recruited, but hiring them comes with unique advantages:
Tips for Finding and Recruiting Older Workers
A growing percentage of American workers say their plans include working after retirement. For many this may mean a part-time position or consulting work. For others, this may mean coming out of retirement and returning to work full time—but only for the right opportunity.
So how do you find and attract older candidates?
Tips to Avoid Ageism in Your Hiring Process
A successful age neutral recruitment strategy starts with recognizing stereotypes about older workers for exactly what they are—an illegal form of discrimination based on false assumptions. For example, many recruiters believe that older workers are less adept at technology, , or are less ambitious than younger workers.
Evidence indicates otherwise. In fact, older workers out-perform less experienced workers in many areas. To attract top-quality seniors to your organization, you first need to eliminate ageist language and practices from your hiring processes. Since workers older than 40 are a protected category of workers, not taking this important step could place you in violation of the Age Discrimination Employment Act (ADEA).
Follow these steps to overhaul your employment practices of ageist practices and improve your chances of hiring seniors:
How to Make the Most of Senior Workers' Experience
Older workers should be considered, and actively recruited, for a wide range of work functions. Don't just think of seniors as good candidates for part-time, low-stress jobs—even though they definitely can excel in such roles. The most effective employment strategy includes hiring seniors in both part-time and full-time roles, including meaningful and important jobs throughout your organization.
Some of the most effective ways to leverage the unique talents of older workers include:
Now That You Know Why and How to Hire Older Workers, Get the Word Out With a Free Job Listing
If you're looking to reach untapped talent and attract top applicants, a free job post from Monster can help extend your reach. Regardless of whether you're hiring seniors, recent grads, or anyone in-between, your next high-performing employee is out there—make sure they can find you.