How to Hire a Web Developer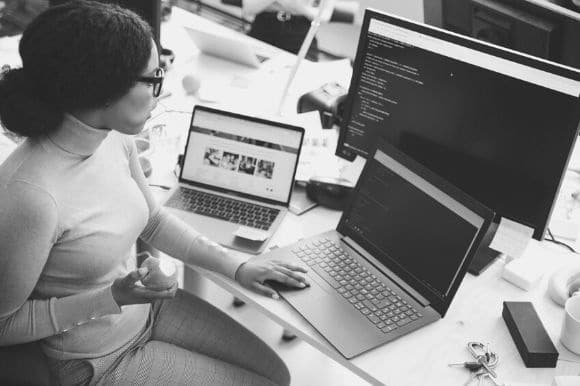 Today's consumers use websites to find, evaluate, and make purchases, so it's essential to have a well-designed and easy-to-use website. Learning how to hire a web developer is critical to building an engaging website.
Recruiting technical talent can be a challenge for non-technical business owners or managers. To help you find the best fit for your team, here are the top considerations for hiring a web developer:
Understand the type of web developer you need, and whether you need one.
Determine whether you need a web developer for a project or ongoing support.
Write an effective web developer job description.
Ask insightful and revealing interview questions.
Emphasize adaptability and a growth mindset.
1. Understand the Basics of What a Web Developer Does
A web developer is a person who develops applications or creates and maintains websites. Within that group are three additional classifications: back-end developer, front-end developer, and full-stack developer.
A back-end web developer creates the programs and processes that run a website or application. The end-user doesn't see or directly interact with the work a back-end web developer produces. Rather, it's the engine that keeps everything running smoothly behind the scenes. Front-end developers create and manage the parts of a website or application that users see and interact with. If you need someone who can work cross-functionally between back-end and front-end development, you'll need a full-stack web developer.
Learning how to hire a web developer also requires you to know the difference between a web designer and a developer. If your website project requires a change in how the website "acts," you want to hire a web developer. If your goal is to update the "look and feel" of your website, a web designer is better suited for the role.
2. Decide Whether You Need Help for a Single Project or Ongoing Support
Even if you know the basics of how to hire a web developer, you'll still need to clearly define your company's web development needs. One of the most common considerations is whether to hire a full-time employee, part-time employee, or short-term contractor. When making this decision, think about the scope of your current project as well as your future web development needs.
For example, if you're building a simple website with a flat architecture that will need minimal changes and updates, hiring a freelancer to complete the project may be the best fit. If you're launching an e-commerce website that will require advanced functionality, integration with your customer relationship management system, and weekly updates to content and inventory, a full-time employee may help you keep your website moving smoothly.
Another important factor is your business's required response to fixes and troubleshooting. A full-time or part-time employee provides you the security of an immediate response time should your website require attention to avoid potentially costly downtime.
3. Write a Detailed Job Description
Whether you hire an employee or a freelancer, the final step in learning how to hire a web developer is perfecting the art of crafting a job description that attracts top candidates for your specific needs. Standard parts of a job description include:
Overview of your company
Details about the position
Where the position fits in your organization
Who the person will report to and if they will be responsible for managing other employees
Important project management and soft skills
Number of years of experience required
Project description and the desired outcomes
Ongoing assignments and tasks
Request for a portfolio or links to other web development projects
In a competitive recruiting environment, your web developer job description can double as a marketing tool for your business, so be sure to include any industry awards, growth opportunities, and employee perks. Lastly, if you decide to validate technical skills using an pre-employment assessment as part of the interview and screening process, disclosing it in the job description will deter unqualified applicants.
4. Ask the Right Questions
With your job description in place, you're going to need a way to effectively narrow the field of candidates that will come knocking. Having the right interview process in place will ensure that you manage your time efficiently. It starts with screening applications by looking for the key "must-have" skills and experience. Next, a quick phone interview can give you an initial gauge of a candidate's responsiveness, professionalism, and interpersonal skills.
Once you've selected your slate of candidates to interview, you need to know the right interview questions to ask to uncover their technical and interpersonal skills. This includes questions about their background, proficiency, and project history.
5. Hire for Adaptability and a Growth Mindset
After a round or two of interviews, you should have a manageable field of candidates from which to choose. While you may be tempted to go with the candidate whose technical skill set is the closest match for your needs, it may be more important to consider soft skills such as the ability to problem-solve under pressure and an aptitude for learning new skills quickly.
Keep in mind that technologies rapidly change, making certain skills obsolete after just a couple of years, so it's more important to hire someone who can keep up and adapt. Similarly, you want someone who can stay cool under pressure, manage their  workload, anticipate problems ahead of time, and be a reliable steward of your website.
Crack the Code for Hiring the Best Web Developer for Your Business
Learning how to hire a web developer can be a daunting task for non-technical managers and business owners. Following these steps will ensure you succeed at finding the perfect addition to your team. Ready to start your search? Find out how you can get your next job posted for free on Monster.