5 Tips for Hiring Manufacturing Workers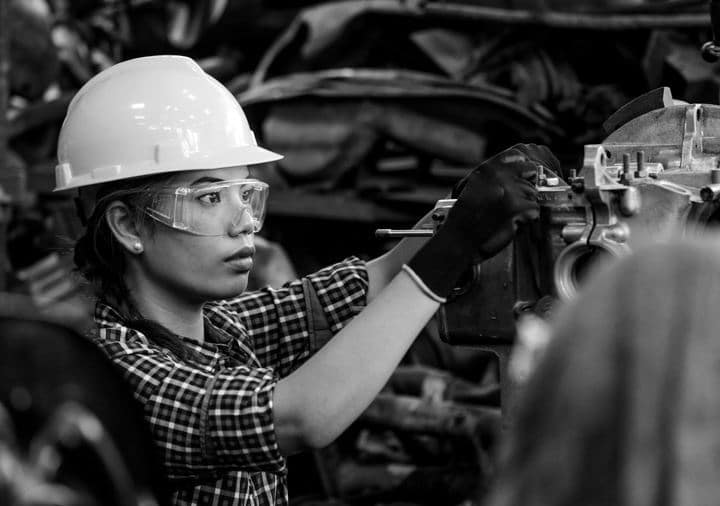 As an industry, manufacturing continues to thrive, yet hiring manufacturing workers can be challenging at best. Some 89% of manufacturing executives agree that there's a talent shortage in the industry, according to a study by Deloitte LLP and The Manufacturing Institute. This skills gap is poised to create 2.4 million unfilled positions between 2019 and 2028.
When hiring these workers, to source candidates, screen them properly, get them trained, and retain them, it's important to be strategic. Here are five strategies to help with your manufacturing and factory hiring initiatives.
1. Change the Perception
Manufacturing has a bit of an image problem. People often think that manufacturing jobs are disappearing offshore, that they don't pay well, and that the work is boring and repetitive, when in fact, none of those things are true. Instead, the demand for factory hiring is up and the job opportunities are varied, with everything from technology to engineering mixed in. As such, salaries have plenty of growth potential as well.
Beyond the manufacturing industry as a whole, your company culture matters, too. Think about some of the potential roadblocks you've had when embarking on hiring manufacturing workers. Are people backing away because of the work schedule? If so, consider building in some flexibility. Perhaps people might be concerned about the physical components of manufacturing. If so, highlight that there are lots of positions that focus on fine motor skills or operating machinery, or even manufacturing in technology, rather than heavy lifting or other physically demanding tasks.
Changing the perception about what manufacturing is all about – at both the industry and company level – can go a long way toward encouraging people to consider working with your organization.
2. Market Your Roles Well
Making sure your career site is mobile-friendly and highlighting employee success stories – especially people who have been promoted within the company – is one of the best ways to attract ambitious candidates. 
Another good recruiting technique for hiring manufacturing workers is to work with local high schools, community colleges, and technical schools to promote careers in manufacturing. It will not only introduce people to the field, but it will hopefully get the company name out there in a positive way.
You could also improve how you hire manufacturing workers by hosting open houses and job fairs to invite people in to see what the factory looks like and what the work entails. Use social media to post about local events, and search for groups to connect with so you can reach a niche audience.
3. Get Your Employees On Board
Is your company a great place to work? Good benefits? Good people? Allow your happy employees to share their experiences. Encourage your team to create posts on employer review sites, and spotlight various employees on the company's social media pages.
Then, take it to the next level, by ramping up an employee referral program. It's one of the best ways to find eager and partially vetted recruits for your company.
4. Ask Smart Interview Questions
It's critical to know what questions to ask when hiring manufacturing workers. The best way to dig deep is to ask behavioral interview questions.
Behavioral interview questions delve into how someone might handle an issue or challenge based on things they've done at a previous job. It can help those tasked with factory hiring figure out if a candidate will be a good team member, fit in with the company culture, and remain committed to their work even when challenges arise.
To create behavioral interview questions, think about the most important traits needed to succeed in the job.  Some examples might be:
What would you say to a coworker you saw violating safety rules?

What is the toughest piece of equipment to troubleshoot? 

Tell me about a time you worked on a joint project where your co-worker wanted to do the task differently. How did you resolve the situation?
Asking the right questions will give you insight into if someone's thinking aligns with the company's values.
5. Seek Out Trainable Talent
When faced with a talent shortage when hiring manufacturing workers, you may need to change your approach and hire people for their core characteristics, rather than just look for experience with a particular task. As long as someone has a solid foundation and strong work ethic, there is plenty of potential to work with. It's much easier to train someone to perform a technical job than it is to train them in how to fit into the company culture.
For those individuals who may be lacking some skills, it can be worth the investment to create a training program on how to do specific tasks. Whether it's an entry-level training program that lasts a couple of weeks or a full-fledged apprenticeship program, upskilling new hires is a great way to expand your talent pool. Once you offer opportunities for workers to enhance their skill set or advance up the job ladder, be sure to mention that in your job listings and on your career pages.
In addition, cross-training your current workforce is also wise so that people can wear multiple hats, move around laterally to prevent burnout, and grow within the organization. Many manufacturing and factory workers enjoy solving problems and working with their hands, so to retain skilled talent, keeping the jobs interesting and providing advancement opportunities is important.
Start Hiring Manufacturing Workers Today
Ready to grow your manufacturing team? Reach qualified candidates quickly with a free job posting on Monster.