How to Hire a Forklift Operator: Job Skills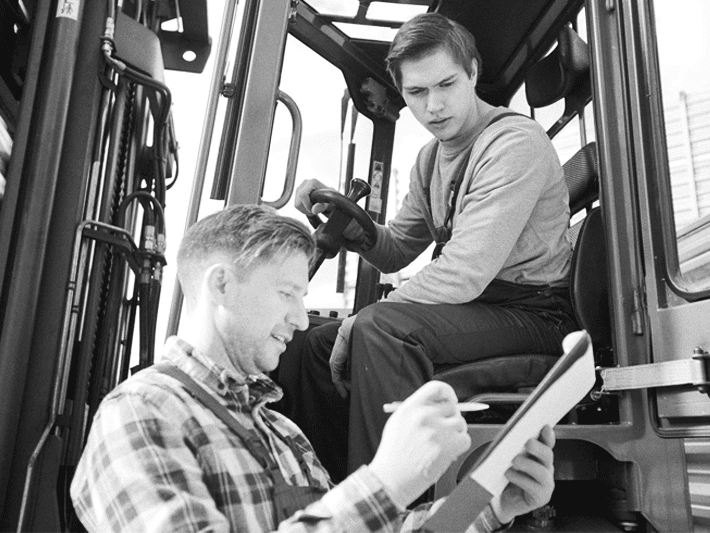 Are you looking to hire a forklift operator? The job brings to mind a familiar sound, "Beep-beep-beep…" That sound is a cultural cliché for a reason: it's the signal to get out of the way because a large, heavy load is headed in your direction.
Warehouses and distribution centers are busy—even chaotic—with fleets of forklifts scurrying to meet deadlines and customer demands. Knowing how to hire a forklift operator who understands the importance of safety, efficiency, and teamwork is vital.
The following recruiting tips will help you interview, source and retain forklift operators.
How to Hire a Forklift Operator: Training and Technical Certifications
Operating a forklift requires steady nerves and an even steadier focus on safety. Distribution logistics managers say that good forklift operators have an easy-going confidence in their ability to handle materials and customers alike. However, they also must have training covering basic competency in forklift operator skills.
In fact, the Occupational Safety and Health Administration (OSHA) requires employers to train all forklift hires on their equipment and in their environment, regardless of experience.
Training programs must provide both classroom and hands-on learning in the how's and why's of forklift operation, including these essentials:
What to expect at this workplace, including how surfaces and types of loads affect load stability and driving safety.
How to manage traffic in the workplace, especially pedestrian traffic.
The types of forklifts typically used, how to use them and how to understand mechanical problems.
Basic maintenance of the machine.
An understanding of physics and load mechanics.
OSHA safety standards.
In addition to these training programs, your hiring process must also include a hands-on test that validates the operator's skills.
Recruiting Tip:
Cultivate relationships with a few local training programs so you are familiar with their processes. The Greater West Town Training Partnership in Chicago, for example, goes beyond OSHA basics to include obstacle courses and training in navigating crowded workplaces and narrow aisles.
Additional Background Checks and Screens
OSHA closely monitors warehouse safety, including forklift-related accidents. While there is no centralized database of individual operators' track records, as there is for commercial truck drivers, OSHA does require that employers evaluate and certify operators every three years.
OSHA also mandates immediate training when an operator's performance fails to meet safety standards. The training must include formal instruction, hands-on exercises and an evaluation of the operator's performance.
Recruiting Tip:
Maintaining detailed training and incident logs for your current employees not only ensures compliance but it also gives you specific scenarios to present to candidates during their interview process. Asking them how they would react in certain situations can produce helpful insights.
Key Forklift Operator Skills
Not all skills needed to operate a forklift are obvious, including the ability to work with numbers and learn computer programs. When considering how to hire a forklift operator, you should also look for someone with the right attitude and soft skills for the job.
Key skills for a forklift operator include:
Ability to operate the type of forklift used at your facility. Skills are somewhat transferable, but even if the candidate has experience on the precise machines used in your warehouses, you still must train them, per OSHA requirements.
Math abilities—at least at an eighth-grade level—for calculating loads, bills of lading and freight quotes.
Aptitude for learning automated and computerized processes for inventory control.
Reliability: Forklift operators are a key link in the supply chain, getting the right materials to the right spot for on-time pickup or order fulfillment is key.
Recruiting Tip:
Part of the hiring process involves having the candidate demonstrate skills on the equipment they will be using. You can detect the candidate's attitude toward safety by how they get in and out of the machine. For example, look for a candidate who dismounts carefully, facing the machine; hopping or jumping out is a red flag. Also, whether they reach for their seatbelt right away says a lot about their work habits.
How to Source Forklift Operators
Of course, people who already possess substantial forklift operating skills are ideal. However, there are many other ways to source potential forklift operators, including:
Veterans with large vehicle experience often pick up forklift skills quickly.
Construction workers who have operated large vehicles and equipment are a natural fit.
Non-traditional workers, such as the long-term unemployed, ex-cons, and those re-entering the workforce after substance abuse recovery, often view operator jobs as a steady first step into the workforce.
Recruiting Tip:
The National Association of Workforce Development Professionals includes community colleges and training nonprofits that help nontraditional candidates segue back into the workforce, often via training for forklift and other transportation and logistics jobs.
How to Hire a Forklift Operator: What to Cover in Interviews
Your interview questions should pivot around safety habits and teamwork. Be sure to ask the candidate:
How they've made suggestions for process improvement at a prior position.
How they've gone above and beyond for an internal customer.
For an example about when their concern for safety has made a difference to co-workers or to the organization.
Recruiting Tip:
Ask the candidate to explain what a stability triangle is (it's a basic precept of keeping the forklift upright while handling loads). If they can't explain it, their training didn't stick.
Recruit to Retain Your Forklift Operators
With the possibility of safety incidents and property damage, you want to make sure that you can not only hire good forklift operators, but also keep them around. Consider exploring forklift operator career advancement opportunities, such as:
Training on specialty forklifts, such as cherrypickers
Training on handling special materials
Elevating an operator to a team or shift leader
Elevating an operator to a supervisor position
In addition, you may be able to entice a good operator to stay with other related jobs, such as:
Recruiting Tip:
When considering potential forklift career advancement, keep in mind that this should not be a process on automatic pilot. Those with strong safety records should be, and expect to be, rewarded with raises and preferred shifts. An organizational culture that values safety is also a strong selling point for recruitment.
How to Hire a Forklift Operator for Your Company
When it comes to hiring a forklift operator, you need to know that you're getting a qualified candidate who truly understands forklift safety. Here at Monster, we specialize in matching the right candidates for the right jobs and we're ready to help you. Find out how to jump start your hiring process with a free job posting for your next position.