7 Top Interview Strategies for Hiring Candidates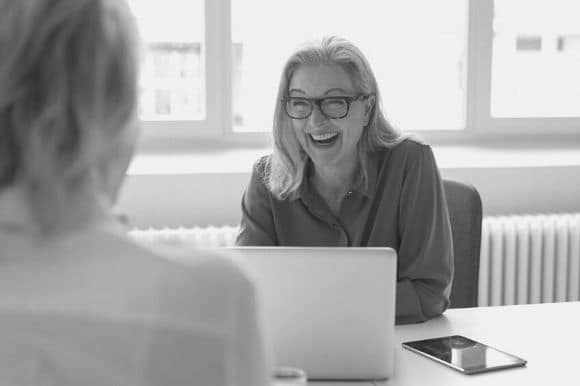 The right interview strategies will help you find valuable candidates and avoid making a bad hire, which can be a costly mistake. The Society for Human Resource Management estimates that each employee you hire that doesn't work out costs approximately six to nine months of their salary to replace. If you want to find a great fit for your team and company while also providing a positive interview experience for candidates, here's what to do.
1. Develop a Standard Interviewing Procedure
The interview is your best chance to learn about prospective employees' professional goals, aptitude, and communication skills — so the time you spend with candidates should be focused and informative. You don't want to spend too much time thinking about the next steps. That's why preparing your interview process in advance will help you host better interviews.
To create an interview process, you want to have a general outline of which steps you need to take and how to take them, such as:
A bulleted list of the job requirements.
The interview format in structure.
The interview questions you'll ask.
The evaluation process.
As you use the same procedure for each candidate, the process will eventually become second nature. Consistency will also make it easier to evaluate candidates, as you will be comparing apples to apples.
2. Automate Your Interview Process
With applicant tracking technology, such as applicant tracking systems (ATS) and artificial intelligence (AI), many parts of your interview process can be automated. These interview strategies can help you sort through hundreds of resumes and choose candidates with the required skills, education, and work experience.
They can also help you manage your interview questions, keep track of your scoring and hiring decisions, and share hiring information with your team. Use ATS and AI to streamline the parts of your interview process that don't need lots of manual work to free some of your time.
3. Practice Effective Questioning
The interview questions you ask are the tools you will use in your interview to get the most decision-making information out of the candidates. Put lots of thought into which will be most effective.
Ask open-ended questions that make the candidate comfortable enough to answer honestly. Choose a range of open-ended questions that will help you get to know the candidate as well as possible in the short amount of time you have together, such as:
Opening questions to break the ice and help the candidate feel comfortable.
Skills-based questions that will help you identify who has the relevant skills and aptitude.
Behavioral questions to understand how candidates have reacted to past circumstances.
Situational questions to decipher how the candidate might act in future scenarios.
Management-style questions that gauge their leadership ability.
Closing questions that end the interview on a positive note.
Some interviewers like to practice their responses in advance to different answers, so they are prepared for anything. You can also try asking questions based on the STAR method, which is a structured way to ensure your questions uncover more than what candidates might share on the surface.
Situation: Describe a situation where the candidate experienced what you're asking.
Task: Ask them what needed to be done and why.
Action: Follow this up by asking what action they took.
Result: Have them describe the outcome of their action.
Since this is more of an in-depth form of questioning, reserve it for a couple of important skills. It can be too much if you expect this level of explanation from the candidate for every question you have for them.
4. Interview Conversationally
Another one of the interview strategies to consider is helping candidates feel comfortable enough to open up by fostering a relaxed conversation. When candidates feel like they are being forcefully challenged or analyzed, it can be difficult to answer honestly.
To encourage casual conversation:
Invite candidates to ask questions and answer thoughtfully.
Listen intently and avoid interrupting.
Be friendly and allow the candidate plenty of time to think.
Give lots of information about the company and role.
Relax and be as natural as possible.
Prepare by having your questions ready and reading the resume in advance so you can focus on the candidate and their answers.
When you prepare for the interview, it's easier to have a casual conversation with your candidates. Remember though, they might be nervous. Sending them as much information about the interview process in advance, as well as doing what you can to keep them comfortable in the moment, will help.
5. Utilize Peer Interviews
Peer interviews are hosted by the candidate's prospective peers. This can help you get better information since many candidates feel more comfortable speaking to coworkers versus potential managers. This helps you decide who is a good fit by hosting more genuine interviews.
Rope in one or two team members that the candidate will be working with directly and have them interview the candidate. Coordinate your questions to be sure the same ones aren't being asked repeatedly. This way you can cover all the bases and get another perspective, too.
6. Require a Pre-Employment Test
When you're hiring for a skills-based role such as a content writer or graphic designer, use a pre-employment test to evaluate the candidate's skills. For example, you might ask that the candidate send in a short article or simple graphic showing specific proficiencies.
Be considerate of their time and don't require a too-heavy lift. Some companies will also pay for candidates to complete pre-employment assessments or will have candidates complete the assessment during the interview, so it is less time-consuming. Whichever method works for your team, a short assignment that helps you determine relevant knowledge or skills should suffice.
7. Keep Interviews Bias-Free
Last but not least, your interview should be free from unconscious bias, which is when people unintentionally favor candidates based on what they look like or their personality instead of their skills and ability. It can be difficult to be aware of these biases, but by intentionally avoiding them, you can foster a more diverse and talented work environment.
Make decisions based on competency and not who you gravitate toward socially. Also, make sure your interview questions and job requirements are standardized and fair. It also helps to name diversity goals that your company can work toward. You don't want to miss out on a stellar hire because you were unintentionally biased.
Use Better Interview Strategies to Find Your Next Great Hire
These interview strategies will help you zero in on great-fit candidates faster. Get your recruiting efforts started with a free job posting on Monster.