Cashier Job Description Template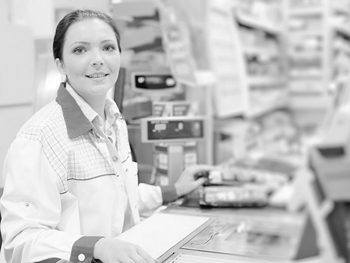 From processing high volume transactions, interfacing with customers, and protecting store property, a cashier rarely has a slow, stress-free workday. A well-written job ad, whether you're writing a fast food cashier job description, grocery store cashier job description, or an ad for some other related role, will help you attract the right people.
Before you create your job ad, resume samples might be a good reference point. After all, between job skills and relevant experience, how do you know what an ideal resume should look like? Check out this sample cashier resume to give you a better idea of the candidates you're trying to reach. It can also give you some ideas on how you may want to screen applicants once you start receiving applications.
Why not save even more time by using a template to create your cashier job ad? The following example doesn't just have search-optimized content to help your job posting surface online, but it also includes tips on how it can be further customized to your company's needs. Get out ahead of the competition even further by checking out these cashier job listings from other companies.