7 Tips for Managing Millennials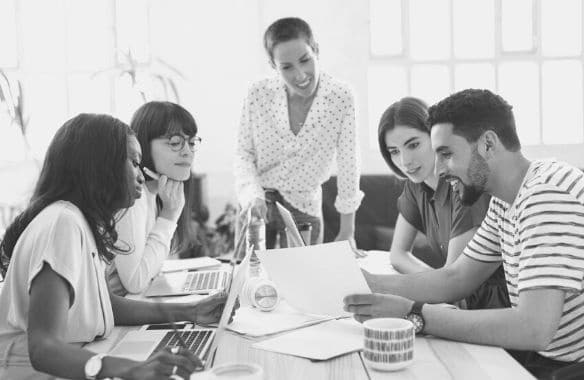 When it comes to the workplace, millennials are no longer the new kids in town. It's likely that members of this generation, born between 1981 and 1996, make up a large portion of your payroll and even your management team. In short, managing millennials effectively is essential if you want to run a successful business in the contemporary marketplace.
Not only do millennials make up the bulk of the U.S. workforce—a designation they inherited from baby boomers in 2019 but 60 percent of these workers now have direct reports themselves. These seven tips can help you manage millennial workers and millennial managers in ways that will ensure your company remains competitive for years to come:
Know what motivates them.
Create a values-driven workplace.
Commit to diversity, equity, and inclusion (DEI).
Understand how millennials prefer to work.
Provide plenty of feedback.
Adopt a flexible leadership style.
Don't assume all millennials are the same.
1. Know What Motivates Them
Millennials want fair compensation, transparency, flexibility, career development, and work-life balance. But most importantly, they want to work for a values-driven employer.
Fair Compensation
If you want to ensure that your millennial workers are engaged in your company's core mission, you need to pay them what they are worth. Millennials know how to research salary ranges and they're more likely to talk openly with their peers about compensation. If you're underpaying them, they are likely already looking for a new position, possibly with one of your competitors.
To avoid this, use a salary tool that allows you to calculate wages by job title and geographic area to determine a fair range for positions on your payroll.
Feeling Valued and Supported
Millennials want to feel valued by their employers, and this extends beyond salary. They want career development, including opportunities for upskilling and mentoring.
Feeling valued extends to wellness and work-life balance. Many millennials consider generous healthcare benefits, paid time off (PTO), and flexibility
Finally, when managing millennials, it's important to keep in mind that they came of age during a time of political and financial turbulence. They understand that adversity and setbacks are inevitable, and they want to work for an employer that plans for challenges in the form of employee assistance benefits and organizational contingency planning.
2. Create a Values-driven Workplace
Most millennials want their work to mean something. Managing millennials effectively requires employers to leverage this aspiration by finding a social mission that complements their company's products or services.
For some businesses, a focus on the environment or social justice would be a natural fit. For others, it would make more sense to provide opportunities for their employees to become involved in the local community by providing paid volunteer hours or partnering with local charities.
Whatever direction you take, integrate these higher values into your company's core mission and provide your employees with a variety of ways to connect and work on supporting and promoting those values.
3. Managing Millennials: Commit to DEI
The only generation more diverse than millennials are the Gen Z workers following in their footsteps. Not only will these workers turn down job offers from employers they don't think are serious about promoting DEI, but they are likely to disengage and start looking to leave your workplace if your DEI employer branding is merely window dressing.
Leverage your millennial workers' enthusiasm for this important workplace issue—and improve your market share and bottom line—by creating employee resource groups (ERGs) to tackle various aspects of DEI.
4. Understand How Millennials Prefer to Work
Millennials tend to lean into tech to get things done. They also prefer to work in groups and crave than previous generations.
Optimize Technology
As the first generation of digital natives, millennials know how to use tech to streamline processes. They also know how your target audience and customers are most likely to engage with technology to find and use your products and services. Use their digital savvy to grow your bottom line and trust them to find innovative ways to make improvements
Millennials grew up in an educational environment that valued group work as an effective learning modality. As a result, they believe working in groups helps them learn from others and make better decisions. When considering how to manage millennials, focus on creating a collaborative company culture.
Offer Flexibility
Many millennials view performance in terms of what they can accomplish rather than how much time they sit at a desk during a rigid set of work hours. Allowing for remote and hybrid work schedules conveys trust and is likely to be returned with a high degree of focus and productivity.
Use Tech Tools
Provide millennials with ways to engage with team members using a variety of digital collaboration tools and project management software Leverage their technical know-how and intuitive understanding of how people interact with tech to drive product development and innovation.
5. Provide Plenty of Feedback
Millennials have earned an undeserved reputation for needing excessive handholding. This is not the case. Like all workers, they crave increasing levels of autonomy. But they also believe in continuous improvement and growth, which can only be achieved through effective feedback and designated mentoring programs.
6. Adopt a Flexible Leadership Style
Millennials tend to look for leaders who inspire them to find better ways to do things, rather than micromanagers who tell them exactly how to get things done. By resisting the urge to micromanage and instead adopting a leadership style that empowers workers to pivot when conditions demand, you can set your company up to weather setbacks and succeed.
7. Don't Assume All Millennials Are the Same
Finally, keep in mind that no simple set of generalized insights is going to answer every aspect of managing millennials. At just over 72 million individuals they are the largest generation in the United States, ranging in age from mid-adulthood to early middle age.
With the exception of Gen Z, millennials are also the most diverse set of workers the market has ever seen. They represent a vast array of cultures with varying education levels and expertise. The best management approach for maximizing their potential is to check in with them frequently and get to know them as individuals. Even more than past generations, millennials do not thrive in situations where they are siloed.
Providing flexible processes and a wide array of benefits will help you retain and support each employee you manage from this flexible, tech-savvy, team-focused, values-driven generation.
Learn More About Managing Millennials and Optimizing Productivity in Today's Workplace
Continue to effectively manage today's workforce with expert advice, how-tos, and the latest hiring news from Monster.