Employee satisfaction leads to employee advocacy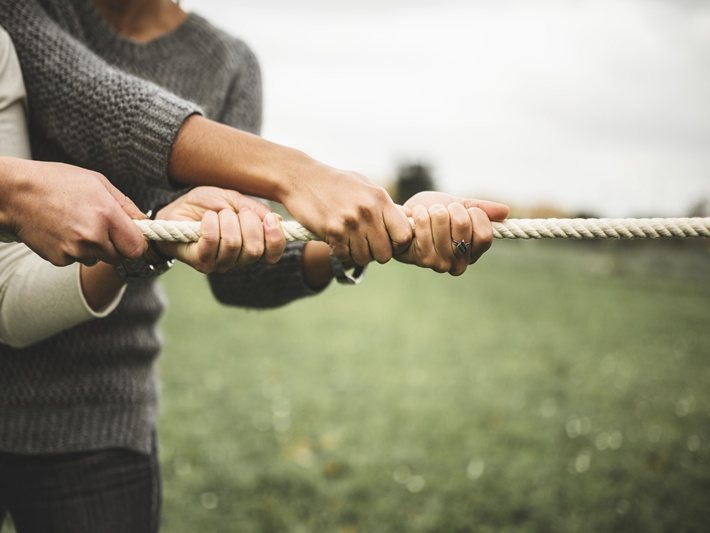 For years, employee satisfaction has been in the doldrums — that going-nowhere zone. Many employees feel that way because they are not respected on the job.
Based on studies by Harvard Business Review and the Society for Human Resources Management, it turns out that the best way to improve your workers' engagement doesn't involve pay or benefits. It's about creating a workplace of respect.
The bottom line: pay and benefits might convince a job seeker to sign on with your organization, but it's respect that will keep them satisfied. In the process, your workplace can become an incubator for employee advocacy.
Respect should be part of your company culture
Creating a workplace culture of respect for your growing business can also help you recruit new employees, says Rob Danna, senior vice president at global engagement solutions provider ITA Group in Iowa. "Treat employees with respect and honor and they'll become brand advocates," he says.
How do you promote respect and honor in your organization so that your employees will share that story when talking about your brand? Here are some tactics to help create that kind of employee advocacy.
Treat your employees the way they want to be treated
Respect is highly individual because we each interpret words and behavior differently. With that in mind, focus on treating employees the way they want to be treated, rather than how you personally want to be treated, says SHRM Senior Certified Professional Edward Yost. "People may need additional kudos, feeling as though they're listened to, their opinions are solicited or they're included in meetings," he says.
Find out what behaviors people consider respectful with an informal or formal employee survey. Then, create a focus group or ask your HR team to hammer out a written policy describing on-the-job behaviors that demonstrate respect and disrespect. If you're having trouble crafting a policy, a corporate attorney can likely help.
Ask interview questions that highlight respect
Some argue that a respectful workplace starts with hiring the right people. Peter Matthies, founder of the Conscious Business Institute (CBI) in Santa Barbara, California, which helps organizations become more effective, inspiring and sustainable, says his organization hires primarily on values.
"I don't mean the ones someone comes up with and sticks on the walls of the lobby," he quips. "I mean the rules of the game — how we want to interact with each other, how we play together. We define those and hire to those rules of the game."
One of the ways the CBI delves into respect is by asking job seekers open-ended questions like: "If you could choose your own work environment, how would you like to work?" Follow that with a question that shows respect for differences and individual preferences: "How can we help you create that here?"
Ashley Moore, a conflict resolution specialist at ProActive ReSolutions, a firm that works with organizations to build respectful workplaces, says a job candidate's behavior during group interviews often provides clues about respectful behaviors. "See how they defer when others are speaking, or if there is competition between them," she says. "Look for people who share the spotlight or ask others what they think, even though they're not the interviewer."
For another temperament test: come in 10 minutes late for the interview to see how the person responds. Are they angry or do they shrug off the lateness? You could also ask behavioral questions such as: "Tell me about a time you were disrespected in the workplace. How did you handle it?"
Expose new hires to people who live your corporate values
Onboarding offers another opportunity to highlight your organization's commitment to respect and honor employees — and promote employee advocacy. Business automation software developer Ontraport puts new hires through a two-week class that includes meeting the company's "Value Award Winners" — folks who best exemplify the company values.
"It's a good way to have our values be tangible and easily understandable and not just aspirational or cheesy," says Talent Acquisition and Development Manager Sara Hetyonk. "It's also a great way for new hires to meet people who have been here for three or four years and for them to get immediate interaction with the team."
Teach people how to get along
A policy that calls for respect and honor alone won't change employee behavior, according to a survey of 8,000 employees by ProActive Resolutions. More specifically, the survey found that:
Sixty-nine percent of respondents know about their organization's respectful workplace policies.
Fifty-eight percent said their employer didn't provide training about how to respond to disrespect.
Thirty-two percent were aware of two to five instances of disrespectful behavior at work.
Sending a few people to mediation and facilitated discussion training ensures you have in-house folks who can provide supportive resources to address disrespect in a constructive way. "That exists in even smaller organizations," Moore says.
Treat employees like the stars they are
When an employee or team does something great, like working extra hours to land a new client, make sure everyone knows about it by sharing the story, Danna says. Create a 90-second video about the team's extraordinary effort and post it on your company website. "Every employee with their face in that video will repost it," Danna promises.
Even small gestures can be meaningful and create employee advocacy. Print notecards with one side blank and the other featuring the company brand and mission. Ask managers and co-workers to use the notecards to write handwritten thank-you's and words of praise to share with people they respect.
Even these sort of small gestures will go a long way to establish a workplace of respect — and a culture of fairness and equity.
Want to create more employee advocacy in your company? Get it done with Monster
Catchy phrases and stories can inspire employee advocacy, but it takes respect to sustain it. When it comes to creating a positive and productive workplace, there's no need to start from scratch. With expert recruiting and management insights, Monster Hiring Solutions can help you build the workforce you need.