7 Ways to Improve Work Performance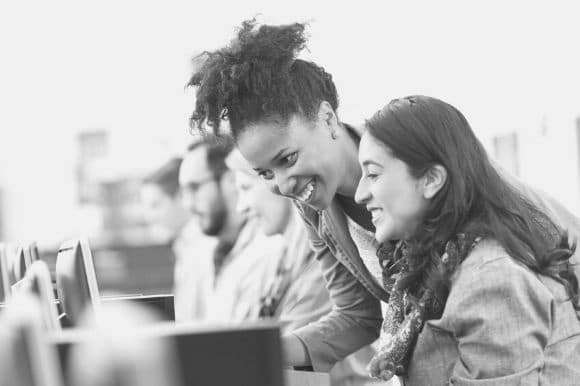 Most employees want to learn new ways to improve work performance, but it can be hard to figure out the first step. That's where good coaching comes in. Managers can empower their direct reports to take control of their own career path. This requires employees to learn and utilize the tools that will help change their behavior and improve their performance.
Good managers can help employees develop efficient and effective behaviors by challenging them to improve. They know their stuff, focus on the right things, and build a reputation for helpfulness. Good managers give team members challenging assignments to work with others—and a lot of practice.
Remember, ideal team players are humble. They share credit, emphasize team over self, and define success collectively rather than individually. Ready to learn the best ways to improve work performance? Let's go over seven major areas of focus:
Show Personal Responsibility
Develop Personal Flexibility
Bring Positivity
Show Personal Integrity
Demonstrate Ongoing Efficiency
Solicit Feedback
1. Show Personal Responsibility
The best and perhaps the hardest ways to improve work performance usually involve setting the example yourself. We often (consciously or unconsciously) model our behavior on our managers and those with seniority. It's important to know the ropes and play by the rules, since you never know who may be watching.
A good manager meets deadlines, deliverables, and most of all expectations—how else can you expect your workforce to do the same? Respect others' time and you're respecting them in the most basic way. And don't forget the positive effects of treating yourself with that same respect.
2. Develop Personal Flexibility
It's important to be open-minded, in terms of both your workforce and change management. The danger of being right 90 percent of the time is the 10 percent where you're not, and which you never see coming. That's why it's key to avoid getting stuck in old thoughts and patterns that can blind you to an innovation, solution, or even a looming issue.
We're only as resilient as we are flexible, and that goes double both for surprises and for interpersonal stresses. Be open to others' work styles, adapt quickly, and you'll never be caught off guard.
3. Bring Positivity
The leader who believes is a believer who leads! Effective leadership means providing a bedrock of enthusiasm, hope and ingenuity that will sustain your employees through hard work and harder times. A leader who brings a positive and constructive outlook is often the star by which the rest of the team steers, and a leader who's faking it can usually be spotted by the low morale of their team.
Remember, you have this effect on your workers whether your attitude is positive or negative, so you may as well keep things bright. Offer incentives, positive reinforcement, praise for a job well done and be proactive with the help and advice you offer.
4. Show Personal Integrity
Among the qualities a good manager must actively demonstrate are social skills, especially that of integrity. Overlooking or remedying gaffes is important, but so is avoiding workplace gossip. It's a lot easier to follow a leader who has proven their character, since our belief in the mission derives from our faith in the project's manager.
Integrity in an office setting means your word is your bond, you stand by your commitments, and you never leave work undone, or for someone else to handle. Integrity also means attending to your tasks ahead of attention-sappers and timewasting, frivolous pursuits.
5. Demonstrate Ongoing Efficiency
Efficiency and productivity aren't just a matter of working fast—learning how to improve work performance means learning to work more cleanly, with less wasted time and movement. Strive for a low-touch experience and get it right the first time.
Especially in a remote or hybrid setting, a manager supports their employees in reaching, and modeling, efficiency. Weekly or daily check-ins, often in the "update email" style (what you've done today, what you'll do tomorrow, and how it could be easier to accomplish), are a good way to keep in touch. More importantly, they're an informal but crucial way to keep our eyes on deadlines and timelines.
6. Solicit Feedback
Remember, it's a big part of your duties to help your team stay on track, and that means closing loops. Regular communication, constructive feedback, and check-ins are all ways to improve work performance and keep the team's focus in sight. Only by knowing what's limiting the work rate or productivity of your workers can you possibly hope to help ease their way, and that means actively looking for ways to help as well.
As a manager you have the benefit of perspective, not tied to a particular role or department but capable of seeing the bigger picture. Maintaining that bigger picture means never losing sight of the smaller pictures that make it up, meaning the concerns of your workers. A willing ear is often all a team member is really looking for.
7. Build and Maintain Your Focus
Focusing on both your own immediate task work and on overall team goals is one of the best ways to improve work performance in those around you. Drill down to the essentials and you can keep your milestones and to-do lists distilled to the most impactful and meaningful tasks. Likewise, you can always regain lost focus by concentrating on the essential deliverables and how to most effectively get them done.
Focus is a matter of eliminating distraction, but that's not all there is to it. Focus means bringing the whole of yourself to your task, doing your work with character and grace, and keeping an open mind so that you don't miss any shortcuts or possible improvements in your workflow.
Ready to Build and Maintain Your Dream Team?
Learning the ways to improve work performance and creating workplace superstars takes dedication and, more importantly, time. Monster has the information you need to recruit, train, manage and support a dynamic, self-starting group of workers.