How can I tell if remote workers are working?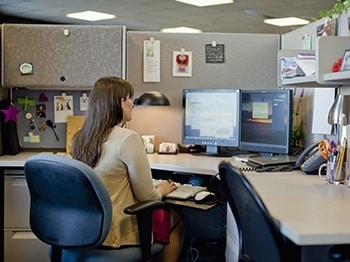 Trusting that people are actually doing their work is always a challenge for managers. This is all the more difficult when employees are at home where the boss is out of sight and possibly out of mind.
How can you be assured that the employee is keeping their head down instead of having a quick round of golf or out at Sainsbury's doing the weekly shop? It may look like they're logged into their computer, but technology means people can be connected wherever they are.
Whether employees are home workers or office based the same principle needs to be applied. They should be working towards specific, measurable objectives that are in line with the individual's level of competence and clearly communicated along with realistic timelines.
Providing support by touching base with regular emails and telephone calls should also be encouraged but this should be seen as part of the manager's normal routine rather than checking up on people. An informal meeting over coffee could also be scheduled next time you are in the office together.
Of course, with a new employee or when the home working has just started, you may feel the need to call more often but again, this should be seen as supportive rather than 'checking up'. As the trust builds and you become familiar with the employee's style of working you may find that you need to review their progress less frequently.
It's important to remember that home workers can miss out on the social aspect of work. Receiving the occasional call from their manager, with whom a good relationship should have been formed from the beginning, helps them to feel a valued member of the team. It is also important to keep the home worker in the loop with what is happening in the work place by sending regular emails and inviting them in for team events or after work socials. Another good tip is to organise a team lunch when several of the home workers are next in the office together.
You may find that there times when you need to exercise managers' discretion. It should be remembered that people are still entitled to some breaks whilst at home, just as they are in the office. Nipping out to grab some milk or going to pick up their kids from school in the afternoon should not be frowned upon. You're probably unaware of all the extra hours the put in either by starting early or logging on in the evenings, so cut them a bit of slack.
If you do suspect that a home worker is under performing then the same principles should be applied as with an office based worker. They should be provided with a warning and placed on a performance plan if things do not improve.
There should also be a clause in the working at home policy saying that the manager has the right to ask an employee to come into the office at any point and, with issues of under performance, the home working contract could be terminated or postponed.
Ensure that all home workers are familiar with your organisation's policy from the start of the home working period and bring this to their attention if performance starts to slip. This way, it will not be such a shock when you do choose to exercise your right.
Managers should build trust and rapport with their employees, clearly communicate and clarify the expectations and boundaries of employment and then trust them to deliver.

Deborah Roberts is an independent Learning and Development Consultant with 12 years global project management experience with a blue chip organisation.