How to Create an Employee Development Plan (Template)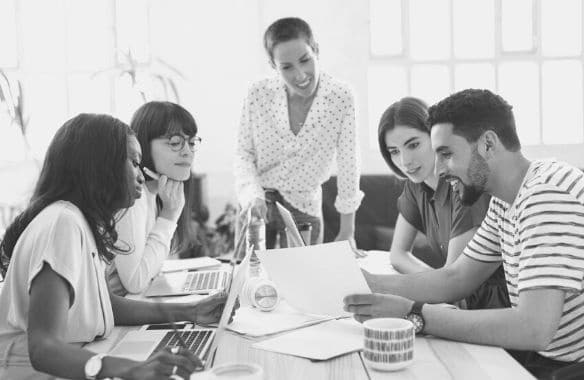 An employee development plan is a collaborative, actionable list of steps toward a career goal. It's a beneficial tool used to help workers grow personally and professionally, help teams accomplish goals, and keep employees motivated, productive, and successful.
When we create a development plan with an employee, we're looking at their future as well as their past—strengths they're already developing and skills they may need in the future. Focus on creating and maintaining clear, measurable indicators of progress and success, setting deadlines, checkpoints, and any deliverables.
Creating these plans not only demonstrates your interest in your employees' career paths, but also will help you retain your top performers and meet your company's goals. Here's what you need to know to get started.
Creating the Employee Development Plan
Plans with concrete steps help workers perfect their skills and be more productive, expanding both their knowledge and their networks. Most include both short- and long-term goals: developing new skills, earning a certification, or getting a promotion are all possible endpoints. The professional development plan evolves to suit our situation and should be revisited at each stage.
Creating a personal employee development plan requires considering both the goals and the readiness of the employee. Breaking down those professional goals, and the individual path of progress toward them, helps management understand their progress and identify the barriers standing in the way.
The components of an effective employee development plan template are as follows.
1. Challenge the Employee
The plan pushes workers to improve their skills and refine their knowledge, while helping them gain confidence in their role. Consider what skills are required from each employee to help you meet the company's business goals, along with a realistic timeline for developing these goals.
The best employee development plans are collaborative. Consider each employee's personal and professional goals when crafting a development plan. They can work on the skills and goals that will assist them in their personal and professional paths.
You might list the current strengths of each worker so you have some idea of skills you can build upon. Similarly, list both short- and long-term business goals.
2. Support the Employee
After you've determined the goals for both management and the worker, create a list of resources you can provide to move the employee toward their goals. Include support elements like financial assistance for classes, mentoring agreements, training plans and others.
A new training program, coaching, cross-training, educational resources—even help with the cost of college tuition, conference tickets, or online training—can all have phenomenal effects. You can also be creative by giving your workers special projects that play off their stated goals.
3. Evaluate Progress
Now that you have determined your goals and the resources you'll use, organize them into an actionable plan. Include clear and descriptive language, a timeline for each expectation, and list all action items and deadlines clearly. HR, the manager, and other stakeholders should review the plan.
Before meeting with your employee, make sure you're both prepared by reviewing their plan ahead of time. During the meeting, ask about career goals, their anticipated future with the company, or skills that would be useful in current and future roles. Look for ways to align their goals with your company's current needs or growth.
A Sample Development Plan Template
A new graduate who eventually wants to be a marketing manager might arrive at the following plan:
Get an internship in the marketing department
Work on verbal (soft) and communications (harder) skills
Achieve technical certifications to broaden their skill base
Become a junior content marketing writer
Increase engagement at every step of the sales funnel
Get management certified and continue professional development
Apply for a management role
Managing Employee Development
Above, we see options for the manager to provide support for certifications and trainings, make suggestions for further professional development, and help with their worker's career path. Understand what you can offer in terms of resources, use what you have, and be creative. Look to other departments and staff for resources and consider cross-training and mentoring.
Make sure the worker owns responsibility for their plan, understands its import, and is excited to work toward their professional and personal goals. Inspiring your employees to take their employee development plan seriously can be as simple as documenting each achieved goal, maintaining engagement with the program as your worker grows.
The timeline for a worker's professional development plan depends on their goals. A new lawyer who wants to become a Supreme Court Justice would have a more extensive professional development plan than our example above, who wants to be a marketing manager. A plan can aim as far into the future as your worker would like, but there should be smaller goals along the way (to stay on track). We're planning for the immediate as well as the long-term.
Professional development plans are designed to change over time, so they should be reviewed at least once a year. You'll also want to watch out for employees that have stalled in their progress and schedule a meeting to help get them back on track. As a manager, you help them craft their professional development plan to begin with, but you also help them reach their goals—which means regularly monitoring progress.
Now That You Have Everything You Need
Creating an employee development plan is good practice for envisioning your own career and skillsets, as a manager and an employee in turn. In fact, creating your own may keep you more invested in following through with those of your employees. Get the most out of your manager/worker relationship with more resources from Monster.