How to Avoid the Cost of a Mishire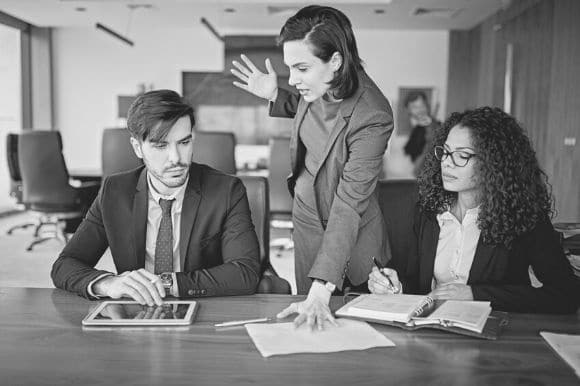 Hiring new employees is stressful, time-consuming, and expensive. At an average cost of more than $4000 per hire, the last thing you want to do is have to turn around and start the whole process all over again because you've made a mishire.
Wasted onboarding and training time, lost productivity, and the increased stress on other employees when a bad-fit hire joins the team can cost you up to 1.5 to 2 times the expense of a given position's salary.
So how do you avoid making a bad hiring decision and attract better-fit candidates? Knowing the signs to look out for during your hiring process can help you detect and eliminate poor quality candidates and focus on the top-level talent that will grow your bottom line.
Problem Employee Behaviors
Aside from obvious problem behaviors, like failing to reach productivity expectations, excessive absenteeism, dishonesty, insubordination, and indiscretion, a mishire can affect your workplace in more subtle ways. One of the most preventable and costly hiring mistakes is to bring on board someone who does not have the knowledge or skills they claimed to have during the hiring process.
Some of the most disruptive bad hires can undermine the work of those around them by:
Failing to get along with key members of your team.
Taking credit for other people's work and ideas.
Responding to feedback with anger.
Complaining in a way that undermines morale.
Bullying and other anger issues.
Gossiping and passive aggressive manipulation.
Detecting these potential problems during the hiring process can help guard against costly legal fees that can result from necessary dismissals.
Improve Your Hiring Process
Consider using an employment agency, or other outside specialized resources, such as automated platforms. Other ways you can improve your recruiting and hiring process include the following:
Use Automation and AI Wisely
Use artificial intelligence (AI) to automate your recruiting processes, reducing the amount of time you spend on tedious and time-consuming tasks such as resume filtering and interview scheduling. This will free up your hiring managers and HR personnel to concentrate on finding optimally qualified job candidates and avoid the costly misstep of a mishire.
Write Better Job Descriptions
A thorough recruiting process can help avert bad hires. Start with an effective job description that makes your needs and expectations for the role as clear as possible.
Given the pace of technological change in the modern workplace, job descriptions need to be updated with each new search. This means a thorough revision, not merely adding new duties and skills to your wish list. List responsibilities in order of importance and consider separating "Must Have" qualifications from "Prefer to Have." A focused, pared-down job description is more likely to yield an appropriately qualified candidate and less likely to discourage qualified women and minority candidates from applying.
Represent the Position and Your Company Accurately
Each job description should begin with a description of what makes your workplace unique. In this description and your summary of each job's scope and purpose, you need to be as accurate and forthcoming as possible. Nothing creates an acrimonious work situation as quickly as an employee who believes they've taken a position that fails to live up their expectations.
Conduct Better Interviews
Use your interview process to gauge candidates' emotional intelligence. As they talk through how they solve problems and meet project deadlines, ask follow-up questions that probe how their relationships with coworkers and customers shape their work interactions.
Don't place the responsibility for a new hire on a single hiring manager. Instead, create a committee with varied stakeholders, including a peer who will interact with the new hire on a daily basis. By obtaining feedback from multiple perspectives, you stand a better chance of detecting a potential problem behavior and avoid a mishire.
Early Warning Signs
If you listen carefully during the interview stage, you might detect one of the following warning signs of a potential problem employee:
Lack of humility and tendency to take credit for past accomplishments without mentioning coworkers or mentors.
Lack of enthusiasm for the profession or sector when they talk about past roles and projects.
A tendency to become uncomfortable, or even combative, when you ask them difficult questions or challenge their answers.
Background Checks and Referrals
Once you've narrowed the field to your top 3-4 candidates, it's time to run background checks before extending an offer. Making an offer contingent on a positive background and reference check is also problematic, since it can create a complicated legal obligation between you and your candidate that can be tricky to exit.
For most positions, your background check should verify the criminal record, employment and educational history, professional accreditation, and identity provided by the candidate. If the position involves access to sensitive information or large sums of money, check candidates' credit history.
Checking References
Checking references is an important step when trying to avoid a mishire. Ask candidates to provide you with at least one coworker reference. If they have management experience, ask to speak to a direct report. Colleagues and subordinates can be particularly useful when you are trying to detect red flag behaviors that might disrupt workplace morale.
Does the candidate share credit? Do they shoulder their fair share of the workload? Are they a good listener, open to advice? Once you ask these questions, listen closely to the answers, and ask follow-up questions. In particular, listen for pauses that might indicate that the reference is trying to come up with a diplomatic answer to your question.
Trial Periods
If you're still nervous about extending an offer, consider offering your leading candidate a contract position with the potential to earn a permanent position. If you're having trouble finding candidates with the level of experience you're seeking, consider recruiting junior candidates for full-time internships and fellowships and providing the training they need to take on more responsibility.
Networking and Referrals
If you're looking for candidates who will fit well with your existing team, consider implementing an employee referral program (ERP) with an attached bonus. ERPs encourage your employees to network on your behalf, and since they are unlikely to risk their own reputation, they are highly incentivized to refer qualified candidates they know will be a good fit.
Look for employee referrals from business partners and former colleagues, network with industry and professional associations, or contact the employment offices of local colleges and trade schools.
Guard Against Bias
To combat unconscious bias in your hiring process, and improve your chances of hiring better-fit candidates, make sure you have a standardized process in place and that you focus on skills rather than intangibles like "company culture."
Offer Fair and Targeted Compensation
The best candidates know their worth. Offering competitive compensation is the best way to attract them. Use a salary tool that provides median income by job title and location to determine your salary range. Sub-par wages and benefits tend to attract sub-par candidates and mishires.
Avoid a Mishire, Attract Top Candidates, and Learn How to Manage Them
Eliminating costly hiring mistakes is just the beginning. Monster's exclusive hiring news includes expert advice, practical how-tos, and management best practices designed to optimize your workplace.