How to Overcome Your Small Business Recruiting Challenges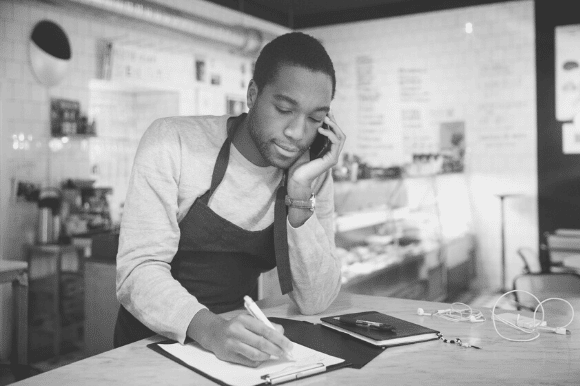 As a small business owner or leader, you're probably familiar with some of the common recruiting challenges small businesses face. It can be hard to compete with large businesses that have stronger name recognition, higher salaries, and a dedicated recruitment team to manage many of these time-consuming hiring tasks.
Fortunately, implementing best practices will help your small business run an effective and efficient hiring process. Here are four of the main challenges small businesses face and the actionable steps you and your hiring managers can take to overcome them so you can win over top talent.
Writing an Effective Job Description
Taking the time to write a strong job description makes your hiring managers clarify the role, responsibilities, and requirements so they can identify people who meet their hiring needs.
The strongest job descriptions will introduce candidates to the business and demonstrate why it's a great place to work. Ask your hiring managers to focus on the perks your small business offers that larger businesses might not. For example, your workplace might have a flexible work schedule, a flat organizational structure, and a tight-knit team with a strong company culture. Highlight anything else that contributes to high workplace morale.
One of the main benefits of working at a small business is the opportunity for employees to take on a wider range of responsibilities, allowing them to learn more and advance faster than they would at a company with more targeted roles and more people vying for promotions. Your job description should mention professional development initiatives such as training, mentorship programs, and the fast-track for promotions.
Reaching Qualified Candidates
Only posting the job on your small business' career page is the equivalent of hanging up a "We're Hiring!" sign and hoping that people see it. Fortunately, there are simple ways you can solve one of the biggest small business recruiting challenges: reaching the right candidates.
Post your job description on high-traffic job boards, industry sites, and college and university career boards. When you post your job description online, it's helpful to use the keywords people are searching for when they're looking for that type of job. In addition to using the most common job title for the role, include other synonyms throughout the job description. If you're hiring a receptionist, for example, you might also want to use the terms "assistant," "secretary," and "front desk associate."
Next, use your network. Ask your connections if they know of qualified candidates. Feature your job openings on your company's social media channels. Encourage your team to share the job posting with their professional networks by offering an employee referral bonus.
Making Your Hiring Process More Efficient
Another common recruiting challenge small business managers face is the need to manage the hiring process in addition to their regular job responsibilities. They might be tempted to rush through the process and settle for so-so candidates or procrastinate and miss out on top talent. Fortunately, there are simple ways you can make the hiring process more efficient.
The most effective way is to use applicant tracking software (ATS) to collect, organize, and review resumes. Depending on the ATS you choose, you can automatically rank resumes based on keywords from the job description or use the filtering tools to search for resumes that meet your hiring needs. An ATS can also help you ensure that your small business is compliant with Equal Employment Opportunity (EEO) and Department of Labor (DOL) guidelines.
Keep up the momentum throughout the interview process. Encourage your hiring managers to conduct screening interviews to learn more about a candidate's qualifications and share more about the role and company to make sure it's a fit on both sides. Make the rest of the interview process more efficient by inviting all the decision-makers to one interview (instead of scheduling multiple rounds with each candidate) and by asking revealing interview questions.
Offering a Competitive Salary
One of the biggest recruiting challenges small businesses face is the inability to attract qualified candidates with a salary that is far below the market rate. It's helpful to use salary tools if you're unsure of the market rate in your state.
You might not be able to offer as high of a salary as large companies, but it's important to offer something close even if it means you need to cut other costs like your marketing budget. Some companies fall into the trap of hiring inexperienced people because they are less expensive, but it's a gamble because it's expensive to re-hire if it doesn't work out.
When you hire experienced people who have handled most of the job responsibilities before, they're likely to be more successful and make fewer mistakes. However, keep in mind that you might not find someone who meets every single requirement. People with a growth mindset can quickly adapt to learning new skills if your small business has professional development programs and good managers.
Overcome Additional Recruiting Challenges
After making these changes, you should be able to recruit candidates who have the skills and experience to make your small business more successful. Sign up to learn more hiring best practices and stay on top of job market trends and news.