Hiring Tech Support for Your Small Business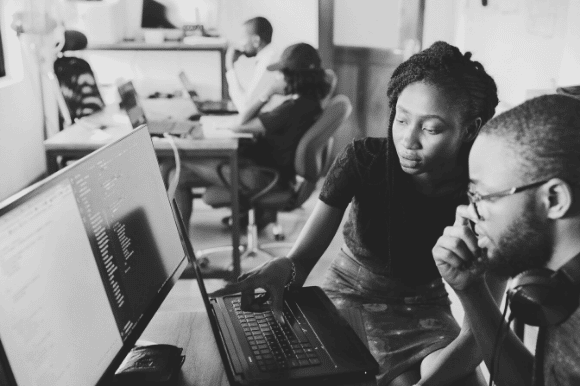 Today's small business tech support person is likely to be part customer service rep, part user support liaison, and part project manager.
In the age of e-commerce, customer satisfaction increasingly depends on providing excellent user experiences on your digital channels. Add to that the need to analyze customer data, integrate content with purchasing and billing interfaces, and constantly upgrade hardware and software, and it becomes clear that tech has become a primary component of even the smallest and most local businesses.
When you launch a new business, you may be able to get along for a while with IT support software or outsourced IT, but eventually, if you want your business to grow and keep growing, you'll need to consider hiring in-house support.
How do you know when it's time to create a staff position? And once you make that decision, how do you go about finding and evaluating applicants in a specialty that is so in demand, especially if tech isn't your strong suit? The information below can help you assess your technical staffing needs and hire the savvy, business-minded tech pros you need to grow your business.
Outsourced and Online Small Business Tech Support
Many small businesses, especially startups, rely on outside, vendor-provided technical support. There are a few options.
You can purchase software as a service (SaaS) that includes technical support in the form of chatbots and other integrated software interfaces for your clients.
For very small businesses and sole proprietors, a SaaS along with the occasional visit from your tech service may be sufficient.
As your business grows, your technical needs will likely become more complex—multiple platforms to master, more data to analyze, and larger systems that need integration. At that point, you will likely need to step up to a full-service tech support service.
Eventually, though, if your business continues to expand, the day will come when your tech needs outpace what even a full-service tech support service can provide. Your service contracts may get too costly, or you may find yourself spending far too much of your time dealing with your support vendors. You may even feel out of your depth as your tech needs become increasingly complex. That's when it's time to look for an in-house tech professional to join your team.
Budgeting for IT Staffing
If your tech needs have grown past the point where they can easily be met through automated support software and IT vendors, it's time to consider whether you have an adequate budget for full-time tech staff. You'll need to factor in enough resources to cover an appropriate salary range, which you can determine using a salary tool that allows you to gauge compensation by geographic area and job title, as well as benefits.
Keep in mind that it's unlikely that all your needs will be met by one individual or even a small staff. You will probably need to retain your contracted tech support in addition to your new hire, especially if your business is growing quickly. But for the right candidate, the professional development opportunities offered by a smaller employer using a combination of in-house and outside tech resources—such as project management and vendor relations—can be powerful recruiting tools.
IT support roles can often be done as fully remote positions, which can widen your applicant pool beyond your immediate community, and may even save money on office space and other infrastructure expenses.
Recruiting Top Tech Talent
Once you've determined your staffing budget for technical services, it's time to begin crafting an IT specialist job description.
At a small business where your tech support consists of only a few individuals, or even just one, technology specialists will likely need to know a little of everything, from web development to cyber security to user support. Consider what range of responsibilities you need your on-staff tech professional to shoulder. These may include:
Installing and troubleshooting hardware and software.
Making sure computer platforms, networks, and servers are running smoothly and securely.
Resolving tickets representing staff-generated technical requests or problems.
Interacting with customers to make sure they can use your marketing channels and products effectively by providing troubleshooting via chat, text, message boards, and phone calls.
Creating self-guided training videos for colleagues and clients.
Working with your marketing staff to create easy-to-follow how-to pages and FAQs on your company website.
Collecting and analyzing customer and user data.
For more ideas on what to include in your job post, you can browse information technology job listings.
Assessing IT Support Applicants
As you sift through the resumes that come in, spend some time determining the qualities you are looking for in your ideal candidate. Particularly if this is your first tech hire, focus on finding more of a generalist than a narrow specialist.
If you're not a tech expert, consider inviting someone from your staff who is more tech-savvy to take part in the hiring process. Have them help you craft technical questions that allow candidates to walk you through how they would address common issues faced by your customers and staff.
During the interview process, gauge tech support candidates' ability to communicate technical issues to non-technical colleagues and clients. Look for someone who is customer- and user-focused. Another important quality to look for is curiosity and an eagerness to research new products and methods and become an in-house expert.
Once you've settled on your top candidate, extoll the virtues of a small business environment. These may include project management opportunities, the ability to work in a variety of tech capabilities, close contact with customers, and the opportunity to grow in their role as your business grows.
Start Your Search With a Free Job Post
Small business tech support needs are not one-size-fits-all, and likely will change as your company grows. Stand out from the competition with a free job listing from Monster and find the IT support applicants you need to grow your small business.