How to Make Fair Chance Hiring Work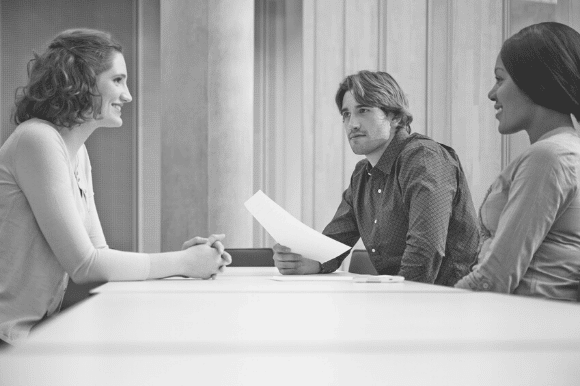 Fair chance hiring practices, also known as second chance hiring practices, reduce some of the roadblocks that make it difficult for candidates with criminal convictions to get hired. Multiple studies have found that employees with criminal records often stay at a company longer and work harder, which decreases hiring and training costs and can increase team performance.
Many states and cities have implemented "ban the box" laws that require covered employers to remove questions about arrest and conviction records from job applications and to refrain from inquiring until later in the hiring process. The federal government has also banned such questions with respect to employment by federal agencies and contractors.
There are additional federal, state, and city regulations that help to ensure that formerly incarcerated people are strongly considered for positions, and many companies have adopted their own policies. Here are best practices for implementing fair chance hiring policies at your company.
Follow Federal Employment Anti-Discrimination Guidelines
The U.S. Equal Employment Opportunity Commission (EEOC) enforces Title VII of the Civil Rights Act of 1964 which prohibits companies from discriminating against applicants and employees "on the basis of race, color, religion, national origin, or sex."
Based on case law, the EEOC has found that a company is liable for violating Title VII if the employment decision based on an individual's criminal record "has the effect of disproportionately screening out a Title VII-protected group and the employer fails to demonstrate that the policy or practice is job related for the position in question and consistent with business necessity."
The EEOC has published a detailed enforcement guidance with best practices employers should follow when establishing their fair chance hiring practices, including:
Eliminating policies that disqualify all candidates with certain criminal convictions.
Training hiring managers and HR officials about Title VII.
Avoiding questions about criminal records on the job application and, if they choose to ask later in the process, to only consider crimes that are relevant to the job and could impact job performance or pose a risk to the company.
Developing individualized screening procedures for candidates with criminal convictions.
Telling the candidate that they may be screened out because of their criminal conviction and give them the opportunity to respond.
Keeping the person's criminal conviction confidential.
Depending on the state and city, your company may need to follow additional fair chance hiring regulations. For example, companies in New York City can't ask about criminal records or run a background check until after a conditional job offer has been made, must notify the candidate about the finding and give them time to respond, and must consider various factors such as the severity of the offense and whether it's relevant to the job.
Reach a Wide Range of Candidates
As part of your fair chance hiring initiative, you may choose to expand your recruitment techniques. For example, you could reach out to the American Job Center and your state's local reentry service providers to learn about the trainings, job fairs, job boards, and resources they provide for people with criminal convictions. Nonprofits in your area may also host reentry job fairs that you could attend.
Maximize reach by positing your job description on your company website, global job boards, and job boards for formerly incarcerated people. It's helpful to add "fair chance hiring"or "second chance hiring" to the job title or within the job description since people are likely to use those terms when they use a search engine or a job board's search feature to look for job opportunities.
Conduct Background Checks Appropriately
If you're hiring for education, medicine, finance, and certain other industries, you may choose to run a background check to look into a person's criminal record and credit report. The EEOC notes that state and local criminal records databases and reports from consumer reporting agencies can include information that is "inaccurate" or "incomplete," which is why companies are legally required to follow up with the applicant before making an employment decision.
The Federal Trade Commission (FTC) regulates how companies collect and use background reports, including the following requirements:
Get written permission from the candidate or employee.
Share a copy of the report and information on how to contact the reporting agency if there is an error.
Give the candidate or employee a chance to explain if anything in the criminal record or credit report is incorrect.
Complete an Individualized Assessment
Based on case law, the EEOC recommends conducting an individualized assessment for candidates who might be rejected because of their criminal background. The first step is to notify the candidate so they can make a case for why they shouldn't be rejected. For example, they can provide additional context about the crime and steps they've taken like volunteering, working at relevant jobs, and taking classes.
The company must consider the context and whether the crime is related to the job and poses a risk to the business. To determine relevancy, the company should consider what is known as the "Green factors" based on court precedent. The "Green factors" are:
The nature and gravity of the offense or conduct.
The time that has passed since the offense or conduct and/or completion of the sentence.
The nature of the job held or sought.
Focus on Career Advancement
A big component to making fair chance hiring work is to give your new employees the support and resources they need to be successful by offering a strong orientation program. However, it's important to keep details about the employee's criminal record confidential to protect their privacy and ensure they aren't treated differently by your team.
Determine whether your state or local government and nearby nonprofits offer reentry programs that incorporate career training. If you have room in the budget, it can be helpful to offer all your employees professional development stipends that they can use for classes, certification programs, and tuition. (The U.S. Department of Labor's Work Opportunity Tax Credit provides an incentive for companies that hire people with felony convictions within a year of completing their sentence. Your state or local government may offer additional credits.)
Make career advancement part of your company culture by offering mentorship programs, hard and soft skill trainings, and clear trajectories for each role. People with criminal convictions tend to stay at a job longer and will want to grow at the company and gain additional responsibilities. Without disclosing their record to their manager, train managers on best practices like having one-on-one meetings, creating career development plans, and conducting performance reviews.
Start Implementing These Fair Chance Hiring Best Practices
Now that you know more about how to structure your hiring process to provide a "fair chance" for people with criminal records, you're ready to start your search. Post a job on Monster to reach a large pool of candidates, access our resume database, and use our filtering tools to sift through resumes to quickly find people with the skills and experience you need. Find out how you can kick off your search with a free job posting.