How to Use AI in the Hiring Process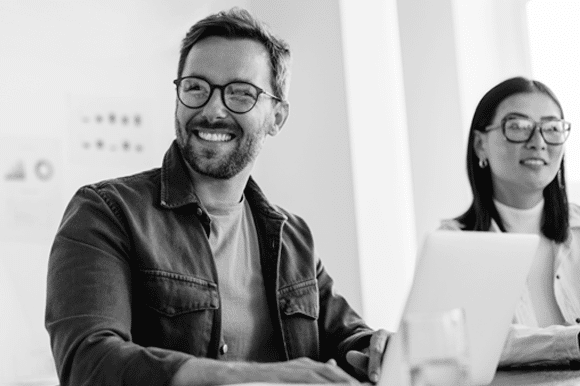 More human resource professionals are learning how to use artificial intelligence (AI), which is the fusion of science and technology, whereby computers can think and problem-solve like humans. It's estimated that 65% of recruiters have already started using AI in the hiring process to streamline their recruitment efforts. Some 85% of these professionals are already reporting significant improvements, such as:
more manageable workloads
improved candidate search results
easier time avoiding bias
reduced time-to-hire
Here's how to use these technological advancements to improve your recruitment strategy and make better-informed hiring decisions.
1. Enhance Candidate Sourcing
Finding the right candidates for your open position can be challenging. However, AI algorithms can be used to search for and analyze a large amount of candidate data from various sources, such as social media profiles, job boards, and professional networks. You can even program AI-generated chatbots to reach out to candidates directly and answer questions they might have about the role and your company.
By leveraging AI in candidate sourcing, your team can reach out to qualified potential hires who haven't submitted their resumes and might not have heard about your open position. This method widens your talent pool and increases the likelihood that you'll find better-fit candidates who match your job description.
2. Automate Your Resume Screening
AI-powered resume screening systems can help your team use AI in the hiring process to analyze resumes and applications more efficiently. Instead of thumbing through each resume by hand, AI algorithms can filter out unqualified candidates so you can focus on the more promising applicants earlier in the recruitment process.
If you're familiar with applicant tracking software (ATS), then chances are you already have an idea of how this works, though AI adds another level. ATS systems can be programmed to automatically sort resumes based on keywords you choose (such as skills, work history, education, and any other deciding factors), and AI takes this a step further. Used in tandem with your ATS, AI uses your employment data to learn how to recognize which candidates are likely to be successful on your team and sends them to the top of the pile.
3. Automate Interview Scheduling
You can use AI in the hiring process to make mundane tasks easier — like the back and forth of scheduling interviews. In general, you will first need to enter the relevant data, such as:
interviewer availability
scheduling time slots
email and contact information
Next, specify how you'd like the AI to function. For example, you can ask it to schedule interviews only when all parties are available between specific hours and for a certain amount of time. Once you start using the system you've set up, continue testing it and giving it feedback until it functions how you need it to.
4. Automate Interview Assessments
Not only can AI set up and schedule your interviews, but it can help you evaluate them as well. This enables your staff to evaluate candidates based on the same criteria, eliminating bias and ensuring those you hire have been assessed objectively.
For example, you can have AI scan human-run video interviews for relevant keywords and delivery to help you decide if the candidate is skilled enough and confident in their ability to do the job. You can also use it to ask candidates questions and collect answers, whereby you're able to use this data to recognize which candidates should move forward in the hiring process. This helps your recruiting staff spend more time evaluating answers and data since they're saving time interviewing candidates up front.
5. Improve the Candidates' Experience
Though using AI in the hiring process means your candidates will need to communicate with computers and bots, there are also ways to improve the candidate experience and make it easier to humanize their interaction with your staff. Since AI can mine more resumes and interviews for keywords and data, it's able to do a better job of matching skills and qualifications with good-fit candidates, which can help your team convey a more personalized approach.
AI can also offer feedback for candidates, answer their questions, and ensure the match is suitable for their career goals. The technology has more bandwidth to search for job-match data and discover more details about candidates than busy recruiters with heavy workloads who might miss the signs of top talent.
6. Make Data-Driven Hiring Decisions
Since AI systems can collect large amounts of data during the recruitment process, you're able to gain valuable insights and make hiring decisions based more on data than human opinion or impressions, which is where bias can eek in. The great thing here is that as you hire and onboard new employees, you can also use the data on how well your new hires do for future hiring decisions and help your AI algorithms adapt to your team's staffing needs.
As the technology and AI algorithms learn which hires are best for your company, you're able to better identify successful hire patterns and continue making better decisions in the long run. This increases the efficiency and effectiveness of your hiring process and ensures you continue hiring the best possible talent for your organization.
Use AI in the Hiring Process to Build a Better Workforce
Now that you know how to use AI in the hiring process, you can continue to improve the effectiveness of your recruitment efforts in addition to the quality of your staff. Start a free trial with Monster today and gain access to millions of highly skilled job searchers.