Recruiting trends 2019: What large companies need to know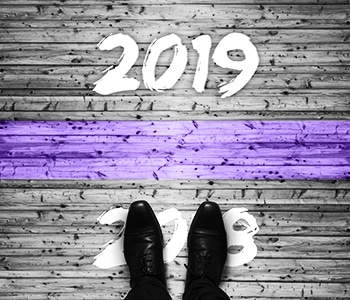 We all wish we had a crystal ball that we could peer into and get a head-start on planning smart strategies for the coming year. Imagine how much easier business would be if we could predict budgets, KPIs, and reqs. Unfortunately, crystal balls don't exist (if they did, we'd be the first to tell you about them), which is why we're delving deep into 2019 trends to help you plan for the coming year.
At this year's HR Tech, keynote speaker Jenny Dearborn, EVP of HR and Global Head of Talent at SAP, spoke eloquently about the topics that have been keeping recruiters up at night: Tech is booming, and the lower paid jobs are disappearing. Recruiters have been trying to negotiate the growing the skills gap, automation, and there's so much new technology to manage, it's overwhelming.
"Huge changes are coming, but don't panic," Dearborn said. "The ones who'll do the best are the ones who take advantage and prepare themselves."
The number one thing she thinks will be at the heart of recruitment trends for 2019 is data. "Everything that can be connected to the internet will be and everything that can be automated will be," she said.  "We need to think about the implication on jobs."
In addition to the need to consider big data and its implication on hiring and recruiting, we wanted to identify other specific trends to watch for, so we spoke with industry experts and came up with five things that we expect large business recruiters will be focused on in 2019. Read on to make sure your recruitment strategy is prepared to align with what's coming next.
AI's focus will shift to the front end of the recruiting process
You couldn't get away from the topic of AI in 2018, and it's certainly not going anywhere next year. What will shift is the focus from AI as a holistic panacea to a task-appropriate recruitment tool.
Basically, smart recruiters will find ways to use AI to help them do what AI does best: streamline the early stages of the recruitment process, ushering talent into the funnel, and then narrowing that funnel.
"Employers are using AI to filter and prescreen candidates and to reduce recruiters' workload—not to find the ideal candidate," says Susan Ferebee, a professor at the information technology program at Purdue University Global.
Technologies like chatbots will both improve response time to candidate inquiries, which will enhance the candidate experience, and free up recruiter's time to do more human tasks, like meeting face-to-face with qualified candidates.
"Bots can give candidates a stronger and better understanding of where they stand in the recruiting process, along with updates to their status," says Elaine Orler, chairman of TalVista. "Bots may also reduce candidates' frustration with not being able to reach a human for answers."
But there are two caveats for the adoption of recruitment AI in the New Year. First, recruiters and hiring managers are not about to cede control of hiring decisions to algorithms; they're just looking for smart assistance.
Second, not all AI vendors' products will survive the cutthroat competition for recruitment organizations' dollars, some experts predict.
"We're going to see some AI solutions either get acquired or go out of business in the next year or two, as more of the core talent acquisition systems start to offer AI capabilities," says Madeline Laurano, a principal at Aptitude Research Partners.
Video will become even more important to recruitment
Communicating your employee value proposition with video can make a huge difference in how effectively your organization attracts and maintains interest from qualified candidates.
From employer branding videos that show candidates the values, culture and work life at a particular firm, to video interviews, companies are leveraging video to build stronger relationships with candidates in 2019.
"We'll continue to see more use cases for video, including candidate assessments, recruitment marketing, and onboarding new hires," says Laurano.
Some newer innovations will even push the limits of what companies are comfortable with regarding recruiting practices. "Many video solutions, mostly being used experimentally, are also testing the limits of facial expression recognition for behavioral analysis and truth detection," says Orler.
What's next is even more innovative ways to leverage video, including video job descriptions like our own Monster Studios app (launching 2019). You'll be able to record, edit and post videos with your job ads, using our app and a smart phone.  In 2019, candidates will become more and more used to seeing video used as a marketing tool in their job search as much as they are in the rest of their lives.
Recruitment technology will become increasingly focused on integration
Without a strong plan for integration, recruiters will continue to spend too much time managing separate technologies rather than bonding with clients and candidates.
To prevent this inefficiency, recruitment leaders will likely increasingly focus on integrating their company's tech stack in the new year."Integrations will become more streamlined and fluid as organizations start to really dissect what information is critical to integrate to which platform and when, versus the old model of bringing in all information, just in case we need it," says Orler.
One more caveat: Before distributing that next-big-thing app to a slew of recruiters, consider the inputs and outputs. "Data migration is always one of the biggest issues when you move to an app," says Ferebee. "So you'd want to look for a tool that could access your data where it is right now."
Hiring for potential becomes the new mantra
Given 2019's continued war for talent, particularly for high-skilled workers, more recruiters and their clients will acknowledge that the "perfect" candidate is ultimately too elusive.
Giving up the search for that unicorn—which, after all, is a mythical beast—can prove liberating, and may pave the way for more reliable recruitment results. It can mean considering a candidate with just five of 10 "must-haves" if the candidate has a proven ability to learn and grow.
More employers will hire for potential, eyeing candidates with many of the key baseline skills and the capacity to be quickly trained in what's missing.
Rather than simply screening for skills and experience, employers will "look for work readiness and the ability to learn quickly, because workers will have to continuously retool," says Ravin Jesuthasan, a managing director with Willis Towers Watson.
Some clues that a candidate might be a "hire for potential" include a history of developing new skills, even if they're not relevant to the job you're hiring for; being up-to-date in advances in their field, even if they don't apply to yours, and performing well in problem-solving interview scenarios where they're tasked with coming up with creative solutions to some of your most common problems.
Better analysis of recruitment data will drive better outcomes
Yes, big data is still king—and will continue to reign in 2019.
As you probably are well aware, data and analytics have become fundamental to every successful recruitment strategy, from helping to target the most qualified candidates, to driving efficiency of recruitment dollars. Indeed, 67 percent of recruiters in Monster's survey said they must understand analytics to succeed.
In 2019, the pressure will be greater than ever to monitor recruiting processes and results and extract actionable information to make the processes more streamlined the next time around.
"Not starting from scratch every time we open a requisition is critical for any organization expecting to compete for the best talent in 2019," says Orler.
"Most organizations are recruiting for talent they have needed before and will need again, but most recruiting teams do not have the tools to quickly understand what was done before, what was successful, what wasn't, and how long it took."
This can mean analyzing who makes it through the hiring funnel and how, tracking excellent candidates who weren't quite optimal for the opening at hand, and giving recruiters efficient access to all of this information.
Ready to put your 2019 plans into action? Our recruiting solutions for large businesses are a great place to start.