How to Make Mass Hiring More Efficient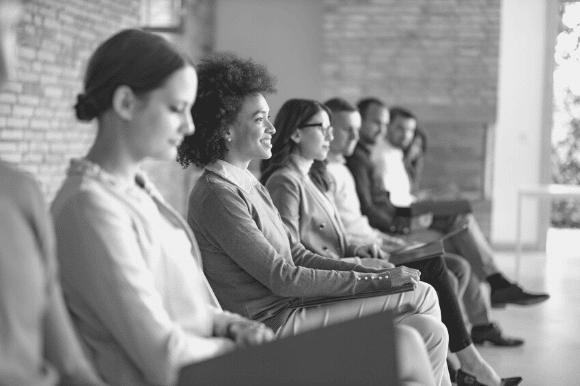 Seasonal sales spikes, a significant new product order or services client, or perhaps expansion into a new market: These are all reasons why business owners may need to hire large numbers of employees at once, often referred to as "mass hiring."
While the increase in revenue bodes well for your company's bottom line, it can also create new challenges for your recruiting efforts: finding, hiring, and onboarding the right candidates without sacrificing quality or disrupting current business operations.
The thought of hiring several employees at once may be a bit scary. But with ample foresight and the right planning, attracting the right talent quickly and efficiently can be a positive experience. Here are five tips to help you meet your high-volume hiring goals.
How Mass Hiring Differs from Traditional Hiring
Traditional hiring processes generally focus on filling just one or a few vacancies at a time. As the term suggests, mass hiring involves adding a large number of employees at once. Another differentiator is the time it takes to fill a position, which is 42 days on average, according to the Society of Human Resources Management.
Broken down by industry, construction jobs have an average time to hire of about 13 days, leisure and hospitality about 21 days, and health services at 49 days. By contrast, high volume hiring dictates a far shorter timeframe to support surges in demand or geographic expansion.
Since hiring a large number of employees in a short amount of time presents unique challenges, you'll want to proceed carefully. The following tips will help you do so successfully.
Tip #1: Create a Plan for Before, During, and After Mass Hiring
As with any large undertaking, hiring tens (or even hundreds) of employees at once requires a solid plan. Making key decisions about the entire process—before, during, and after the hiring event—will save you and your team a lot of time and prevent you from skipping important steps. For each phase of hiring, here are a few things to include in your plan:
Before
When is the best time to begin advertising the openings?
Will you hold both online and in-person interviews? If an in-person hiring event, who will coordinate logistics?
Where will you advertise the openings?
How can you incorporate current employees in the advertising efforts?
Are there other local businesses or partners who can help spread the word?
What days and times will you hold interviews? If online, what platform will you use?
Who will be a part of the screening and interviewing process? Will they be available to execute their roles in the allotted timeframe?
How will you make your final decisions?
During
How will you communicate with candidates during the hiring process?
Do you plan to make hiring offers "on the spot?"
What team members will have authority to move applicants to the next phase of the process?
What information do you provide about compensation and job requirements during the screening and interview process?
Do you have a target number of interviews you to complete each day?
How do you plan to check references or perform and kind of background checks?
Will you require candidates to take any kind of test or assessment during the interview process?
After
How long will onboarding and training take?
Who will be responsible for managing onboarding and training?
What human resources documents will you need to have available?
How will you handle employee turnover?
Is there a process for offboarding temporary hires?
What additional IT resources will you need for the influx of new hires?
Tip #2: Determine Must-Have Skills and Qualities for the New Hires
Recruiting large numbers of employees at once means that you probably don't have time to search for the "perfect" fit. However, some skills and qualities are non-negotiable. Creating key selection criteria—the skills, attributes, knowledge, and qualifications essential for satisfying the requirements—will make it easier to select candidates to move to pre-screening and interviews. Think about the day-to-day tasks for each position, then list the most important skills and qualities needed to complete them.
For example, if you need to fill multiple sous chef positions in a new restaurant, make a list of qualities and skills that make a great sous chef in your particular business. Is speed most important, or is attention to detail or familiarity with a specific kind of cuisine your top priority? Be sure to include the most important personal qualities as well, like punctuality, ability to work well on a team, or leadership experience. Rank the key selection criteria and be sure to emphasize it in the job description.
Tip #3: Don't Overlook Hiring Best Practices
While mass hiring generally entails a shorter time to hire, it shouldn't mean a decrease in the quality of talent. It may be tempting to cut corners or skip over a step or two, but don't give in. Excessive employee turnover is costly for businesses, and the stakes are even higher when onboarding large groups of people at once.
To ensure that you maintain the high standards you've set for employees during your normal recruiting, large volume hiring sprints should include the same steps that you usually perform, even if slightly modified to account for less time. That means you should still:
Craft a detailed job description that clearly describes the position and requirements.
Insist on hiring candidates who resonate with your organization's values and culture.
Prepare interview questions ahead of time.
Conduct thorough interviews, even if it's with a panel instead of one-on-one.
Pay attention to red flags—and don't ignore them just to meet your headcount goals.
Tip #4: Use Technology Throughout the Mass Hiring Process
Advertising, prescreening, and interviewing are all areas for which you should use technology to streamline your high volume hiring plan. Whether your hiring team is in-house or you're working with an outside firm to handle the process, be sure to incorporate tools such as:
Social media to broaden your reach for potential candidates.
Email to notify previous applicants of the current openings.
Application tracking software to automate resume reviews, screen applications, and manage the status of each application.
Automated email messages to notify applicants of where they are in the process.
Tip #5: Document Lessons Learned
Each time you complete a large-scale hiring effort will be different. The good news is that you can use the lessons from each round to refine your plan for the next time. Use an hour or two following your hiring event to review your process with your team. Document what went well and what you'd do differently, then update your plan.
For example, if you found that a particular website brought in more qualified applicants than others, you may want to allot more budget to that source during your next hiring sprint. Or, if it takes three days to properly onboard new hires instead of two, you can update your plan to ensure adequate time to get everyone ready to work.
Stay Abreast of Labor Market and Employment Trends
Mass hiring is easier when you know what's happening in the larger employment marketplace. Check out Monster's job market information and resources page to help employers like you appeal to the emerging workforce.