IT recruiting tips for the non-techie recruiter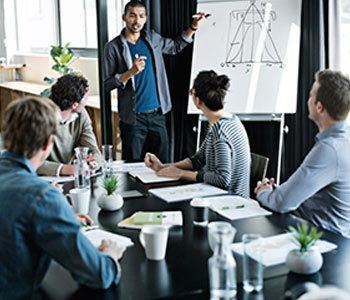 Finding the right IT candidate can be a challenge, even when it's an employer's job market. And if you're looking at an IT recruiting strategy that will attract "hybrid" candidates — applicants with both technical and business skills — expect a lot of competition from other companies.
"The days of the computer programmer who sits in the back of the office with headphones on writing code are over," says John Reed, executive director of Robert Half Technology. "Companies want people who can go to meetings, gather information and talk about what clients want to accomplish. Written and verbal skills are at a premium."
The challenge grows exponentially for small and medium-size companies that don't have on-staff IT experts to help assess candidates' skill sets. Fortunately, workarounds exist to help even the most tech-challenged companies and recruiters find the right IT professionals.
Qualify your resume search
When you're looking at hybrid professionals, you're probably going to have to focus in one direction or another. "If you're hiring someone with an MBA who knows the business side of things, they're not going to know everything technically," says Thomas Verghese, managing partner at Saxon InfoTech, Inc., Columbia, Maryland. "Technical people tend to get specialized in a single vertical and pick up business skills on the job by working on a project."
Decide which is more important in your open position — the MBA or the tech knowledge — then pick carefully as you search resumes to attract top talent. As you review resumes, use these six questions to evaluate whether the job seeker is right for your hybrid position, says Jack Molisani, president of ProSpring Technical Staffing:
Is this person's skill set what you need? If you need a programmer, are they a programmer?
How senior are they?
Do they have experience in your industry?
Do they have the IT and business tools to get the job done?
Have they done similar things to what you need them to do on this job?
Can you afford them?
Using a more thorough approach like this during your IT recruiting will help keep you focused on what you need in an employee and less distracted by one or two impressive qualities.
Dig deeper during interviews and reference checks
Once you've narrowed your list of potential employees, tease out details in the interview process about their experience. Ask detailed interview questions about prior positions, focusing on how they split their time between technical and business tasks, Reed says.
Verify what the job seeker says by checking references. Ask previous supervisors these five questions about their former employee:
What did they do on a typical day?
What was their role on past projects?
What kind of technical aptitude do they have?
How is their business sense?
Describe the role you have in mind for the employee. Would they do well in that role? Where would they likely struggle?
Listen carefully — sometimes you have to read between the lines or ask thoughtful follow-up questions in order to dig a little deeper to see where the candidate may have struggled or needs extra training.
Trust but verify IT skills
While most companies have someone who can "talk business" to gauge a candidate's business acumen, not every company has a technical professional to "speak IT" during the IT recruiting process. "If you ask questions that are too simplistic, you risk insulting the IT candidate, or worse, suggesting that you don't have the IT knowledge to recognize his or her skills level," Reed says. And even if you do have technical pros on staff, they'll have to find the line between validating skills and experience and over-testing job seekers during the interview.
Have a tech person on your staff do a technical screen of the candidate resumes and conduct technical interviews. Be clear with your IT employee that he or she is there to assess the candidate's level of technical aptitude, not to discuss pay or other subjects.
Check presentation and communication skills while you're vetting IT skills. Come up with an IT problem (how would you build a firewall to maintain data security for us?) and ask the job seeker to explain how they'd solve it using a whiteboard. And don't forget the importance of the candidate's social skills.
What if you don't have tech savvy staff to help with IT recruiting?
If you don't have the IT staff to vet job candidates, the following suggestions can help you through the process:
Use an outside company to verify tech skills
There are many skills testing companies that can tell you where candidates are strong and weak and how they compare to others who take the tests. Figure out what types of tasks and programs your ideal candidate would be proficient in, and research different testing companies to find the right one.
Borrow an IT expert
Early on in your IT recruiting efforts, reach out to your network to find a tech savvy colleague in your same industry and see if they can help with your interview process.
Fake it
You can ask IT questions and nod your head while listening to answers you don't understand, Reed says. "However, that's probably the least effective way to test someone's skills." Still, it can be done. Google ".net interview questions" and you'll find plenty of things to ask a .net developer. Take time to research your interview questions, jot down notes about the correct answers and then listen for key phrases.
Hire someone who's been there, done that
Choose a candidate who has a proven performance record of accomplishing the task you need done. "Someone who's performed one or two implementations before will know where the issues were, can identify areas of improvements, and when they roll out, they know how to cut costs or judge a timeline," says Marty Guillamun, executive director of national delivery for Digital Intelligence Systems Corp. Seeing that they have experience performing the same tasks, you won't have to worry so much about other technical competencies.
Get help with IT recruiting and retention
Hiring quality tech talent can be a daunting task, especially if you're not a techie yourself or you need to hire someone quickly. But making a hasty candidate selection can also cause a lot of headaches, including disruptions in productivity and high turnover costs that effect your bottom line. Get help hiring candidates with the right skills by signing up for Monster Hiring Solutions, where you'll receive expert recruiting advice and the latest hiring trends.