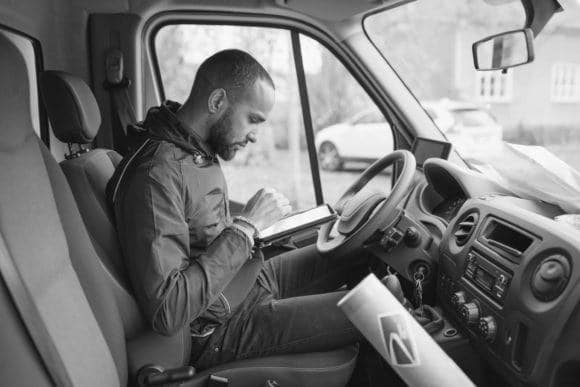 Imagine you've spent years perfecting your pizza recipe. You know the tastiest topping combinations, the right cheese-to-sauce ratio, and how to get the crispiest crust. Your phone is ringing off the hook with orders. But if you haven't figured out how to hire a driver, that pizza isn't going anywhere and you won't get repeat customers.
Whether you're hiring a delivery driver, a taxi or rideshare driver, a personal driver, or a bus driver, it is essential to find someone you trust to get products or people where they need to go. So, how do you find someone with the right experience and skillset?
Knowing how to hire a driver who will always go the extra mile can be boiled down to these three essentials:
Write a job description that attracts the best candidates
Carefully screen your applicants down to a manageable number
Ask revealing interview questions to find the right fit
1. Attract Qualified Candidates
Before you can hit the road, you need to know where you're going. Think of the job description as a roadmap that clarifies the role, responsibilities, and qualifications. An effective job description should have these elements (in this order):
Introduction
Job responsibilities
Work hours and benefits
Qualifications and skills
Experience requirements
Call to action (i.e., details of how to apply for the job)
In the summary section, write two to four sentences about the position, company, and any perks that are offered, like getting paid to zip around town in a luxury car or employee discounts. Use the rest of the job description to explain the day-to-day responsibilities and necessary skills, such as being responsible and driven.
Include any base-level requirements, such as a Department of Transportation physical, commercial driver's license, clean driving record, and passing a background check. Also, list anything else you think the candidate needs to know before applying, such as the time commitment, hourly rate, any equipment they'll use, and if the driver will need to use their own vehicle.
2. Choose Drivers to Interview
Once you post the job description on a job board and your company site, the resumes could start rolling in at high speed. Don't pump the breaks now! Increase your efficiency with the process by using an applicant tracking system (ATS) and resume screening technology to filter for keywords from the job posting.
When you're selecting keywords and reviewing resumes, focus on the skills and responsibilities a candidate gained at each job rather than their title. Figuring out how to hire a driver comes down to having an open mind about who can hit the open road.
A candidate could have some of the necessary transferrable skills from other driver roles or jobs such as a warehouse assistant, stocker, or customer service representative.
The next step of the resume screening process is to conduct short phone interviews. The call should help you to assess the soft skills every driver should have, such as communication, listening, and professionalism. Also discuss relevant specifics like the time commitment, how far they'll drive, and the hourly rate so the candidate can decide if they want to move forward.
By the end of the screening stage, you'll give the green light to a few qualified candidates who are interested in the role.
3. Ask In-Depth Interview Questions
Now you're ready to move ahead with interviews to find who you want in the driver's seat. The goal of the interview is to determine if a candidate has the right experience, skills, and professional values to get the job done and make a good impression on everyone they meet on the way.
Since you're wondering how to hire a driver, you probably want to know the best interview questions to ask. Here are a few examples to get your gears going:
What skills and qualities do you think will make you a great [delivery driver, taxi driver, rideshare driver, personal driver, bus driver, etc.]?
What would you do if you had to deal with a difficult passenger, like someone who was angry, impatient, or behaving in a distracting manner? How would you de-escalate the situation and continue to drive safely?
Please tell me about a time something went wrong at a previous job. How did you resolve it?
Are you comfortable using technology to accept jobs, track job statuses, send alerts to clients, process payments, and set and follow routes?
You will have access to sensitive information, like people's addresses and payment information, and might overhear private conversations. Have you had similar experiences in the past? Are you confident that you can safeguard information?
Why do you want this job? What made you hit "apply"?
Now That You Know How to Hire a Driver, it's Time to Hit the Road
Ready to go? You've learned how to hire a driver and are ready to navigate the hiring process. Start today by posting a job on Monster for free.