How to attract candidates amid recession fears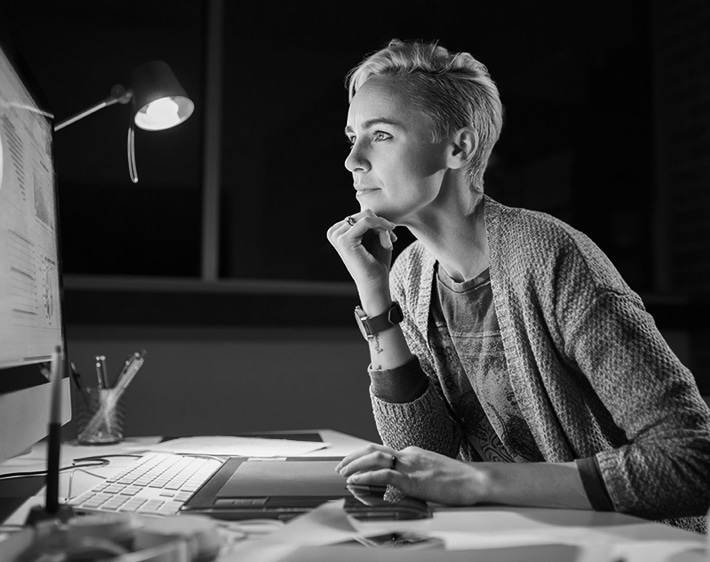 Before the coronavirus pandemic took hold, the country was already holding its breath, anticipating a recession.  Between it being an election year, various global events from coronavirus to tensions in Iran, and the long streak of economic prosperity that many felt had to end at some point, people were bracing themselves for recession.
In fact, earlier this year, Monster's latest State of the Candidate survey   revealed that 60% of American workers were worried about the state of the economy and more than 1 in 3 feared that their jobs would be at stake if the U.S. were to experience a recession.
Now that stock  markets are in turmoil and we've experienced historic unemployment claims over the past few weeks, an economic downturn seems all but inevitable. Yet some companies have to continue hiring, at least to some degree. How do you do that in the midst of a potential recession?
The solution: Position your company and the job itself as a place where the candidate can grow, no matter what happens. We turned to the experts for tips on how to do just that.
Allay their fears
While no company is 100% "recession proof," most healthy companies have recession plans in place for responding to the economic swings that can impact revenue and growth. "Be prepared to lay out some of those plans," says Jen Clark, vice president of talent acquisition at OperationsInc, a human resources consulting firm.
That includes being able to demonstrate your agility when it comes to switching service lines or adjusting capacity to compete in a down economy, she says. "If applicable, communicate the way the individual position and department will be impacted as opposed to other areas of the business should the economy take a dive," adds Clark.
Overall, you want to illustrate to the candidate that you have thought a recession scenario and put a plan in place. "Not every company folds or lays off employees during a recession. Showing a track record of how your company has weathered other storms or dips is a strong strategy," says Clark.
Another strategy is to share information about the company with interested candidates, says Larry Rubin, managing partner at Talent Partners, an executive search firm and member of the Sanford Rose Associates network. "There are lot of resources that candidates can utilize to research your company, but don't assume they will see the ones you want them to," he says. "Send them an email with the proper links that might point to articles on your growth, your financial health and even favorable reviews that may give them a well-rounded understanding that your company is stable, growing, and well-funded," he suggests.
Establish a clear EVP
When dealing with passive candidates (i.e. those people who say they don't want to change jobs right now), it's crucial that your employer brand is on point. Making sure your company's values are clear and visible on a great company website with video testimonials and other supporting evidence will help attract otherwise leery candidates.
"Keep an eye on your company's mission and employer brand to make sure you have established a clear EVP – Employee Value Proposition," says Clark. Without strong messaging about why a candidate should join your firm, you won't attract the passive candidates you want, regardless of the economic climate, she adds.
Highlight growth opportunities
It's important for recruiters to talk about career growth, trajectory, and opportunities, especially when there is economic uncertainty. That way, you're not just focused on selling the role you want to fill, but you're also addressing the candidate's desire to envision a future career path.
"Career growth is often the main reason a candidate wants to hear about new opportunities," says Rubin. "If a recruiter or hiring manager doesn't clearly outline the career growth opportunity, you will likely end up with someone moving just for the money alone, and that doesn't usually last long."
One way a hiring manager can present this notion of compelling career growth is to speak about the tenure and career development of their direct reports to the candidate. "This can elevate most concerns about employer stability," says Rubin.
Consider reskilling programs
Another way to future-proof your recruiting is to focus on the other big 2020 job goal cited by candidates in the Monster survey (after higher salary): 42% said that they want to learn new skills.
"Reskilling and redeployment are relatively new concepts and making great strides because the talent pools are rapidly shrinking," says Rubin. The idea is that reskilling a high performing employee that already knows your people, culture and systems makes much more sense than reinventing the wheel with a new hire. As a hiring manager, it's crucial to highlight any training, learning development, leadership development, or employee coaching programs, as they are all indicative that your company is poised to help new hires grow.
Companies that upskill employees demonstrate their commitment to each individual's career development, agrees Luke Stratmann,metro market manager at Robert Half, a staffing services firm. "By providing staff opportunities for continuing education, employers develop a more skilled workforce," he says. As such, your employees can then establish themselves as leaders in their field and gain insight into industry trends and best practices, which is great for your company.
Build relationships over time
"The life cycle of recruiting may take longer with passive candidates," says Vicki Salemi, Monster's career expert, but relationship building can pay off. She recommends inviting prospective talent to company outings and team building event, and make it like an open house. "It's a team effort. If you have an awesome engaged hiring manager, you could build rapport and relationships," says Salemi.
The bottom line: While you don't want to come off as overly concerned or defensive, showing candidates there has been thought behind recession planning is a good thing, says Clark. "Every little bit helps win the war on talent!"
Want to learn how to recession-proof your hiring strategy? For more recruitment tips, sign up for Monster Hiring Solutions.