How to Hire a Financial Advisor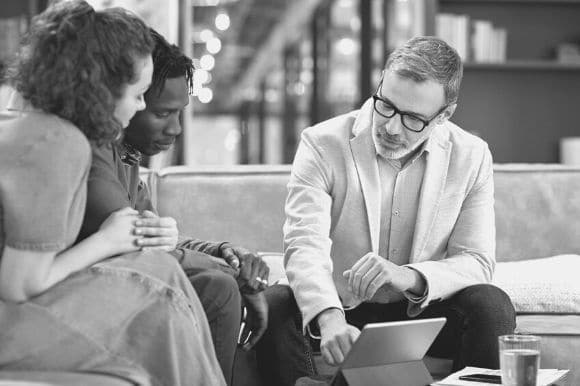 Whether you work at a major bank or a boutique wealth management firm, it is crucial to hire a financial advisor who will provide best-in-class service for your clients. Hiring a team of financial advisors you can trust with the day-to-day client responsibilities allows you to focus on the high-level tasks that will grow the business and boost the bottom line.
Financial advisors need to have the technical skills to handle a wide range of investment management and financial planning responsibilities, as well as the interpersonal skills and professional values to develop strong relationships with clients and colleagues. Recruiting financial advisors involves three major steps:
Attracting qualified individuals with a detailed job ad
Narrowing down your applicants for a closer evaluation
Asking the right questions to help you make the right decision
1. Start With a Detailed Job Description
If you want to hire a financial advisor, you'll need to know how to write a clear job description that outlines the role, responsibilities, and requirements. Although you can use other financial advisor job descriptions for inspiration, it is beneficial to customize yours so you attract candidates who are qualified for the role and eager to join your firm.
Start with a summary of the position and why your company is a great place to work. To get the attention of high performers, stand out from the competition. Mention details like your firm's mission, awards it has won, and perks that will encourage top talent to apply, like bonuses, tuition reimbursement, and opportunities for professional development.
Next, list the main responsibilities so the financial advisor knows the day-to-day tasks and can determine whether they have the necessary experience and skills. Financial advisors might be responsible for investment and asset allocation recommendations, tax and estate planning, cash flow analysis, and helping clients develop strategies to meet their financial goals. Depending on seniority level, a financial advisor might lead client relationships, manage a team, and generate new business.
Then, list any specific requirements such as:
Being a certified financial planner (CFP) or chartered financial analyst (CFA)
Licenses like the Series 7 and Series 66
Some people will apply for a job only if they meet all the requirements, so it is helpful to encourage more candidates to apply by separating the required qualifications from the preferred ones. While it might be necessary to have certain licenses and certifications, you may want to hire financial advisors with knowledge of specific financial planning and project management software.
2. Screen Resumes to Select Top Financial Advisors
After you post the job description on a job board and your company site, you may have to sift through dozens or hundreds of resumes and cover letters before choosing a handful of financial advisors to interview. Make the selection process more efficient by using an applicant tracking system (ATS) and resume screening technology to filter for keywords from the job posting, such as "client services," "portfolio management," or "financial modeling."
Look for candidates who have had similar responsibilities because they are more likely to have the skills you need. However, learning how to hire a financial advisor requires some flexibility. A financial advisor with all the required qualifications who is lacking a few preferred ones like a master's degree in business or finance might be the right person for the job. A smart and hard-working financial advisor with a growth mindset can quickly learn new skills and software.
The last step of the screening process is to conduct phone interviews. A short call should help you to evaluate some soft skills financial advisors should have regardless of seniority level, such as being personable, professional, and a strong communicator. The phone call gives you time to discuss more of the responsibilities and details such as salary range, benefits, and company culture-so the candidate can decide if they're interested.
3. Ask Insightful Interview Questions to Assess a Financial Advisor's Skills
Whether you have one in-person or video interview or multiple rounds, you'll need to know whether the financial advisor has the experience, skills, and professional values to succeed in the role and at your company. A longer interview process also allows you to involve more coworkers as you hire a financial advisor.
After narrowing down your search to your top picks, you can start preparing interview questions to ask. Here are a few examples of revealing interview questions to ask financial advisors.
What steps would you take to prepare a financial strategy for a new client? What information would you need from them?
What resources do you use to stay on top of the market and financial news?
If you were buying a stock for your portfolio, what would you buy today? Why?
Are you comfortable leading the client relationship? What account management tasks have you been responsible for in previous roles?
What are some obstacles you faced in previous jobs? How did you handle them?
What qualities make you a great financial advisor? Why should we hire you?
Why did you apply for this job? Why are you interested in working at our firm?
Now That You Know How to Hire a Financial Advisor, Find the Right Fit
You've learned how to hire a financial advisor. You're now ready to find a financial advisor with the background and skillset to be an asset to your company and clients. Kick off the hiring process by posting a job on Monster for free.