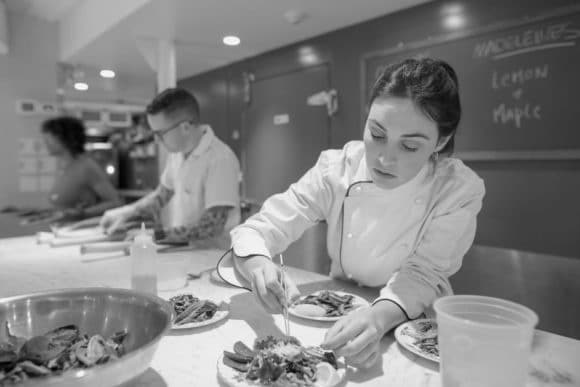 As a restaurant owner or hotel manager, the process of hiring a chef is a skill that you will undoubtedly use over the course of your career. Who you hire for this crucial role can make or break your establishment.
Hiring a head chef or an executive chef is particularly important, as this person not only runs the kitchen, but also makes key decisions about menus, impacts quality of the food preparation, and is ultimately responsible for overall customer satisfaction.
If your restaurant specializes in a particular regional or ethnic cuisine, finding and recruiting a chef with specialized experience preparing traditional dishes takes on even more importance.
Here are the key considerations for preparing your search and hiring a chef that best suits your establishment:
Determine your establishment's current and future needs
Write a detailed and effective job description
Find the right balance of education and experience
Carefully screen your applicants to narrow down your candidate pool
Pay attention to personality and strong leadership skills
1. Determine Your Current Needs and Future Goals
The first step to finding the perfect chef is assessing your restaurant's needs. Are you a start-up restaurant hiring your first chef or are you replacing a current employee? Do you need a chef who specializes in a particular cuisine or style of cooking? Will you need a chef to manage a growing kitchen staff? Are you a smaller establishment that requires a chef with administrative experience?
While every restaurant has specific culinary needs, businesses that are hiring a head chef or an executive chef generally look for candidates with experience in:
Developing menus
Costing recipes
Communicating with vendors
Creating and maintaining budgets
Also, you have to decide if the executive chef will be responsible for the full back of the house activities like managing and scheduling the other staff (kitchen managers, dishwashers, and line cooks).
Additionally, there are specific federal, state, and local food service health and sanitation regulations that need to be followed. When hiring a head chef, be sure that they know and have experience with these requirements so that your restaurant isn't at risk for violations, fines, or even forced closings.
2. Make Your Chef Job Description Clear and Detailed
Requirements for an executive chef vary drastically depending on the type of establishment. Therefore, hiring a head chef at a stand-alone restaurant will be different than one who works in a hotel restaurant. Writing a clear job description increases your chances of attracting applicants with the most relevant experience and skills—which saves you time and effort during the hiring process.
Be sure to include the expected hours of work, whether holidays and weekends will be required, and if the executive chef will be responsible for administrative task, budgets, or hiring and managing kitchen staff. If your goal is hiring a chef with particular skills and knowledge such as baking pastries or an intermediate to advanced knowledge of wine and spirits, highlight those requirements in the job description.
3. Determine the Right Combination of Education and Experience
In the culinary world, there's an ongoing debate about whether it's best to attend a formal culinary school or to work your way up the ranks from line cook or other junior roles. Depending on who you ask, opinions on the value of culinary school will vary.
One of the pros for going to culinary school and earning the two-year degree is that chefs learn a broad set of skills that they may not acquire if they only work in one or two establishments. Most culinary professionals agree that if an aspiring chef is changing careers, then attending culinary school is the smartest route.
Still, knowing how to hire a chef that best suits your needs shouldn't be limited to whether they attended culinary school—you have to decide what combination of schooling (or certification) and experience makes sense for your restaurant.
If your restaurant specializes in a particular kind of cuisine like Thai, Indian, or Southern-style American, a chef with a solid track record in executing recipes for that particular type of menu may be a better fit than one with formal training. Owners with established menus and back-of-the-house processes may opt for a more junior chef with formal education credentials so that they can train them specifically for the role of executive chef at their restaurant.
Also, consider the potential chef's experience in restaurants with different customer volumes and service styles. If your restaurant is a fine-dining or more upscale establishment, you may want to steer clear of candidates who have most of their experience in high-volume, family-style or fast-casual environments.
4. Narrow Down Your Candidate Pool
Once you've had a chance to look over your applications, you'll most likely realize you won't have time to interview every candidate prior to hiring a chef. Based on your criteria, including your current and future needs and the right balance of education and experience, you'll want to eliminate those who don't rise to the top.
While there are software programs that can help you sort applications using keywords, be careful not to eliminate potential diamonds in the rough by being too arbitrary in your process. Someone who is exceptionally talented may not yet have a lot of professional experience, while an experienced chef may not have the best track record. A quick phone screening with each candidate can help you determine who to eliminate and who to bring in for a more in-depth interview.
5. Don't Overlook Personality Traits and Leadership Skills
Restaurants are notoriously fast-paced, high pressure environments in which to work. This means that the executive chef you hire will need to have the personality, temperament, and leadership skills to handle the pressure with grace and set a positive example for the rest of the kitchen staff. Long hours, early mornings, and late nights are also par for the course, which makes high energy and stamina key traits for a successful chef.
If your restaurant concept is new or innovative, hiring a chef with creativity and a passion for taking on new challenges will be key. Other desirable executive or head chef traits and skills to look for when hiring are:
Flexibility
Organization
Business sense
Commitment to quality
Get Started Hiring a Chef Today
Owning and running a restaurant takes both creativity and a keen business sense. That's why hiring a head chef with just the right mix of skills and experience for your business is critical for success. Once you've crafted the job description, it's time to get started searching for candidates to interview. Post your job for free on Monster and find top prospects for your head chef position.