Recruitment Video Strategies and Examples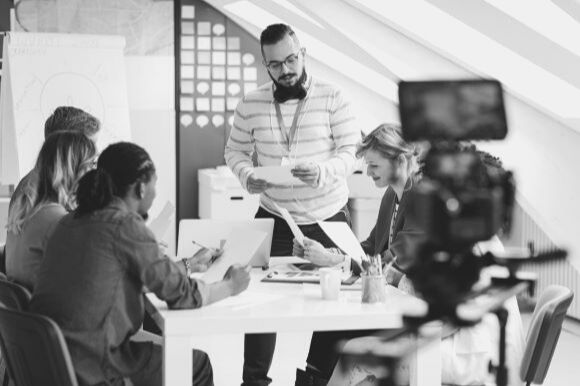 Increasingly, companies are incorporating recruitment videos into their hiring strategies because they're not only effective in drawing in job seekers, but they're also a great marketing tool. Think about it. With users spending on average 88% more time on pages with videos it's an ideal opportunity to differentiate your company and generate greater exposure and engagement.
Beyond the marketing benefits, allowing candidates the chance to peek into your organization promotes transparency and trust as you showcase what it's like to work for your company. Providing an inside view also helps with self-selection as you will get candidates in your funnel who are better informed about, and aligned with, your business operations.
So with all of these upsides, how exactly do you go about designing your recruitment video? To help you get started we've provided the following 5 strategies and examples.
1. Show Off Your Company's Workspace and Projects
Allowing candidates the unique opportunity to see your company from the inside is a great way to present your unique selling points. Without giving away too much, try to focus on elements that create a feeling of trust and excitement among viewers. Show the space where people work on their day-to-day job responsibilities and the comradery among colleagues in the breakroom. If you have remote workers, be sure to show how they are part of the team and the collaborative process.
Keep in mind that viewers want to know what it means to work for your company, so include unique benefits or opportunities that you offer. Also consider the following:
Are there major projects or clients that you can highlight?
Do you have a video from any fun team-building exercises?
Take a look at this recruitment video example from Grubhub, they do a great job by showcasing the workspace and day-to-day activities while highlighting the employee dynamics and benefits.
2. Describe Your Company's Values
Company values play a big part in your company culture and should be shared in any video recruitment strategy. By doing so, you give interested candidates a better understanding of what your company stands for so they can determine whether it resonates with their own ethics and beliefs.
H&M found a clever way of showing how it threads its core values into its everyday operations.
3. Let Your Company's Authenticity Shine Through
Stay away from scripts and interviews that show the CEO using bullet points to explain why your company is a great place to work. Instead, focus on your employees. After all, these are the people who spend most of their time working for your company and who candidates would connect with the most. Do any of your employees have a compelling personal story to share? Do you have clients who can provide a testimonial about working with your team?
Here's an example of Starbucks using employee testimonials to show how it stays authentic and employee-focused despite being a large multinational company.
4. Exude Professionalism by Paying Attention to Quality
When you create a recruiting video it must radiate professionalism and quality. Depending on the size of your company, you might have an in-house production studio at your disposal or a budget you can set aside to hire professionals to create a recruitment video for you.
If you don't have access to these resources, it's not the end of the world. With some helpful apps, you can create a professional video with your smartphone. Still, there are some aspects to consider when going after professional quality:
Light: Whether you're using sunlight or artificial lighting, when you're filming, the light must be directly on the object being filmed. This prevents any weird shadows or silhouettes.
Sound: Sound is incredibly important when shooting a professional video. Make sure to use a microphone (the one on your smartphone will suffice) so you don't pick up any distracting sounds in the background.
Camera: Shooting horizontal is the way to go. Most devices have a landscape layout, so make sure to shoot in that mode. To ensure the footage looks steady, use a tripod to stabilize your camera.
Keep it short and interesting: Try to keep your video between 1-3 minutes. Any longer and you risk people not watching the whole video. Use good action verbs and avoid boring and business-related buzzwords to keep your video interesting to watch from start to finish.
Looking for more extensive tips on how to record a professional video yourself? Check out these tips for recording a professional video with your smartphone.
5. Share and Promote
You did it! You created a professional recruiting video that provides a unique look inside your company. Your next step is to get your new marketing and recruiting tool out there! Start sharing your video on the company's website and social media platforms. Promote it during recruiting events, upload it to social video platforms like YouTube, and encourage your employees to share it as well as this can lead to reliable referrals.
As you start to generate some buzz, make sure that you always include a clear call to action so candidates know how to take the next steps. Both your video and your social posts should show interested candidates how to apply — and should encourage them to do so. Also, as you plan where you will share and promote your recruitment video, make sure that you tailor your social posting as much as possible to each channel.
Want More Help With Your Recruitment Video and Hiring Process?
As recruiting videos make their way into companies' recruiting strategies, it's important to stay on top of trends in the hiring industry. Monster offers a wide database of strategies to ensure your business remains on top of these latest developments. Don't miss out on the latest tools and free recruiting advice from our experts.