5 Ways to Use Marketing Infographics for Recruitment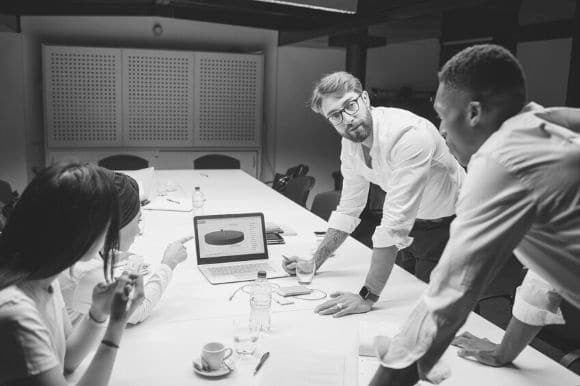 After reading your job posting, candidates are likely to check out your website and social media platforms to learn more about your company. Impress candidates by creating engaging marketing infographics.
The word "infographic" is a combination of information and graphics. They use text and visuals like charts, maps, and icons to convey information in a concise and engaging way.
It takes time to research design best practices and come up with creative infographic ideas. We did some of the heavy lifting so you can focus on hiring top talent.
You can forward this list of best practices and ideas to your in-house or freelance graphic designer. (If you don't have a graphic designer on-call, you can use infographic design software to make compelling infographics quickly.)
1. Incorporate Your Branding
Include your aesthetic branding on all your infographics by using your brand fonts, colors, logo, and icon or image style. You can also make marketing infographics that improve your employer branding, which is your company's reputation as a place to work. For example:
Core values. Share a list of your company's core values with images that represent each. Reduce copy by providing longer descriptions on your about page, career page, and in social media captions.
Company perks and benefits. Similarly, you can share a list of your benefits and perks, such as remote work, flexible schedules, bonuses, and stipends.
Professional development initiatives. Create a list infographic that highlights any professional development initiatives your company offers like mentorship programs, trainings, career development plans, and learning stipends.
Employee testimonials. Ask employees from a variety of departments and seniority levels to share what they like best about working at your company, the core value they identify with the most, and to describe the company culture. Create a series of testimonial infographics that share each person's best responses or how a few people answered the same question. For example, you could superimpose a quote onto an image of the respective employee.
2. Focus on Visualization
Instead of relying on copy to tell a story, the most compelling infographics primarily use icons and visual tools like graphs, charts, timelines, and roadmaps. They should be able to "read" it just by glancing at it. Use marketing infographics to add additional context to your website content and job postings. For example:
Diversity, Equity, and Inclusion (DEI) metrics. Many business owners highlight their DEI commitments and action plans on their website and in blog posts. You could use infographics to show the current workforce demographics, representing these demographics with instantly recognizable symbols such as the LGBTQ flag. Additionally, it's helpful to share the demographic breakdown for specific groups, such as new hires, seniority levels, and technical and non-technical roles.
Employee satisfaction metrics. If you run employee satisfaction surveys, you could share positive results on your website's career page using multicolored pie charts or graphs. In addition to measuring overall job satisfaction, it's helpful to ask employees to rate the company culture, pay and benefits, leadership, and opportunities for career advancement.
Create a series of map infographics. If it's relevant, you could share office and store locations. If you have an all-remote team, you could share where your employees reside using points on a map.
3. Cover a Concise Topic
It is overwhelming to look at a marketing infographic that is crammed with information. The best ones cover a defined topic and are presented in a clean, uncluttered manner. For example:
Hiring process. If you have a standard hiring process for all roles, create an infographic that lets candidates know the next steps, perhaps in flowchart form, from handing in their application to signing their offer. If the hiring process differs based on the department or role, create customized infographics that you can include in your job postings and on social media.
Career trajectories. Candidates and employees want to work for a company that prioritizes career advancement and has a clear career trajectory for each role. Create infographics that share the career path for specific roles. It can be helpful to share details like the average amount of time it takes to advance to each level or the average salary for each level.
Orientation and onboarding process. Share the steps of the orientation and onboarding process at your company so candidates and new hires know they'll have ample support and training.
4. Diversify Your Content
Create a variety of infographic templates that you can customize based on the information you want to share. Some of the most common infographic categories are processes, comparisons, timelines, maps and locations, graphs, charts, flowcharts, testimonials, roadmaps, instructions, and lists. You could give candidates more background on your company by sharing:
Company history timeline. Create a timeline infographic that shows key milestones in your company's history. You could include this graphic on your about page and on social media.
Organizational chart. Let candidates and new hires know more about the organization by creating infographics that showcase the departments at the company, the management team and department leads, and each department.
Products or services list. If it's relevant for your company, make an infographic that showcases your products or services. Depending on your offering, you could even make these interactive so users can get more detailed information. If you have a lot of them, you could share best-sellers.
5. Make it Shareable
Customize your marketing infographics to be the optimal sizes for various social media platforms. Create infographics that you can pitch to the media and that people will want to share on social media. Increase the likelihood that people will find the infographics you share on your website and blog posts by following search engine optimization best practices. Use keywords in your file name and alt-text. If you run polls surveys and share industry advice on your blog, make companion infographics.
Poll and survey results. Create infographics to share proprietary poll and survey results that media outlets and individuals will want to share, again using multicolor pie charts or graphs.
Blog posts. Summarize the key points from your blog post in an engaging list infographic.
Now That You Know How to Implement Marketing Infographics, Learn More
The right infographics, used strategically, can help you recruit and retain skilled employees. Continue to strengthen your recruitment and retention efforts by implementing expert-recommended hiring and management advice from Monster.