How to Create Your Social Media Marketing Strategy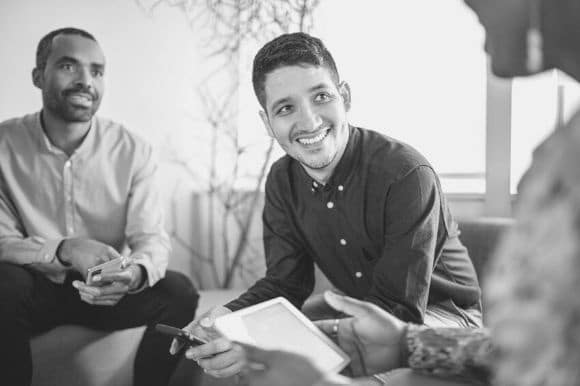 If you've been hesitant about social media, it's time to jump in and get started. Your potential customers, current clients, and future employees are already spending more than two hours a day on social platforms, so you need a social media marketing strategy of your own to get your brand, products, and initiatives in their line of sight.
Social media is a cost-effective way for small and midsized businesses to generate sales leads, cement relationships with existing customers, and establish their employer brand. And getting started is easier than you might think.
As you plan your social media marketing strategy there's a lot to consider. You'll need to:
1. Understand the benefits of social media
2. Target key audience sectors
3. Determine the right message and tone
4. Manage your social media marketing plan
5. Measure results and readjust
1. Understanding the Benefits of Social Media
Social media is a perfect marketing vehicle for small businesses that are looking to grow their profits and establish their employer brand. An effective social media marketing strategy does not need to be expensive, time-consuming, or labor-intensive.
Not only is social media a great tool for driving customer traffic your way, but it can also allow you to engage with loyal fans who can serve as online cheerleaders for your brand. It can allow you to both engage on a hyper-local level and drive interested users from all over the world to your online marketplace.
Compared to traditional advertising, social media posts are quicker and easier to deploy. You can engage regionally or nationally, even globally—daily—without the lag time between message formulation and execution that comes with ads or billboards. Quick messaging allows you to pivot quickly in response to customer input or staffing needs.
As you look to grow your business you can focus on one-on-one engagement with clients and customers, or on broader communication and messaging to your community or sector. You can use a small number of channels that you're already comfortable with, or employ a more ambitious strategy across a wider array of platforms.
Finally, as an employer, you can burnish your company's brand by making targeted announcements on issues that are important to today's job seekers, from DEI policies and initiatives to benefits and work-life balance.
2. Targeting Key Audience Sectors
You should approach social media less like traditional advertising that is all about you and your products and more as a conversation, or even as a set of conversations that you have with a few key audiences. You may consider breaking these key audiences into the following categories:
Potential leads and customers
Loyal customers
Potential employees
Social media is an especially effective way to communicate with right-fit leads, those who are interested in your brand and what you offer, or at least with the products and services you can provide to meet their needs and solve their problems.
You can send out micro-targeted messaging to various target audience members. For instance, post comments and send direct messages to hyper-engaged loyal customers, post on mainstream platforms for potential customers, and provide more business insights on business-targeted platforms like LinkedIn to build your employer brand.
3. Determining the Right Message and Tone for Your Content
Once you know who you want to be in conversation with, you can begin to think about the content and tone of that conversation. The tone you use in your social media marketing strategy should match your brand and your target customer: young, fun, and casual, or principled and dignified?
What are your values and goals as a business? Do you want to convey that your workplace fosters a culture of constant innovation, or steady service and reliability? Determine what tone and messaging you want to share with your many audiences, and then you can begin to decide which message belongs on what platform.
For example, you might announce new services, products, sales, and promotional images and stories on Instagram and Facebook, employment opportunities on LinkedIn, and tours of new locations on YouTube, all with all with ample links back to your company web site.
A great way to build brand loyalty is to share tidbits about your company history and "behind the curtain" sneak peaks with your followers. Make your loyal customers feel like they are part of the team, inviting them to become part of the word of mouth driving your business. If you run a coffee shop, you might post about how beans are roasted; if you're a restaurant owner, you can create a YouTube segment that includes a tour of your kitchen.
4. Managing Your Social Media Marketing Plan
Depending on the size of your business and the goals of your social media marketing plan you may want to consider hiring a social media manager.
You'll want to begin the process with an effective social media manager job description. An ideal candidate might have previous experience on the platforms that make the most sense for your brand, as well as a marketing background.
Your new manager will then determine the timing of posts and other aspects of growing your social media marketing strategy. You can start big by making a broad appeal across a wide range of platforms, or you can begin gradually with a small set of targeted channels of your choosing.
One effective strategy is to position yourself as a reliable expert in your sector. Rather than engaging in sales messaging that could sound pushy, you should aim to focus on the needs of your customers. About 70 percent of your content should be about products and services, and 30 percent about fun and culture.
5. Measuring Your Results and Adjusting Accordingly
Once you're up and running with your social media marketing strategy, you'll want to measure results using metrics. Some of the most important metrics to monitor on your social media channels are quantitative engagement and reach.
Using popular analytics applications, you can track how many users you're reaching and how those users are engaging with your content—and how you might choose to create and deploy content that will resonate with targeted audiences. By properly tracking, calibrating, and employing your social media content you can maximize your interactions with current and potential customers and employees.
From Social Media Marketing Strategy to Management Tips, Get Employer-Targeted News
Get hiring news, expert how-tos, and the latest talent acquisition advice delivered to your inbox. Monster has the answers to help you grow your business and manage and grow your workforce.