How to Conduct a Panel Interview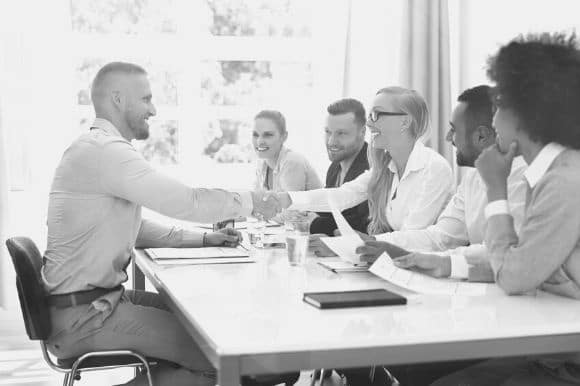 If you're like most employers, every member of your team shoulders a wide range of responsibilities. With so much at stake it makes sense to get feedback on job applicants from a team rather than an individual. A hiring process that includes a panel interview can take some of the pressure off your hiring managers and help your organization select a right-fit candidate.
After all, each of your new hire's new coworkers will have a slightly different stake in the outcome. The ideal candidate should add value as a team member to their peers, a resource for other departments, and an asset to their department and your bottom line.
A panel of interviewers representing these various perspectives can improve your chances of finding a candidate everyone is excited about. Group interviews can also help reduce unconscious bias and vet candidates on multiple aspects of the role. The following steps can help you make the most of a panel interview:
Define the goals of the role
Assemble and train interview participants
Devise an interview script and applicant rating system
Ask the right mix of questions
Compare assessments and select the right candidate
1. Define the Goals of the Role in Your Job Description
Before you write a new job description, seek input from employees within (and outside of) the department they will be joining. At this stage, the focus should be on the outcomes the role would achieve, not on the kinds of qualities the ideal candidate might have. Ask each stakeholder: What do you want the person in this role to accomplish in their first year?
Once you have that input, begin writing a job description that focuses on the goals you've accumulated and the responsibilities that applicants would need to undertake to achieve them.
List the skills and experiences you think such a candidate would need, but resist making it too exhaustive. An overly specific job description may cause highly qualified candidates, especially women and those from underrepresented groups, to take themselves out of the running, as can job descriptions that contain gendered language and other forms of unconscious bias.
2. Assemble and Train Interview Participants
The next step is to select the right mix of hiring committee members. Consider inviting the 3-5 members of your team who were the most responsive to the call for goals you used to compile your job description.
In addition to the hiring manager, your interview panel should probably include someone from HR, a potential peer, and someone from another department with whom the candidate would need to collaborate. Try to include a diverse balance of interviewers in terms of gender, race, and other factors of diversity as well.
Make sure each panelist understands which topics to avoid, particularly those that can trigger legal liability. Focus on creating an atmosphere of warmth and civility. By its very nature, the panel interview is more stressful than a one-on-one meeting for most people, so allowing the candidate to feel comfortable and confident enough to gain an accurate assessment of their capabilities is essential.
3. Devise an Interview Script and Applicant Rating System
Once you've assembled your panel, it's time to begin crafting your interview questions and devising a rating system for each answer. Decide on the number and sequencing of questions and use a script to ask the same questions for every candidate. This will help in your final assessment of each candidate's performance and help you avoid unconscious bias.
Before each interview begins, make sure each panelist has a copy of the job description, candidate resume, and rubric you'll be using to score each candidate. The lead interviewer, usually the hiring manager, should greet the candidate, usher them to the room where the interview will take place, and introduce them to the panel interview participants.
4. Ask the Right Mix of Questions
Once the interview begins, you can organize the questions in a couple ways: by question type (see below) or by area of expertise, with various members of the panel taking turns asking questions. We suggest asking questions of the following types in the following order:
Questions that Build Rapport
These ice-breaker questions allow candidates to feel less self-conscious and more confident about sharing their enthusiasm and knowledge. Employing a few questions at the outset of the interview allows job seekers to talk about the elements of their work they most enjoy and give you a better sense of who they are. Questions that can help build rapport might include:
Can you tell me a little bit about your background and training?
What is the accomplishment you're most proud of?
Questions that Explore Experience
At this relatively early stage of the panel interview, encourage candidates to talk about their past experiences and how they might be applied to the role. This allows them to talk about something they are familiar with—problems they solved, projects they launched, and efficiencies they implemented. Questions that explore experience might be phrased as follows:
What is the most difficult challenge you faced in your last role, and how did you solve it?
What is the project or initiative you're most proud of?
Questions that Reveal Process
You can learn a lot about an applicant's work style by asking them to walk you through a typical task. The following questions can help you learn about a candidate's process:
Describe a typical day on the job: What do you do first, next, and last?
How do you keep yourself motivated when you work independently?
Questions that Test Technical Knowledge
Now that your candidate is at ease, it's time to test their professional, role-specific know-how. The following questions should help you gauge your candidate's depth of knowledge:
How do you stay informed on the latest innovations in your field?
What steps did you take in what order to accomplish your biggest project at your last job?
Questions that Gauge Interpersonal Skills
Even for the most technical roles, soft skills are crucial to success. Here are a few questions designed to determine whether candidates have the communications and interpersonal skills needed to work smoothly with customers, colleagues, and/or vendors:
Tell us about a time when you accomplished something as part of a team.
When working with vendors, how do you approach negotiations and vendor relationship maintenance?
5. Compare Assessments and Select the Right Candidate
To optimize the value of your panel interview, debrief after each interview, even if you can only do so for a few minutes. Then, meet for a longer conversation after the final interview to go over applicant ratings.
Even if the final decision is up to the hiring manager, a diverse panel of interviewers with varying levels of expertise and operational perspectives should make your hiring process richer, less subject to unconscious bias, and more likely to end in a right-fit hire.
You Know How to Conduct a Panel Interview. Now Learn More Ways to Optimize Hiring
Sign up to learn more about the latest hiring best practices, read expert advice, and gain access to management how-tos that will help you up your talent acquisition strategies and grow your business.