Interview Training for Your Staff: Tips and Resources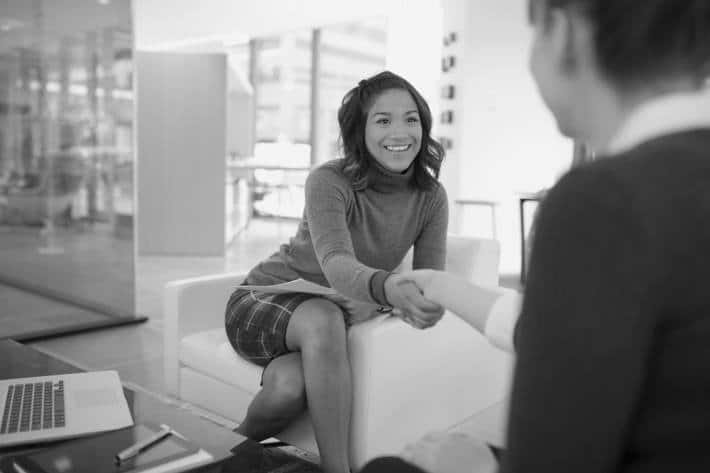 Whenever your business grows it usually means that your staff needs to grow, too. When that growth is large enough that new hires no longer report directly to you, it's time to make sure your managers have the right interview training under their belts and that you have a system in place to create and share interview best practices.
A standard interview process based on consistent, replicable policies helps ensure that, during the hiring process, your managers select candidates who meet consistent standards for your company.
Interview Training for Managers: 3 Steps
It may seem obvious, but it should be stated that the people who will be managing a new employee should also be involved in the hiring process. However, before they take on their role as hiring managers, employees need tools to help them understand how to conduct an interview and make good hiring choices.
Otherwise, you risk having someone who doesn't share your values making hiring decisions on behalf of your company, which can negatively impact your company brand. Margot Dorfman of the U.S. Women's Chamber of Commerce explains the importance of being clear about your expectations for work effort, values, and how you want your customers treated before you let the next level of managers hire employees.
But how exactly does that translate when it comes to interview training for your employees? The following three steps will help get you started.
Step One: Know the Job
Knowing how to conduct an interview starts with having an understanding about the job being filled. Ronald Burke, professor of Organizational Behavior at York University in Canada, suggests writing out job descriptions and listing the behaviors and attitudes associated with success in each position.
One approach is to have the person who's currently in the job write down what they do and what traits made them competent. Or, if someone wasn't doing a good job, list the things that were missing in the current (or former) employee that need to be found in the new employee.
Step Two: Create Alignment
Use the list of desired job skills and attributes as a roadmap for your new hiring managers to use as they learn how to conduct an interview. The list can also double as a benchmark to measure for alignment between the organization's needs at each step of the hiring process. It can be used to create job postings, screen applicants, develop interview questions, and create an evaluation sheet to compare candidates.
For example, if you're hiring a retail salesperson and your list of attributes includes being able to deal with difficult customers, a good interview question might be: "Give me an example of a time you had to deal with a demanding customer. What was the outcome and what would you do if you could do it again?"
Step Three: Share Hiring Expertise
By virtue of their roles, your staff may know better than you what it takes to be successful in a position. But while your team may have a more immediate understanding of who will fit with other workers, interview training is critical, Burke says.
Make sure the interviewer knows how to conduct an interview that stays focused on the job and only asks questions related to job performance. Have your managers do mock interviews where they can practice their interviewing skills. Look for these signs that they've learned how to conduct an interview well:
Patience while waiting for candidates to think of responses to questions
Probing for more detail by asking follow-up questions
Using evaluation materials
Taking notes while listening to responses
Interview Training: Resources
If these three steps sound overwhelming, or you just don't know how to conduct an interview well enough to teach others, a human resources consultant experienced in interview training for managers could help.
A hiring consultant can help you to identify the core competencies you need and develop the right questions and rating tools. They can also help you learn where to look for candidates.
If money is an issue when it comes to hiring a consultant, try these other resources for training your staff about how to conduct an interview:
Seek help from Small Business Development Centers run by the Small Business Administration (SBA).
Look for short, one-day, or online courses on hiring run by your local community college.
Send employees to trade association-sponsored human resources events or classes or provide them with online presentations.
Hire a university student who is majoring in human resources as an intern.
Develop a manual of lessons learned in your hiring process.
Implement cross-training involving employees with hiring experience.
Have managers at all levels observe interviews and gather feedback from interviewers and candidates.
Get From Interview Training to Your Next Hire with Monster
If your managers aren't receiving the right interview training, you're just wasting their time—and yours. But how can you make sure you have the right system in place for your managers to find and hire the best candidates? One way is to stay connected with Monster where you can get the expert recruiting and hiring insights your company needs. Find out how to get free access today.