Employer Interviewing Guide: Best Practices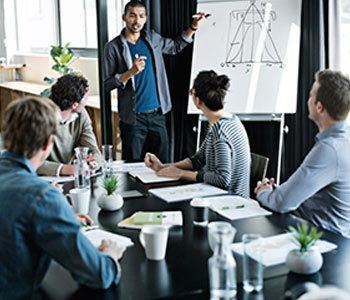 This employer interviewing guide spans the beginning phase of the job interview process, including preparation, types of interviews, and what to do during an interview.
The following resources also include suggestions on interview questions to ask, legal guidelines for interview questions, and developing your interviewing techniques. Once you've successfully completed your candidate interviews, explore more articles to help you find the best candidate or make a job offer.
Interview Preparation
Best Interview Questions to Ask Candidates– Every company and position is different, but here are some universally important interview questions.
How to Interview Candidates: Ask the Right Questions– Learn how to improve your interviews and reduce hiring mistakes.
Mastering Behavioral Interview Questions– Behavioral interviewing can connect you with qualified candidates who fit your company culture.
How to Identify Soft Skills– Discover whether a candidate has the right soft skills for your company's culture.
Candidate Interviews that Get Results– Conducting an interview depends on knowing how job seekers prepare for the interview.
Improving Interview Skills: Learn from the Experts– Frances Haynes and Daniel Porot share their insight on improving employer interviewing skills.
Beware the Five Landmines of Interviewing– Do you lack the time to prepare for your candidate interview? At minimum, learn to avoid these common mistakes.
Best Practices for Hiring Great People– You can't win a game without the right players. Follow these expert tips to recruit winners for your team.
Interview Tips for the Interviewer– Do you lack a human resources department to guide your interview process? If so, these employer interviewing skills can help.
Interview Strategies for Successful Hiring– Use these sample interview questions to help improve your interview skills and hire the right people.
Preparing for a Candidate Interview– A great interview calls for both spontaneity and careful preparation. To do both, create an interview framework.
Sample Interview Questions: How to Interview– These tips provide some basic guidelines on how to conduct successful candidate job interviews.
Ten Tips to Hire the Right Candidate– Hiring the right people means looking beyond experience and skills. Here are 10 tips to help you hire well-rounded individuals.
The Job Interview Has Changed Drastically: Are You Ready?– Make sure you're prepared for video screenings, multiple rounds of interviews, trial projects, and more.
Types of Interviews
Innovative Interview Techniques for Small Business Hiring– These savvy interview techniques are enabling some small companies to find the right candidate for their workplace.
How to Conduct Phone Interviews– Asking the right phone interview questions can separate OK candidates from A-players. This employer interviewing guide covers best practices for phone interviews.
Peer Interviewing– What are the benefits of the peer-to-peer interview, and how do you conduct one? Check out these best practices to find out.
The Benefits of Behavioral Interviewing– Learn how behavior-based interviewing can help you get past first impressions and ultimately improve your hiring strategy.
During the Interview
How to Interview Candidates, Not Educate Them– Learn to improve your interviews and reduce hiring mistakes.
Blocking Out Biases– Unconscious biases can impact diverse workforce hiring. This simple rule will help you minimize their impact.
Legal Interviewing
Keep the Interview Legal– Fair hiring laws, when properly applied and enforced, give every candidate a fair shake in the interview and selection process. Learn how to conduct a legal interview.
How to Avoid Illegal Interview Questions– Even innocent mistakes can be costly for your company if they cross the line. Learn about how to avoid illegal interview questions.
From Our Employer Interviewing Guide to Recruiting Strategies, We Can Help
Honing your interviewing skills is a great way to identify the best job candidates during an interview, but first you need the right candidates coming to your door. With Monster's expertise in acquisition strategies, consider us a workforce multiplier for your business. Get started today with free insights in hiring and recruitment, including the latest data on job market, and much more.