How to Recruit Career Changers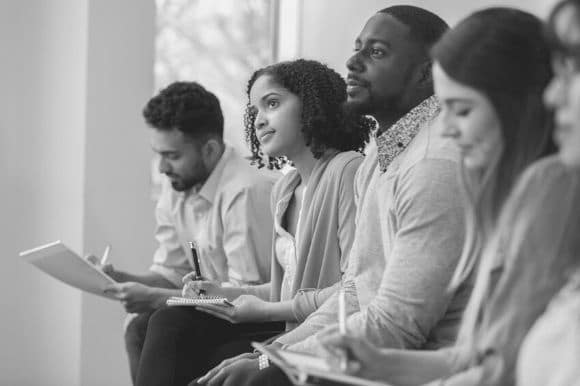 As you sort through the resumes in your inbox, you may be tempted to eliminate candidates who lack specific experience in the role. However, the former attorney who applied for your officer manager position may have just the right leadership skills your staff needs. Even if they don't look quite right on paper, career changers should not be overlooked.
The average American works about 12 different jobs in a lifetime, according to the U.S. Bureau of Labor Statistics. What's less clear is how often U.S. workers change careers altogether, mostly due to the difficulty in defining what a "career change" actually means.
It's normal for people to reevaluate their professional lives, especially if they've experienced job loss or are simply unhappy with their current trajectory. Here are five ways you can shift your strategy to attract top candidates who may be switching careers:
Attract a wider range of candidates
Remove obstacles that discourage career changers
Improve your compensation package
Allow for more flexibility
Implement a robust professional development program
1. Target a Larger Pool of Candidates
Start by evaluating your current hiring process and considering ways you can reach more candidates in general. One easy and effective strategy is to post your job descriptions on more high-traffic job boards, industry-specific job boards, and college and university job boards. Keep in mind that you may need to cast a wider net than you have in the past.
Double down on your efforts by attending a wider range of recruiting events, posting your job descriptions on your social media channels, and asking your connections if they know of qualified candidates you should consider. Incentivize your employees to share the job postings with their networks by offering an employee referral bonus.
As you're overhauling your hiring process, there are actionable steps you can take to attract a diverse workforce. For example, it is valuable to write inclusive job descriptions, use blind applications, standardize your interview process, and have diverse interview panels. In addition to financially outperforming the competition, diverse workplaces are more likely to attract candidates entering a new field.
2. Attract Career Changers by Removing Obstacles
If you have expanded your reach and haven't seen an increase in applications, you may need to revise your job requirements so that more people apply. Reconsider the requirements that may be preventing people who intend to make a career shift from applying.
For example, someone who wants to switch from education to marketing might not have a marketing degree or five years of marketing experience, but that doesn't mean they can't be successful in the role. They might have transferrable skills from other work experiences and other college majors or certification courses. A candidate with a growth mindset, a strong work ethic, and the necessary soft skills could quickly outperform someone with years of experience.
3. Improve Your Compensation Package
You may be having trouble recruiting career changers because you're paying below the market rate. People starting new careers should expect a dip in pay, but below-par wages could discourage professionals used to making much more in their prior careers. You may have to dig a little deeper when good candidates are difficult to find. A salary tool can help to determine the market rate for your specific location.
If you can't afford to pay at the top of the range, which is often the case for small businesses and startups, think of ways you can improve your benefits package. For example, some companies pay the entire health insurance premium for employees and their dependents and offer 401(k) matching.
You may want to offer additional financial perks like student loan assistance, paid parental leave, family stipends, performance bonuses, equity compensation, sabbaticals, and a liberal paid time off policy.
4. Establish Flexible Work Arrangements
As people evaluate their personal and professional lives, perhaps juggling work and family life with night classes, they may require a better work-life balance. You can make your company more attractive to busy candidates by implementing flexible work policies, which will also help you increase employee morale and recruit and retain working parents.
There are policies you can enact to offer a more flexible work schedule, which can make it easier to attract top candidates without additional expenditures. These include:
Flextime. Employees set work schedules that are best for themselves and their families instead of working the typical nine-to-five schedule.
Compressed workweek. Employees work more than eight hours a day a few days a week to hit 40 hours in fewer than five days.
Job-sharing. Two or more employees work part time on different days or shifts to complete the responsibilities of one position.
Shift work. Any job shifts that fall outside of the more-common 7 a.m. to 6 p.m. time frame.
Telecommuting or remote work. Employees work from home or some other suitable, non-office location.
Another option that may be attractive to career changers is to create a hybrid workplace incorporating elements of telecommuting, flextime or other flexible arrangements. Depending on your hybrid workplace policy, you could require employees to come to the office a certain number of days a week or give them the option to come in when they want or when their manager requests it.
5. Create a Strong Professional Development Program
A strong professional development program not only will help you attract top talent, but it will also improve employee engagement, performance, and retention so you have a happier and more successful team. These types of programs focus on continuous training and education, which can help you hire career changers because they are mostly likely to need these kinds of resources as they adjust to a whole new role.
As you're building out your professional development program you may want to consider creating orientation, upskilling, leadership development, and mentorship programs. You could also offer professional development stipends that can be used for classes, certification programs, and conferences.
It's beneficial to create professional development plans for all employees so they know the goals and objectives they need to meet and the skills they need to gain to get a promotion. (Make sure there is a clear career advancement trajectory for each role.) Promote a feedback-rich culture by asking managers to have weekly or biweekly one-on-one meetings with direct reports and quarterly performance reviews.
Attract Qualified Career Changers and Other Top Candidates
These best practices will help you adjust your hiring process, benefits, and company culture to appeal to talented candidates embarking on a new career. While your competitors may be hesitant to consider someone new to the field, keeping an open mind will help you gain a competitive edge. Continue to make your hiring process more efficient and effective by signing up to receive hiring advice, news, and trends from Monster.