Is a Temp-to-Hire Workforce Strategy Right for Your Company?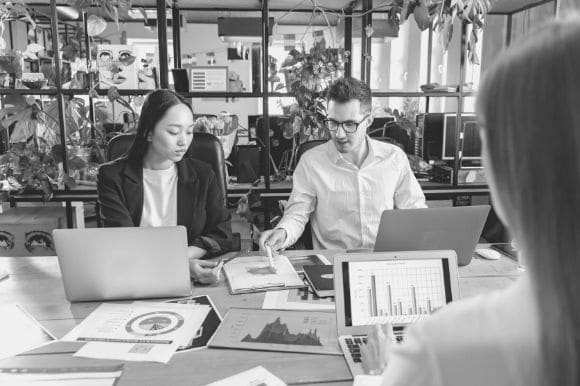 There are many benefits of implementing a temp-to-hire workforce strategy at your company. One of the most impactful is the ability to fill roles quickly and have time to evaluate the worker's skills and experience before offering them a permanent position.
This guide will help you determine if it's a good strategy for your business. If you decide to move forward, you can take these steps to hire and onboard temporary workers:
Decide your hiring needs
Write job descriptions
Promote job openings
Assess candidates
Onboard temporary workers
What is Temp-to-Hire?
Also known as contract-to-hire, it's when a business owner hires a temporary worker for a set timeframe with the possibility of hiring them as a permanent employee at the end of the contract. Temporary contracts typically last three to six months.
What are Legal Considerations?
There are various federal and state employment laws and guidelines regarding temporary work. At a national level, the U.S. Department of Labor (DOL) defines temporary workers as people who don't have an actual or implied contract for ongoing employment. According to the DOL, temporary workers typically work at a job for a year or less and do not expect to work there for another year.
The DOL considers a job to be short-term or temporary work if the person is hired for a specific timeframe or project, to replace an employee who is on leave, or to work at a seasonal job. They also consider whether the contract stipulates that it is a short-term assignment with a set end date.
The U.S. Internal Revenue Service (IRS) also has guidelines for determining whether someone is an employee or a temporary worker. If you misclassify an employee as a temporary worker, you could be held liable for employment taxes and additional sanctions.
It can be helpful to have a lawyer review your hiring plans before you get started.
What are the Benefits?
Here are some reasons you may want to bring on temp-to-hire workers:
You can hire someone to complete a short-term project, fill in when an employee is on leave, or work during your "busy season" without hiring an employee.
You can save money by paying an hourly rate or project fee instead of an annual salary and benefits. (It's helpful to check with your lawyer because you may be legally obligated to pay some benefits based on the contract duration and hours worked.)
You need help but don't have enough work for a permanent employee and predict that you will soon.
You and the worker can determine whether it is a good fit before committing to a permanent role.
How Do You Find a Temporary Worker?
The process of hiring a temporary worker is similar to hiring a permanent employee, but there are some key differences that can make your hiring process more efficient. Here are the main steps for finding and retaining temp-to-hire workers.
1. Decide Your Hiring Needs
Start by writing a list of all the projects you need help with and gaps you may have because employees quit or are on leave. When you bring on a contract-to-hire worker, there is an expectation that there will be the possibility of a job offer after the contract ends. If you have short-term projects or need coverage and do not think you will have enough work to hire someone full-time, consider hiring a gig worker instead.
Next, use a salary tool to determine the budget for each hire. This will help you decide if you can hire for all the roles now or if you need to prioritize. Keep in mind that if you use a staffing agency, you may need to pay a fee, markup hourly rate, and a percentage of the worker's salary if you hire them as an employee.
2. Write Job Descriptions
Your next step is to write detailed job descriptions for each role. The job description will help candidates determine whether it's the right fit for them and will give you or the staffing agency a clear way to evaluate candidates.
There is a high demand for temp-to-hire workers, so it's beneficial to use the introduction paragraph to show why your company is a great place to work. You may want to highlight the mission, company culture, team values, and any awards the company has received.
Many temporary workers hope to have benefits and more job security. You're likely to stand out from the competition if you specify that there is a potential to be hired. Over time, you can increase confidence by mentioning the
3. Promote Your Job Openings
After writing compelling job descriptions, you're ready to reach qualified candidates. If you're using a staffing agency, they will find and interview candidates and recommend top candidates to your team.
You can find candidates directly by posting your job opening on popular job boards and your company's career page. Use the job title and "temp-to-hire" as the title so people interested in temporary work don't scroll past it thinking it is a permanent position. Use terms like "temporary," "contract-to-hire," and "contract" throughout the job description so it shows up when people use search engines or job board search filters to look for work.
You can also promote your listing by asking for referrals and posting your job openings on social media. If there is room in the budget, you could offer an employee referral bonus to employees who recommend someone who ends up being hired as a permanent employee.
4. Assess Candidates
Because there's a high demand for temporary workers, it's critical to hire top candidates before they get another offer. You can speed up the process by evaluating their portfolios, asking for references, and inviting all the relevant decision-makers to the interview so you don't need multiple rounds.
Remember that you can hire someone faster because you will have time to evaluate their skills and work ethic on the job. There is less of a commitment when you're hiring a temporary worker and it's an opportunity for both sides to determine if it's the right fit.
5. Onboard Temporary Workers
Your lawyer may suggest that you send a temporary employment contract with details including the project duration, scope of work, deadline, hours, payment details, hourly rate or project fee, and payroll schedule. If you use a staffing agency, they typically handle the contract and payroll since the worker is employed by the firm.
The last step is to onboard temporary employees. If you won't be managing the person directly, have their manager lead the meeting. It's helpful to review policies and procedures and how to use necessary tools and equipment.
Hire Temporary Workers Quickly
Now you know the steps and best practices for implementing a temp-to-hire workforce strategy, and how it can be beneficial. If you decided it's right for your company, get started today. Create a free job posting on Monster to find talented temporary workers for every job.