Hiring for Over the Road Trucking: 5 Tips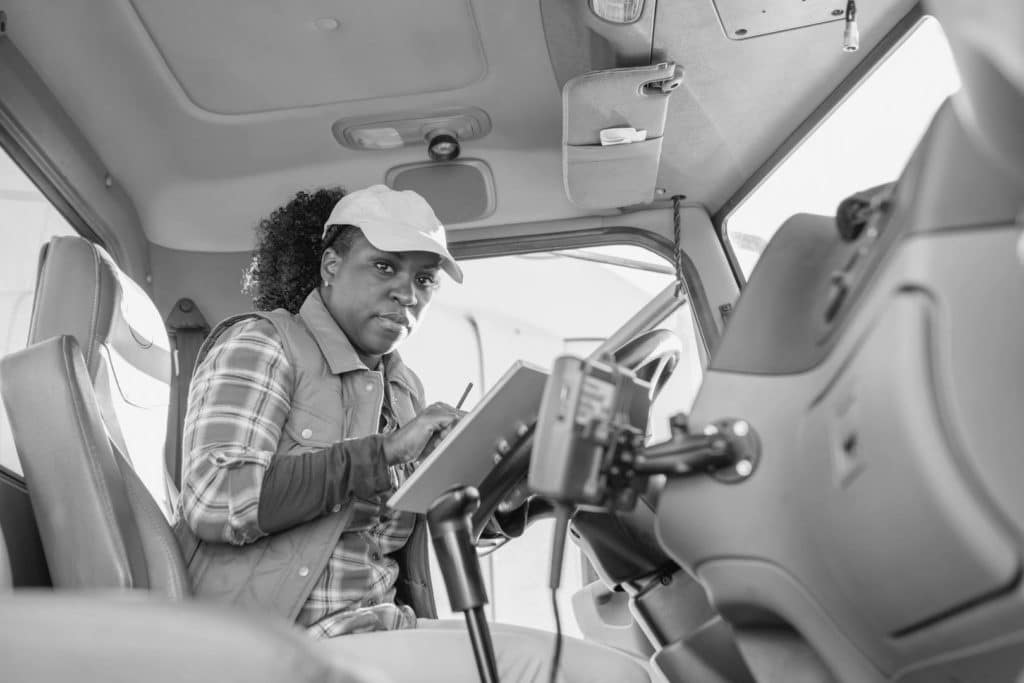 Business owners in every industry rely on truck drivers to deliver cargo to their factories, warehouses, and vendors accurately and on time. The U.S. trucking industry is responsible for transporting approximately 72.5 percent of the nation's freight by weight, according to American Trucking Association. There is a strong job outlook for truck drivers and especially long-haul truckers, according to the U.S. Bureau of Labor and Statistics. Unlike regional and local truck drivers, these over the road truck drivers take cargo nationwide and spend weeks on the road at a time. Many companies have difficulty recruiting and retaining an over the road trucking team because of the demanding lifestyle, according to the bureau. When you're hiring for this in-demand role, it's essential to reach talented truck drivers and show why your company is a great career choice. These hiring best practices can help you quickly build an over the road team that will go the extra mile.
1. Write a Detailed Over the Road Truck Driver Job Description
An effective and efficient hiring process starts with an over the road truck driver job description that clearly explains the role, responsibilities, and requirements. In addition to discussing the logistics, the job description is a great opportunity to show the benefits of joining your trucking team.
Stand out from your competition by showcasing your company culture, best-in-class fleet and technology, and industry accolades. Share financial incentives like the competitive benefits package, pay per mile, bonuses, and pay potential. If you know it, it's helpful to include the average trip duration and time off between trips.
Mention perks that make the drive itself more enjoyable. For example, specify if most of your runs are drop-and-hook and no-touch freight as it saves time and is less strenuous. Note if your company owns or has affiliations with facilities where drivers can rest, relax, and make friends. Being on the road alone can be lonely, so mention if they'd be part of a team or if they can bring a friend or pet along for the ride.
2. Promote Your Over the Road Trucking Program
Your next step is to make sure your job description reaches the right people. When you post it to a job board, include "over the road trucking," "OTR truck driver" or "OTR national 48 states" in the title so candidates find it when they're searching those common terms.
It can be helpful to recruit at truck driving schools, other commercial driver's license (CDL) training programs, and local Department of Motor Vehicles (DMV) facilities. Additionally, your current truck drivers can be a great resource for recruiting new ones. They likely meet talented truckers at truck stops and trucking association events. Consider offering an employee referral bonus to incentivize them to spread the word.
3. Speed Up the Resume Screening Process
Next, it's time to review resumes to find top contenders. Because long-haul truck drivers are in high demand, it's helpful to make an offer quickly so they don't sign on with your competition.
You can narrow down the candidate pool faster by using an applicant tracking system (ATS) and resume screening technology to filter for keywords from the job posting, such as "Class A CDL" or "safety and security checks." As you're reviewing resumes, focus more on the candidate's licenses, certifications, and skills than their job titles. A candidate could have the necessary transferrable skills from local or regional trucking positions, other driving roles, or their courses.
The last step of the resume screening process is to conduct screening interviews. At the end of a short phone call, you should be able to assess the candidate's communication and interpersonal skills. The interview process is a two-way street, so talk up your over the road trucking program, orientation process, and career advancement opportunities.
4. Make Your Interviews More Efficient
Don't hit a speed bump now. Some companies prolong the interview stage by having multiple interview rounds. Instead, consider inviting all necessary decision-makers to one interview so you can decide more quickly.
Make the most of the interview by asking revealing questions that help determine whether a candidate has the skills, experience, and professional values your over the road trucking team needs. Wondering what to ask? Here are a few examples to get you started:
What skills and qualities will make you a great long-haul driver?
Please tell me about a time something went wrong on a job, such as maintenance issues or route issues. How did you handle it?
What would your past driver managers or instructors say are your main strengths and weaknesses?
What time-management and organization techniques do you use to plan your day? What logistics would you take into consideration?
Are you comfortable using electronic logging devices, two-way radios, GPS systems, and other technology?
5. Complete Background Checks Before Making an Offer
It can be costly—and dangerous—to hire the wrong person. It's essential to ensure that candidates are qualified, safe drivers.
The U.S. Department of Transportation requires trucking companies to complete thorough background checks. These requirements include a physical exam, drug test, employment verification, and a Motor Vehicle Record (MVR) check.
Background checks can be time-consuming, so some companies choose to hire an employee background screening company. If you go that route, make sure the company is up-to-date on all national and state laws and regulations.
Get More Hiring Tips Delivered
Now you're well on your way to hiring for your over the road trucking team. Learn more best practices for navigating the hiring process by signing up to receive expert recruitment insights from Monster, delivered right to your inbox so you gain ground on your competition.