Medical Receptionist Interview Questions to Ask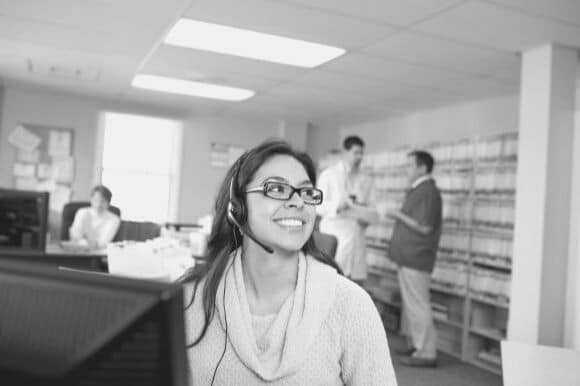 For patients, a medical office can be a source of great stress but also of great healing. With all of the complexity and emotions that can surround a patient's medical office experience, it's important to make sure that the person they interact with at the front desk is up to the task by asking insightful medical receptionist interview questions.
From communicating with patients to all of the behind-the-scenes administrative demands that are part of a medical office receptionist job description, the position comes with any number of challenges. That's why it's critical to make the right hiring decision when filling this position, after all, your patients are counting on it.
As you prepare for your next interview, here are some effective questions to ask.
Medical Receptionist Interview Questions to Ask
One of the best ways to have a successful hiring process is to create a clear interview process. Whether you have a phone interview and an in-person interview or several rounds, it's beneficial to prepare your interview questions in advance. Consider asking questions in these four categories.
Background questions
These medical receptionist interview questions will help you learn about the responsibilities a candidate had in their previous roles. Keep in mind that a candidate who hasn't tackled all the responsibilities you need may have transferrable skills and the work ethic to learn quickly. You could ask:
What was your previous work experience as a medical office receptionist?
What were your primary responsibilities in your prior positions?
What additional responsibilities did you manage in your prior positions?
What have you done at your present or last company to increase revenues, reduce costs, or save time?
Skills and experience questions
These medical receptionist interview questions will help you delve deeper into the candidate's past responsibilities and the skills they gained so you can determine whether they are likely to be successful. You could ask:
What type of interactions did you have with patients and visitors?
Did you schedule patient appointments?
Did you maintain patient accounts? If so, which systems did you use?
Tell me about your computer and technology skills. Which programs and platforms do you have experience with?
What's your familiarity and comfort with medical terminology?
How would you describe your organizational skills?
Do you have any other relevant training and experience?
Behavioral and personality questions
These questions will help you determine how they'd approach situations they are likely to face on the job. You could ask:
Tell me about a challenging situation with a patient. How did you handle it?
What steps do you take to protect patient confidentiality?
What do you think is your biggest professional strength and weakness?
What makes you a great fit for this position?
Availability questions
Finally, ask logistical medical receptionist interview questions such as:
What type of schedule are you looking to work?
Would you be available to work extra hours if needed?
Are there any days during the week that you are unable to work?
What is the earliest date you could start working?
Hire a Medical Receptionist
Your medical receptionist often gives the public its first impression of your business, so a lot is riding on the hiring process. It's critical to ask the right medical receptionist interview questions and follow-ups to find the right person for the job. Reach qualified candidates quickly with a free job posting on Monster.