Medical Assistant Interview Questions to Ask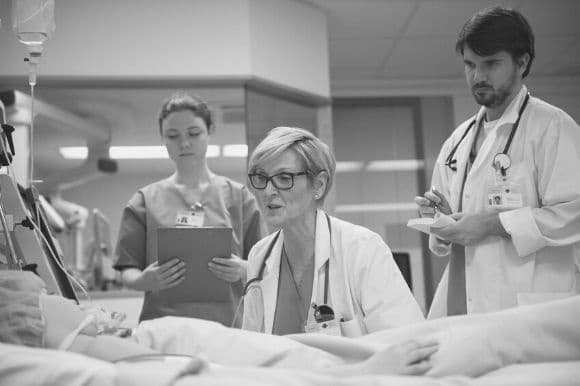 It's essential to hire a medical assistant who has the right hard and soft skills to help patients and collaborate with medical and administrative staff. You need to find someone with the right medical expertise and the communication, interpersonal, and organizational skills to be an asset. While you can learn a lot from a candidate's resume and cover letter, it's important to dive deeper by asking insightful medical assistant interview questions.
Be sure to ask questions that fully vet candidates by touching on these three main categories:
Required skills, training, and capabilities
Skills and experience specific to your medical practice
Soft skills and cultural fit.
Here are some questions to get you started.
1. Assess Hard Skills
The first step of the process is to list the daily tasks that your medical assistant will perform and delve into each of those tasks, says Judy Whelehan, area director of Adecco Medical & Science. Using that list of tasks and necessary hard skills, you can create your first set of medical assistant interview questions, which might include some of the following:
Are you a certified medical assistant?
What experience do you have with electronic medical records software? What have you used that software to do?
What other software are you proficient with?
Which insurances have you billed?
Tell me about your HIPAA knowledge.
What OSHA training have you taken?
What front office tasks did you handle in your last position?
What phlebotomy skills do you have? Autoclave? IM injections? How do you feel about needle sticks?
Tell me about your experience with prescriptions. Have you managed refills electronically, charted prescriptions, and worked with pharmacies?
Are you CPR certified?
What phone and voicemail systems have you used?
Have you taken patient histories?
What steps did you take to protect the patient's rights and confidentiality?
Were you responsible for oversight of equipment and supplies?
It's also a good idea to decide which skills are a must, and which ones you'd be willing to train on. A strong candidate may not have experience with every type of task but could have the drive and willingness to learn—which is why you should avoid asking medical assistant interview questions that exclude these candidates.
2. Ask Practice-Specific Questions
Different practices have different needs. A lone wolf practitioner needs a multitasking front and back office whiz, while a 10-lane pediatrics office handling hundreds of patients a day needs several medical assistants who handle stress well. Your next set of medical assistant interview questions should explore specialty knowledge, the patient population you serve, and the scope of your practice.
For example, if you're hiring for a dermatology practice with a high volume of teen patients, your questions might include the following:
How many years of experience do you have in dermatology?
What was the scope of your duties in your last practice?
What procedures have you assisted the doctor with?
Can you tell me about a case when you had a particularly difficult time dealing with a teen patient and their parent?
What decisions were you able to make on your own at your past practice?
Tell me about your patient education duties at your last job.
How many other techs and medical assistants did you work with in your last job?
What was the daily patient volume at your last position?
What are the medical procedures that are most often done in your office? If the candidate loves to do these procedures, they could be a good fit. Delving into the unique needs of your practice will help you zero in on what it takes to succeed there.
3. Determine Soft Skills and Cultural Fit
Next, consider your office's philosophy, company culture, and communication styles. Then ask your potential new medical assistant interview questions to explore those areas.
It's vital to know how to interview medical assistants about those issues because they give you clues about whether a job candidate is likely to be happy working in your practice, says Andrea Crawford, director of career services at Kaplan College. "Someone who worked in a fast-paced clinic and thrived there isn't going to be happy in a slow-paced clinic," she says. "They're going to be bored."
Include questions about the challenges the medical assistants in your practice will face. For example:
Communication: If the office gets backed up, you want someone who will communicate well with patients in the waiting room, so you'd say, "Tell me about a time when you had an irate patient. How did you handle them?" or, "How would you deal with an anxious parent or patient."
Stress: In a high-stress office, you'd ask, "How do you handle stress?" The answer you want to hear involves balance, whether that comes from taking a five-minute break to walk around the building, or outside activities like a yoga class.
Prioritizing and multitasking: In a multi-doctor office, ask the candidate how they would prioritize workloads and tasks, as well as how they multitask in their current position.
Adding value: Especially if the practice needs to make improvements, ask, "How did you add value to the patient experience at your last job," and "What did you do at your last company to increase revenues, reduce costs, or save time?"
Flexibility: Whether your practice is flexible about work schedules or not, ask the candidate what type of schedule they're looking for and if they would be available to work extra hours if needed.
Culture: Finally, finish with an open-ended question, such as "What did you like and not like about your last practice?" Listen for clues about whether the candidate would enjoy working at your practice.
Put These Medical Assistant Interview Questions to Work
Asking revealing medical assistant interview questions by focusing on hard skills, soft skills, and cultural fit means you'll be more likely to find someone who will be an asset to your patients and practice. Ready to take your candidate search to a higher level? Get started on finding the right fit today by posting your job for free on Monster.