Construction Worker Interview Questions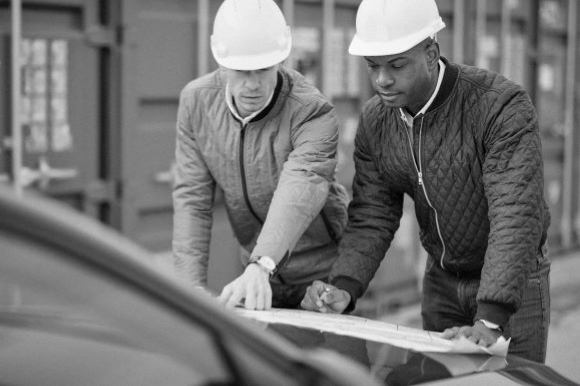 Construction laborer employment is projected to grow 4% from 2021 to 2031, according to the U.S. Bureau of Labor Statistics. Furthermore, regular worker shortages indicate that the construction industry will need to attract 546,000 additional employees to meet these demands. This means that the construction worker interview questions you ask will be even more important for hiring manual labor professionals who value quality, dependability, teamwork, and safety.
The goal is to easily identify these great-fit candidates and advance them quickly. To discover which construction worker candidates are worth pursuing, here's what to ask.
Construction Worker Interview Questions About Experience
Construction work can be risky. Between structural flaws, unsafe building materials, and worksite noise, there are myriad ways your team can violate local construction laws and regulations. There is also the potential for careless construction workers to injure themselves or someone on the team.
It's important to hire laborers with the right experience for your business. These construction worker interview questions will help you navigate the changing recruitment landscape and get to the heart of who has the necessary construction chops to complement your team:
How did you get started in construction?
How has your prior employment — construction or otherwise — prepared you for this role?
Can you describe a recent construction project you were excited to work on?
What is your experience using common construction tools and machinery?
What is your experience using unusual construction tools and equipment?
What experience do you have inspecting equipment and structures for quality?
What knowledge do you have of construction worksite safety and regulation?
Which construction tools and equipment have you worked with most?
Which construction tools and equipment would you like to learn more about?
What were your main responsibilities in past roles?
Which responsibilities would you have liked to explore more?
Interview Questions About Skill
Next, ask questions that identify who is just as skilled at using simple hand tools as they are at performing complex tasks, such as safely demolishing structures or rerouting traffic. The mistakes your construction company makes can cause others to question your value. Done right, however, your work has the power to generate referrals and grow your brand.
To find candidates who have the skills necessary to properly represent your construction business, your interview questions should make sure they can:
Test, troubleshoot, and operate standard hand tools and heavy-duty equipment and machinery (i.e., air compressors, circular saws, jackhammers, and excavators).
Erect, navigate, and disassemble scaffolding.
Demolish and build physical structures (i.e. wood, concrete, or steel frames and load-bearing masonry).
Haul, prepare, use, and dispose of various construction materials (i.e. wood, grout, cement, stone, glass, and insulation).
Measure, trim, install, and level building materials according to blueprints and other specifications.
Find out if candidates have strong math, communication, time-management, and self-motivation skills, so they can thrive on your team and be great contributors. These construction worker interview questions will help you cover all the bases:
What are the five top skills that you think make a great construction worker?
Which construction skills do you excel at?
Which skills would you like to develop?
If you had to fix one of the tools or machines the team was using, which would you be able to troubleshoot and how would you do it?
How would you properly and safely set up scaffolding?
How would you properly and safely tear it down and discard remnant materials?
What are some of the safety precautions you would share with a new construction worker who needs to operate an excavator or crane?
What construction licenses or certifications do you have that would set you apart from other candidates?
If a worksite required that you properly mix and apply mortar to build a brick wall, what steps would you take and why?
If you were asked to properly dispose of leftover cement, what would you do?
How comfortable are you following measurement instructions from a blueprint with little direction?
Behavioral Interview Questions
Now that you've discovered whether the candidate can handle the technical aspects of the job,  ensure that your candidates respect authority and regulations and keep the safety of themselves and others at the forefront of everything they do.
This is where behavioral interview questions come in. These are the construction worker interview questions that ask candidates to describe how they acted in similar situations. This will give you insight into how they would react to situations that commonly arise in construction work and whether they will fit into your company culture.
These behavioral interview questions will get you started. Feel free to adjust them according to your team's needs.
Can you recall a time when someone on the team was making a mistake that could have jeopardized the construction quality? What did you do?
Describe a time when project specifications changed last minute. How did you switch gears?
Have you ever been on a jobsite that violated safety protocol or regulation? How did you react?
Have you witnessed serious injuries? What caused them and how did you respond?
Tell me about a time you made a mistake on a job. What happened and how did you address it?
What has been the biggest challenge you faced on a job? How did you overcome it?
What's a time you disagreed with a manager or colleague? How did you resolve the disagreement?
Has there ever been a time you had to complete a task you weren't trained for? What did you do?
Discover Which Construction Candidates Will Be Best for Your Team
The right construction worker interview questions will help you find the labor professionals whom you can depend on to be a strong team player and bring your client's vision skillfully and safely to life. Get started finding qualified candidates with a free job posting at Monster.