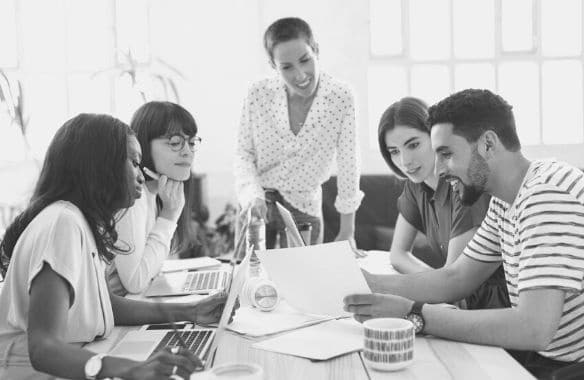 Every strong manager needs leadership tips along the way. If you want to better your business and help your team march in a clear, goal-oriented direction, you need to know ways to inspire people to do their best work.
Studies show that businesses with strong leaders are about 20 percent more profitable. As accomplished business leaders will tell you, any manager can delegate tasks, but true leadership takes a lot of creativity, reflection, and skill.
Ready to improve your skills as a leader? Let's dive in.
1. Improve Your Communication
Incredible leaders know how to communicate well. They understand how to be open, honest, and concise. Here are several reasons why improving communication should be at the top of every leader's list:
Focused, productive teams: Effective communication means you know how to present important goals to your team and give clear direction. When employees know where they're headed, they spend more time achieving their goals rather than figuring out what to do next.
Trust-based work environments: The way you communicate with your staff can build trust with employees and help them open to you. When your employees can be themselves and feel comfortable being honest at work, it inspires more creativity, innovation, and purpose.
Establish your authority: All great leaders command authority. If you meander around the point or shy from being direct with your staff, it can look like you don't have a clear understanding of what needs to be done and can weaken your credibility. Know exactly what to say and make your points concisely. This shows your team you have expertise, and this makes you a more powerful leader.
2. Coach Your Staff
Great leaders don't boss their staff around, they coach them. If leadership tips were all about delegating tasks, anyone could do it – but there is much more to it than that. When employees have access to more learning opportunities, whether one-on-one with you or in a group setting, they feel important and empowered to dedicate more energy to their work.
Coaching also helps your employees progress at a faster rate, which will help your business grow faster. Companies that develop their staff and invest in training see 25 percent higher profit margins.
Get comfortable with giving feedback and training your staff. When you focus on developing staff, not delegating to them, it helps them build the confidence to strive harder.
3. Work with a Mentor
All great leaders have at least one mentor in their contacts list they can reach out to for advice.
We all have blind spots. Collaborating with people more experienced than us elevates our understanding, confidence, mental health, and problem-solving skills.
Reach out to leaders you admire. Set up time to meet, and if you get what you need from the relationship, focus on nurturing it. If you meet with your mentor regularly and build a genuine connection, you'll be able to benefit from their experience over a longer period.
4. Lead with Humility
It's impossible to know everything, and when you're willing to be honest about mistakes and stay open to other's ideas, you are leading authentically. Authentic leaders inspire people to bring their A-game and engage more collaboratively.
A study published in the Journal of Management illustrates how humility in CEOs can lead to higher performing leaders and improved cooperation and flexibility within an organization. In short, humility in leadership makes a positive impact on your team.
Don't be afraid to make mistakes and continue helping your employees grow. Stay open to other ideas and listen more. Leaders that make supporting the team a priority are far more successful.
5. Stay Curious
One of the most important leadership tips is to stay curious. The more you learn, grow, and seek to improve your business, the easier and more successful your leadership role will become.
Curiosity in leadership means you ask better questions and consider answers more deeply. Give yourself time to explore different avenues, and ask yourself "what if?"
When you are open to the possibilities, more avenues will become apparent to you, and you'll find it easier to move past the superficial solutions that are "face value."
Seek frequent feedback about your leadership style and really listen to the replies. Anything that helps expand your understanding of your team, business, and role will only help you grow stronger.
Use These Leadership Tips to Drive Positive Change
When you're learning and growing, you're on your way to being a better leader and inspiring future leaders along the way. Continue growing your skills with more hiring and leadership tips from Monster.