How to Retain Senior Employees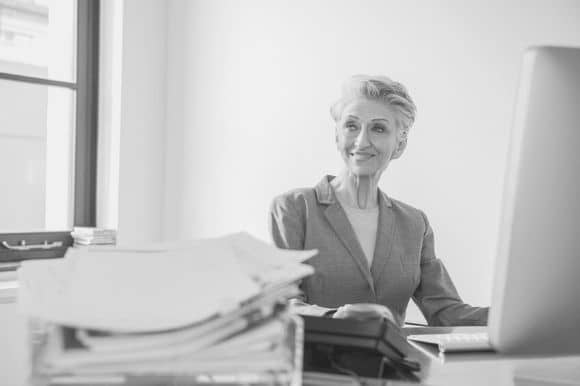 It's likely that much of your company's productivity, and possibly an even greater proportion of its institutional knowledge, depends on the oldest segment of your workforce. More than one-third of the U.S. workforce is over 50 years old, and more than 15 percent is over 60. As employee tenure for younger workers grows shorter, focusing on how to retain senior employees can be an efficient way to provide stability and continuity across your business operations.
Not only could failing to devise a strategy for retaining senior workers lead to staff shortages, but it can also hinder succession and contingency planning. Luckily, retention rates for workers 55 and older are more than three times higher than tenures for younger employees. Implementing the nine incentives can help your organization retain these experienced workers.
1. Partner With Affiliate Groups
Partnering with organizations that aim to support this age group, such as AARP, the Senior Community Service Employment Program, or the Age Smart Employer program, can help you attract and retain highly experienced workers. These organizations can help you reach mid- and late-career workers looking to bring their skills and experience to new sectors or specialties.
2. Promote Senior Employees
It's likely that many of your older staffers are worried about job security and may be thinking of retiring simply to reduce the stress that comes when the future is uncertain. Put your valued senior workers at ease by letting them know they are valued.
3. Create Upskilling Opportunities
When you're providing training for your workforce, don't overlook senior staff by buying into the following negative stereotypes:
Older workers are resistant to change and uninterested in learning anything new.
Training workers who will be retiring in a few years is a waste of resources.
One of the best ways to keep older workers engaged and contributing at a high level is to offer them opportunities to develop their skills, including attaining new technical knowledge and professional certifications. Lifelong learners who are constantly attaining new skills and knowledge about their vocation are more likely to remain highly engaged, actively contributing to organizational growth.
As you consider how to retain senior employees through implementation of training efforts, you may even be able to take advantage of government-funded programs aimed at providing updated skills to seniors through organizations like the Department of Labor.
4. Set Up a Mentoring Program
Asking older workers to share what they've learned during their career by mentoring newer hires can be a rewarding experience for all involved. Consider creating a mentorship program to reassure older workers that they are respected for the knowledge and wisdom they bring to the workplace. It can also be a good way to persuade a top performer to extend their service with your company.
5. Offer Flexible Schedules and Remote Work Options
Some seniors might be persuaded to stay on if given the option to replace a lengthy commute with a fully remote or hybrid schedule. Over 50 workers might welcome the chance create hours that work best for themselves and their families.
6. Support Phased Retirement Plans
Some seniors would prefer to work fewer hours rather than retire entirely. A phased retirement allows older workers to work gradually less over the period of several months or even years. Not only will this help ensure that your remaining employees benefit from a more gradual transition process as they take over projects and assignments from senior contributors, but it can also help prospective retirees avoid the challenges that can come when this important life transition occurs too abruptly.
Your HR team may need to work closely with workers who opt for phased retirement as there are some restrictions on access to retirement savings and other forms of compensation, depending on the number of hours older workers elect to work. The goal as you consider how to retain senior employees is to make this transitional phase an optimal experience for your most valued older employees and their families.
6. Offer Seasonal Work and Short-term Assignments
Even after an official exit from full-time work, some senior members of your workforce may be persuaded to pitch in during your busy seasons, such as the holiday sales rush, lead up to tax season, or your industry's national conference or to come back for short-term projects or consulting assignments. The key is to find ways to benefit from senior employees' professional and institutional knowledge even after they've decided to ratchet back their focus on career. If given this option, many seniors welcome it.
8. Implement a Job-sharing Program
Job sharing allows two or more employees to divvy up the responsibilities of a full-time role while each works part time. Formal job-sharing programs are a good way to retain workers at various stages of their life journey—new parents, seniors, workers recovering from illness or other personal life transitions—contributing to your company's mission.
9. Provide Accommodations and Flexible Benefits Options
As we age, we tend to have more physical limitations. Make sure that your older employees are able to access all the accommodations they need—and are legally entitled to—to keep doing their job. Make it clear that there is no penalty for asking for accommodations, and have your managers check in with their direct reports frequently to make sure all your employees have the resources they need to contribute to their full potential.
As your HR team considers how to retain senior employees, they will likely need to offer an array of benefits options, such as flexible spending accounts, that take into account that workers' needs shift throughout their life course.
Make sure that your employees are aware of the resources and flexibility that is available by communicating to them frequently across as many types of media as possible, from newsletters to your company web site to regularly scheduled one-on-one employee check-ins. Some of the suggestions for how to retain senior employees have the added benefit of increasing employee morale for your entire team.
Learn More About How to Retain Senior Employees and Other Top Performers
Optimize your staffing strategy, with expert insights, management best practices, and the latest hiring news from Monster.