Reasonable Accommodation Examples and Ideas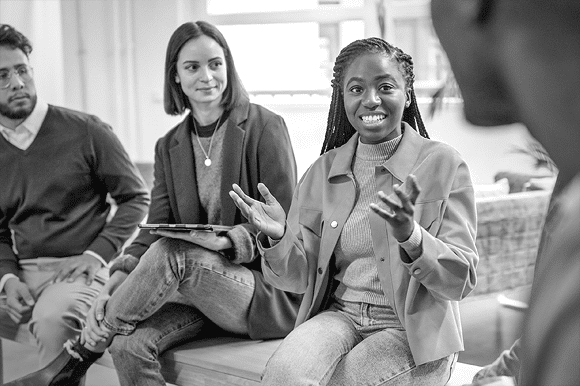 More than 20% of U.S. workers identify as disabled, but that doesn't mean employers have leveraged all the untapped talent in the disability community. Workforce participation rates for the disability community is only half that of the overall population—roughly 40% versus 80%. This means that disabled workers remain an underutilized resource, and a perfect population to target as you expand your talent pipeline and source potential talent. Developing HR policies centered on disability recruitment and support and emphasizing reasonable accommodation examples that your organization is already offering can help attract candidates from this under-resourced segment of the workforce.
Providing Accommodation for Disabled Workers Benefits Employers
Broadening your talent pool isn't the only benefit employers experience when they provide accommodation for employees with disabilities. Some 85% of employers reported that implementing accommodations has allowed them to retain one or more valued employees. Better yet, most accommodations require minimal investment.
Nearly 50% of organizations that offer accommodation to workers with disabilities do so at no cost at all.
Another 43.3% report one-time costs of less than $300.
Only 7.2% of employers report needing to invest in ongoing expenses to accommodate a disabled employee's needs.
Other collective dividends employers report experiencing in the wake of providing support to disabled workers include:
Improved staff morale
More effective customer interactions
Increased workforce productivity
What Is Reasonable Accommodation?
Of course, the most critical reason you need to know how to provide reasonable accommodation is because it is required by law. As outlined in the Americans with Disabilities Act (ADA), employers must provide disabled jobseekers or employees who develop health challenges with modifications that will allow them to perform the job in question. A disability is defined by the ADA as a physical or mental impairment that substantially limits one or more major life activity. This can include chronic illness, physical challenges such as visual impairment, or intellectual or developmental disabilities including autism and other forms of neurodiversity.
As long as a disabled applicant or worker can carry out the most essential components of a job, it is up to the employer to ensure that they are provided with reasonable alterations that allow them to do so. This protection begins at the application stage and includes all aspects of employee tenure.
Reasonable accommodation examples might include revising the job's incidental functions slightly to provide an equal opportunity for a disabled applicant, or modifying the environment in which the job is carried out to provide access, safety, or support for a disabled worker.
How to Draft a Reasonable Accommodation Policy
Rather than waiting until a job seeker or employee requests an accommodation to patch together your organization's accommodation policy, you should have a written policy in place that includes reasonable accommodation examples.
The Right Words: Communicating Your Accommodation Polic
The Job Accommodation Network (JAN) offers sample ADA policy documents that employers can use as a starting point as they research, develop, and draft their own accommodation guidelines. Another great source to consult as you finetune your accommodation policy is your own workforce. Team members with disabilities can help to ensure that the language you use to describe your HR provisions is inclusive and clear and that it emphasizes performance enhancement.
You can even enhance your employer brand by providing contextualizing copy in your employee handbook and the job site section of your company website that explains that your policies on accommodation were developed in consultation with members of the disability community.
Your policy should include sample language for employees wishing to make an accommodation request in writing; however, such a request is not required for appropriate task or physical setting modification to be necessary under the provisions of the ADA.
A Word of Caution: Protecting Employee Privacy
Managers should be discouraged from making assumptions about the types of accommodation an employee might need based on their health challenges. In addition, HR staff are typically prohibited from sharing details about employee health matters with other employees, even direct supervisors of workers with disabilities, as this can constitute a violation of privacy under the Health Insurance Portability and Accountability Act (HIPAA).
The better approach is for managers to check in with all direct reports frequently to ensure they have all they need to perform their roles optimally.
Reasonable Accommodation Examples
The U.S. Office of Disability Rights website contains examples of reasonable requests for accommodation along with information about how to meet requests. An exhaustive amount of information is available on JAN's website, which offers compliance advice for dozens of disabilities and medical conditions, from autism and arthritis to thyroid disorders and vertigo, as well as tools that can help employers enhance employee accessibility, including technology, ergonomics, lactation, and service animals.
Hiring Process Accommodations
Any applicant with the requisite qualifications who can perform the essential elements of a given job must be given the opportunity to compete for that role regardless of disability status. To ensure that a hiring process is in compliance with the ADA, employers should:
Include an accessibility statement in job descriptions that makes clear that they will make every effort to fulfill accommodation requests throughout the course of the hiring process as well as on the job.
Separate and prioritize "mandatory responsibilities" from other duties with a label such as "other job functions might include" and include language in their job description that encourages candidates to apply even if they are unsure of their ability to carry out all listed job functions.
On-the-Job Accommodations
Additional tools, altered work stations, and modified schedules or processes are among the most commonly reported accommodations provided by employers. For example:
A worker with diabetes might require extra breaks during their shift to check blood sugar levels or administer insulin.
An employee with social anxiety might need to be excused from attending a large company-sponsored event if their role is not integral to the occasion.
A pregnant worker on bedrest should be offered the opportunity to complete their work remotely, if possible, and not required to begin their parental leave or use their disability leave allowance.
An office worker with arthritis might benefit from the use of an adjustable standing desk.
A worker with a visual disability can be given access to software that provides synthesized speech and speech recognition software for content generation.
The range of accommodation is only expanding as technology develops, creating a modern workplace where more workers who once might have been forced to leave the workforce can instead become valued team members.
Access Top Performers From a Wide Range of Communities and Backgrounds
With a clearer idea of what constitutes reasonable accommodation examples, as well as what to include in job posts to encourage applications from a wider range of backgrounds, you can increase your chances of finding the right fit. Employing a customized recruitment plan from Monster can expand your reach even further.
Legal disclaimer: None of the information provided herein constitutes legal advice on behalf of Monster.