How to Prioritize LGBTQ Inclusion in the Workplace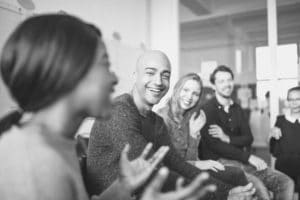 We've come a long way as a nation when it comes to LGBTQ rights and acceptance. While there's still work to do regarding equality and LGBTQ inclusion in the workplace, one thing is clear: It's illegal to discriminate against LGBTQ employees. In June 2020, the U.S. Supreme Court upheld a 1964 Civil Rights federal law, clarifying that it prohibits job discrimination based on sexual orientation or transgender status.
Even before this landmark ruling, many private corporations had already been enacting their own inclusive policies that not only protect LGBTQ workers but nurture them. (Just browse through the list of best companies for LGBTQ workers based on the Corporate Equality Index from the Human Rights Campaign (HRC) to see which ones are leading the way.)
Becoming a company that welcomes LGBTQ talent requires more than just not discriminating against them—it's recognizing that diversity can be a growth strategy, says Nadia Rawlinson, chief human resources officer at Live Nation. Consumers are diversifying, cultural lines are blurring, and the war for talent is its fiercest to date, she says.
To win that talent war, companies need to commit to diversity and inclusion. If you'd like to attract more talent from the LGBTQ community, try emulating some of these best practices recommended by HRC and used by high-performing, inclusive companies.
State Your Intentions Loudly and Proudly
It sounds simple, but it is important to codify that you're committed to inclusion in the workplace and an employer that does not discriminate based on sexual orientation and gender identity, says Beck Bailey, acting director of HRC's Workplace Equality Program. Specifically, he urges employers to include sexual orientation and gender identification in the employee handbook or written nondiscrimination statement.
A good example of the type of wording you can include comes from Mastercard, which scored 100 percent on HRC's Best Places to Work for LGBTQ Equality. As stated on its career site:
"Mastercard is an inclusive Equal Employment Opportunity employer that considers applicants without regard to gender, gender identity, sexual orientation, race, ethnicity, disabled or veteran status, or any other characteristic protected by law."
Create a Welcoming Candidate Experience
In addition to adding text to your employee handbook, be sure that job seekers know that you're a friend of the LGBTQ community as well. You can do that by including a welcome invitation in your job placements, says Bailey. Be explicit that all gender identities and all orientations are encouraged to apply, which sends candidates a clear signal of LGBTQ inclusion in the workplace.
As you can imagine, top candidates will be more inclined to apply to an organization that is openly welcoming them, rather than those that keep them guessing. Of course, you have to go beyond just copying and pasting inclusive language into your job postings.
Rawlinson says Live Nation ensures that this messaging is carried through to their recruiters, who walk candidates through a summary of the company's purpose, programs, initiatives, and goals. Live Nation also provides candidates with a summary of its medical benefits, which contain LGBTQ+ and gender-inclusive language and benefits.
Make LGBTQ Inclusion in the Workplace Part of Your Brand
Beyond adding language to your career page, think about what other micro-signals you're sending to candidates indicating that your company is LGBTQ-friendly, says Bailey. This might include simple gestures such as placing a rainbow sticker on your door or mentioning philanthropic support of your local LGBTQ center.
Things like that illustrate to potential applicants that you are serious about your commitment to equality. In other words, putting policies into practice the way companies like Pfizer do speaks volumes.
Pfizer provides comprehensive benefits and support for LGBTQ colleagues as well as the broader, external LGBTQ community, says Willard McCloud III, vice president and global head of diversity and inclusion for Pfizer, Inc. For example, the company is an annual supporter of Out & Equal Workplace Advocates, a nonprofit organization dedicated to achieving global LGBTQ workplace equality, and a lead sponsor for the HRC's Healthcare Equality Index.
Offer Lots of Internal Support, Too
It's important to remember that for many, the workplace might be the first place where they interact with people from the LGBTQ community, says Bailey. When people don't have a personal experience or reference point, he adds, they may inadvertently say or do things that are not welcoming. That's why it's imperative to start some conversations about what it means to have respectful behavior toward all in the workplace.
Companies can request resources from organizations like HRC or local LGBTQ centers, says Bailey. HRC, for instance, offers staff training for a fairly low fee and recommends a multitude of online training resources available to employers seeking better LGBTQ inclusion in the workplace. The point is that real change requires intentional dialogue.
Something as simple as learning how to address people with their preferred pronouns is important when you're meeting with LGBTQ candidates or introducing them as new hires to your team. Interacting with people the way they want to be interacted with is so crucial, Bailey says.
As for LGBTQ job seekers, knowing that their prospective companies have support groups can help them feel confident about navigating a new workplace. At Live Nation, for example, there are seven active Pride Nation chapters dedicated to promoting a positive and inclusive environment for all employees, regardless of sexual orientation and gender identity or expression.
Be Proactive With LGBTQ Recruiting
If you're not attracting candidates from the LGBTQ community because your network is lacking in diversity, you should try expanding your search.
This may involve posting your job opportunities beyond your network, says Bailey. For instance, many local organizations have either job fairs or community job boards, or you might try to engage directly with local colleges or universities, most of which have an LGBTQ center, he adds.
Get in touch with those groups and let them know that you're seeking diverse candidates and take LGBTQ inclusion in the workplace seriously.
Show Your Pride
Lots of companies do things in June to acknowledge Pride Month, so now is a great time to make your LGBTQ hiring initiative known.
For instance, Pfizer flies the rainbow flag at its world headquarters, during Pride Month, says McCloud. Other companies might create social media campaigns to discuss what pride means to them -or to highlight their LGBTQ employees.
It's worth noting, however, that celebrating Pride Month is not just something that large corporations can do. Small- and medium-sized companies need to be visible, too, says McCloud. For instance, participating in or sponsoring events in local communities during Pride Month can say a lot about a company's focus on diversity and inclusion.
It could even be done through small gestures like starting an ally program for LGBTQ people in your company that lays the foundation for a more diverse and inclusive work environment, McCloud says.
Nor is pride something that should only be acknowledged once a year. Bailey says it's important to continue doing the work year-round if you want to be a company that truly champions the LGBTQ community and to make transparent what you're doing as a company.
Broaden Your Recruitment Efforts With an Inclusive Workplace
Making sure your company attracts the best talent will set you apart from the competition, which includes cultivating LGBTQ inclusion in the workplace. Monster can help. Get started today by downloading our diversity and inclusion guide, which will help you learn more about the importance of a diverse workforce and includes a detailed plan for more-inclusive hiring.