7 Tips for Hiring Truck Dispatchers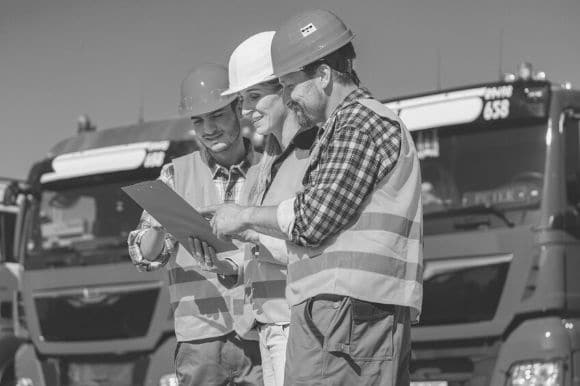 Truck dispatchers are a critical component of supply chain distribution. From managing delivery routes to ensuring driver safety, dispatchers are responsible for making sure that goods move smoothly and in a timely fashion, from warehouses to customers, across the nation's highways.
These logistical experts are most commonly employed by private freight companies and federal and local governments, including the U.S. Postal Service. They spend their days—and nights—relaying information about traffic delays, road and weather hazards, and vehicle breakdowns to drivers.
They also need to keep up with federal regulations, which include monitoring and coordinating drivers' schedules and routes to ensure adherence to federal hours of service regulations (aimed at preventing drivers from spending too long on the road). Therefore, dispatchers need to be adept problem solvers with enough industry knowledge to communicate effectively with truckers, warehouse personnel, and transportation managers.
The tips and information below can help you find, vet, and hire truck dispatchers with the aptitude to succeed in this important role.
1. Create a Budget for Your New Hire
As you determine the right budget for compensation, keep in mind that a good truck dispatcher can save your company money. For example, if a food product needs to be delivered in a certain amount of time to remain salable, but is delayed due to traffic, you could end up losing revenue. By monitoring data and making effective decisions a good dispatcher can help drivers complete their routes on time without running afoul of federal and state regulations.
That's why it makes sense to budget enough for this position to attract a well-qualified candidate. You can determine an appropriate range by using a salary tool that allows you to input job title and geographic area. If you find that you do not have a large enough fleet to support competitive salaries for around-the-clock dispatchers, there is another option: You can contract with a trucking brokerage.
2. Broker or Dispatcher? Select the Right One for You
Dispatchers tend to work for trucking companies and don't necessarily have to be licensed in most states. Truck brokers, on the other hand, work for third-party broker companies and must be licensed to guide the logistics of trucking fleets or independent owner-operator drivers. Certification is available through organizations such as the Transformation Intermediaries Association.
Small fleets and independent truck drivers often pay a monthly or annual fee to a truck broker that employs a staff of certified dispatchers to manage and monitor their routes. Larger trucking companies will likely prefer to have a dedicated team of dispatchers on their payroll, but using a broker is a useful alternative for many transportation businesses, and the best practices for hiring brokers are similar to those for recruiting dispatchers.
3. Write a Compelling Truck Dispatcher Job Description
A well written job description can attract qualified candidates with the attributes you'll need to keep your drivers and operations running smoothly. Begin by compiling a list of responsibilities. For example, truck dispatchers need to be able to:
Document fuel costs and usage
Log maintenance and repair information and mileage
Maintain shipping schedules
Monitor delivery delays
Map out routes
Perform data entry
Ensure accuracy of time sheets, payroll, and expense reports
These transportation professionals succeed when they are organized, focused, adaptable, empathetic, decisive, efficient, analytical, detail-focused, and patient. They should be critical thinkers, excellent problem solvers, and good listeners, with the ability to diffuse potentially stressful situations.
Communication and interpersonal skills such as active listening and a high degree of stress tolerance are especially important since dispatchers often need to effectively guide drivers through potentially hazardous situations. They also need to be able to interact in an effective, professional manner with other dispatchers and management.
Most have a high school diploma or GED, but some have an associate's degree in business logistics or transportation management. All of these factors can be incorporated into your job description.
4. Look for Truck Dispatchers With Technical Aptitude
Because today's trucks are equipped with sophisticated communications and maintenance monitoring technology that often interfaces with logistics software, dispatchers should have an aptitude for technology. Dispatchers who have completed an online training or certification course are likely to be familiar with truck dispatch management software.
5. Craft Useful Interview Questions
Once you've selected your top applicants, prepare a variety of questions across a range of categories for the interview phase of your hiring process. Begin with simple, personally focused questions at the start of the interview to build rapport. Next, ask about specific knowledge or technical skills truck dispatchers need to have to succeed.
Then, move on to behavioral questions that gauge how they would apply their past experience to solve problems they are likely to face in their interactions with drivers. For example, if you ask about a time the candidate had to solve multiple problems simultaneously, their answer will be more personal and revealing than if you simply ask how they are at multitasking.
Because the job of dispatcher is as much a communications role as it is a logistical one, you should use each interview to get a sense of who the candidate is: what they value, how they treat people, and how they tackle stressful situations. To ensure that your top applicants are patient and focused, you should devise some questions that assess emotional intelligence.
6. Run a Background and Reference Check
You should also run a background check and contact references. Ask former employers and colleagues open-ended questions to get a sense of how the candidate is at solving problems and dealing with unexpected circumstances.
7. Consider Hiring From Within
Former drivers, especially previously successful owner-operators who are ready for a more stable work-life balance, often make excellent recruits for this role. If your fleet includes affiliated owner-operators or one of your current drivers has expressed interest in an office position, this might be a perfect route to finding your next high-performing dispatcher.
You Know How to Hire First-Rate Truck Dispatchers. Now Get the Word Out
Thanks to these seven tips for hiring dispatchers, you're on a roll and ready to move ahead with your search for your next great hire. A free job listing from Monster can help you deliver the message that your company is the perfect destination for the right candidate.