How to Close the Job Skills Gap With Your Hiring Process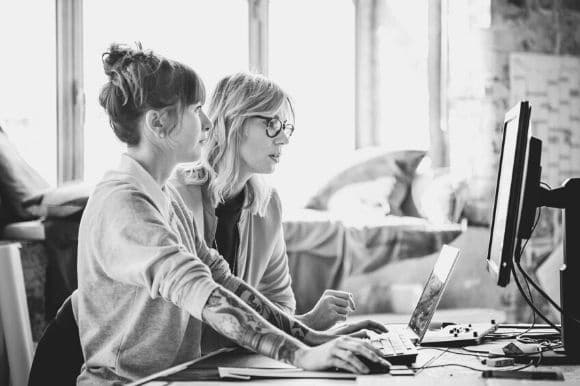 One of the biggest staffing challenges many business owners face is a job skills gap when employees don't have the skills and experience the business needs. The gap is especially prevalent for roles that require cutting-edge and emerging technological skills like artificial intelligence, machine learning, cybersecurity, and data analytics.
The most effective way to close the skills gap is to hire candidates with most of the necessary skills and the drive to learn quickly while providing training and support during the onboarding process and throughout their tenure at the company. If you're experiencing a skills gap, then applying these five steps to your hiring process can help you close it:
Complete a skills gap analysis
Make your hiring plan
Evaluate candidates
Onboard new hires
Create ongoing professional development initiatives
Step 1: Complete a Job Skills Gap Analysis
Start by assessing the skills your team members currently have and the skills you need. These questions will help you evaluate your needs:
What are your short-term, medium-term, and long-term goals and objectives?
What skills are necessary to accomplish your goals and objectives?
Which skills do your team members currently possess?
Which skills are your employees lacking?
How can you use a combination of hiring and training to get the right team in place?
Step 2: Make Your Hiring Plan
Your next step is to create a plan for hiring people who have, or can quickly gain, the skills you need to close the gap. It's helpful to write down a list of all the roles you'd like to fill and use a salary tool to determine the budget for each position. Write down the ideal start date for each and take notes on how you can use training to help narrow the gap internally in the meantime.
Write job descriptions for the roles you want to fill now. Post your job openings on popular job boards and expand your hiring pool to make sure you reach people who have most of the skills and experience you need. To close the skills gap, consider recruiting at apprenticeship programs, vocational programs, certification programs, trade associations, and graduate schools. When you're looking for someone with a specialized skill set, it can be helpful to consider hiring freelance workers and a temp-to-hire strategy.
Additionally, one of your current team members may have the work ethic to learn new skills and excel in the role. If you don't already have one, it's helpful to create an internal job board and ask managers to recommend their direct reports for promotions and lateral moves.
Step 3: Evaluate Candidates
Be open-minded during the resume screening and interview process. You may not find a candidate who has the exact skills and experience you're looking for, especially when you're hiring for cutting-edge technology roles. Keep in mind that a candidate with a strong work ethic and growth mindset will be able to learn new skills quickly with the right training and support.
Instead of focusing on job titles and academic degrees, consider the candidate's transferable skills and the skills they gained from recent online classes and certification courses. These courses often teach the in-demand and emerging skills that can help you close the job skills gap at your company.
Step 4: Onboard New Hires
If you don't already have a formal orientation program in place, it's essential to create one that you can replicate for all your new hires. The goal is to make your new hires feel welcome and give them the support, resources, and training they need to be successful. A strong orientation program typically includes a tour of the office, team introductions, a discussion of key policies and procedures, and an overview of the company's history, mission, culture, and organizational chart.
Reduce the likelihood of new hire turnover by laying the foundation for a strong managerial relationship right away. Have managers meet with their direct reports to discuss the role and responsibilities, quarterly goals and objectives, a clear career development plan, and training and instructions for tackling the day-to-day responsibilities.
Step 5: Create Ongoing Professional Development Initiatives
The best way to close the job skills gap for new hires and tenured employees is to create strong professional development programs. Candidates and employees value career advancement, so these initiatives should help you with your recruitment and retention efforts.
Start by creating in-house upskilling and reskilling programs that focus on both hard and soft skills. (Upskilling helps employees strengthen their current skills. Reskilling helps them acquire new ones.) If you don't have the bandwidth to teach all the skills, it's helpful to provide professional development stipends that employees can use to take one-off classes, enroll in certification programs, or go back to school part-time.
Continue to Assemble an Innovative Team
The job skills gap will shift as the new future of work trends evolve. Stay up to date on the expert hiring and management best practices you need to build a successful company and get an edge over your competition.