Military Spouse Jobs and Your Recruitment Strategy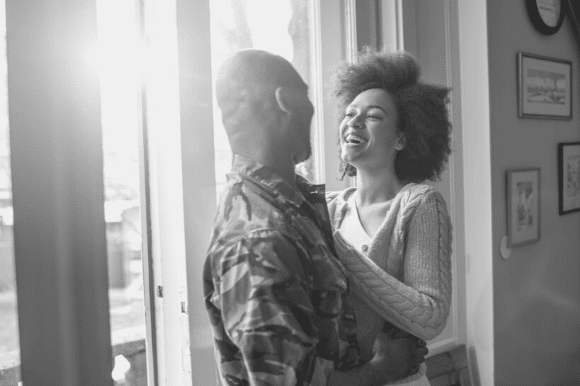 Most companies have begun to realize the extraordinary upside of recruiting military service members and veterans, who typically develop both technical and leadership skills that civilian organizations need. But standing right beside many of these service members and veterans are their spouses. If you're not exploring military spouse jobs at your company, you may be overlooking one of our most capable and untapped talent communities.
Military spouses represent an incredible depth of technical skills and capabilities and bring to the table an added level of diversity, resiliency, determination, focus, and leadership skills-all of which can help accelerate an organization's ability to meet its business goals and objectives.
Military Spouses: An Underappreciated Talent Pool
Unfortunately, as documented in studies from Blue Star Families, military spouses are unemployed at a much higher rate than the national unemployment rate. Surveys also show that while some military spouses choose not to work outside of the home, more than one-third say they need or want employment.
Even more of these spouses are underemployed-working in part-time or seasonal jobs while seeking a full-time role, accepting positions that require less skill or responsibility than previous roles, or being hired into jobs that don't fully utilize their education or experience.
Monster and Military.com connected with veterans and their families to discuss military spouse job opportunities and career challenges. Since military spouses have difficulties finding meaningful work, they set out to learn more about the challenges military spouses face when looking for a job, and what they need from employers to determine whether a position is a right fit for them.
This resulted in Monster and Military.com's military spouse job survey, revealing the challenges they face when seeking new opportunities, including:
Seven in 10 (71%) respondents found it difficult to establish a clear career path and believed achieving upward mobility is difficult with the constant moves.
Two in three respondents (65%) believe it is difficult to find a job that takes their military lifestyle into account.
While 52% of respondents viewed military spouse status as a benefit to employment, 45% viewed it as a barrier, and 53% choose not to disclose it at all when applying for a job.
So, how can employers better connect with military spouses and utilize their talents?
Promote Your Company's Military-Friendly Programs
The first step is to brand your organization "military friendly" and make it apparent you're invested in hiring veterans, transitioning military, and military families. Whether through content on your company's career site, via HR materials, or partnerships with non-profit organizations, it's important to highlight the veterans and military spouses in your workforce, as well as everything your organization is doing to hire this talent.
Such programs may include attending or even sponsoring veteran career fairs, which not only will help you promote your business as being military-friendly, but will put you in front of highly qualified service members, veterans, and their family members. Other recruitment resources, such as using a military skills translator to help assess how military skills may translate to your civilian role, also will help you tap into this rich talent pool.
Consider Flexibility, Portability, and Childcare
The second step in expanding military spouse job opportunities is taking action and making your organization become more accommodating to their unique challenges. While they don't need to be looked at as a cause, military spouses do need a bit of flexibility from their employers.
In order to highlight opportunities as appealing and attainable for military spouses, companies must review which positions can be portable or flexible. By creating more versatile, portable positions, jobs can move with the spouse as they move with the military.
Additionally, many military spouses are the primary caretakers for their families, so employers should consider improving access to childcare, whether via onsite care or partnering with local childcare facilities.
Make Your Jobs Easy for Military Families to Find
Lastly, employers must be sure they're posting their open positions in the appropriate locations. When surveyed, 63 percent said they use online job searches, creating an opportunity for private and non-profit entities to work together. Sixty percent of those surveyed use searches in addition to seeking help from family and friends, while fewer than 19 percent turn to military career services. It's important for employers to keep this in mind when they decide where to advertise their military spouse job opportunities.
Monster and Military.com have a long-standing commitment to military spouse recruitment. As an underutilized talent pool in today's workforce, military spouses can apply invaluable expertise to a variety of positions, including short-term contracts and long-term salaried positions.
Make Military Spouse Jobs a Win-Win Solution
Monster's focus is to help bridge the gap between employers and job candidates and to help organizations fill open positions with dynamic, capable talent. Research and experience shows that the wives, husbands, and partners of members of the military are often the right people for the job. Learn more about recruiting military spouses and additional insider tips by signing up to have expert hiring advice delivered directly to your inbox.