How to Hire a Web Designer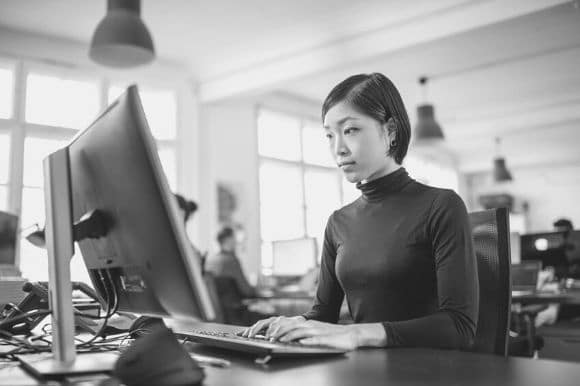 Consumer spending habits are shifting to e-commerce—fast. As a result, the demand for web designers is high and likely to remain so, with an expected growth rate of 13% for the profession, much faster than the anticipated growth rate for the job market overall.
It doesn't matter if you're a hyper-local brick-and-mortar retailer, a regional brand, or a community nonprofit, to optimize your digital presence you need to hire a web designer with design and technical skills who understands your brand and your target customers. But how do you go about attracting design applicants, assessing their work, and selecting the right web designer to work with your team?
The following five steps can help you find a designer whose vision meets your needs:
Create a budget for your website design
Write a web designer job description
Assess applicant resumes and digital portfolios
Ask the right interview questions
Draw up a project brief and contract
Do You Need a Web Designer or Developer?
Before you begin your web designer hiring process, you need to determine whether you need to hire a web designer or a web developer—and you need to know the difference.
A web designer will create your website's graphic presentation, including images and typography. They will also design the user experience: how the user travels through the site and encounters information along the way. Some designers also have web development skills and credentials, allowing them to design and implement your site's functionality.
More often, designers focus on your site's visual elements while developers implement functionality. For example, a developer would make sure your site employs responsive design across all platforms. They can also increase navigation speed and help prevent customers from bouncing from your site to a competitor's. To hire a web developer, follow steps similar to those outlined for web designers in the process outlined below.
1. Create a Budget for Your Website Design
Contemporary websites are more than just brand marketing tools. A well-designed commercial website can be a reliable source of pre-purchase product research and a sales driver. It needs to look good and work well. If it doesn't—if your current site is static or outdated—chances are you're leaving money on the table.
How critical is your website design? Data indicates that 38.5% of consumers judge products and brands by their websites, 38% will stop interacting with a poorly designed website, and 50% will opt for your competition if they have a negative experience on your site.
That's why it's crucial to hire a highly qualified web designer: either a freelance designer or (if your business frequently adds components to your site) a full-time web designer. Depending on the scope of your business, costs for website design projects vary greatly, but hiring a freelancer, or even an in-house designer, is likely to be less expensive than hiring a full-service agency.
2. Write a Web Designer Job Description
Once you've decided whether to hire a staff designer or freelance web professional, you'll need to create a web designer job description. Begin with a short description of your workplace that makes your business's focus and mission clear. Explain why you're a great business partner or employer and why this project presents a fun and creative challenge for the right candidate.
As you list the qualities you're looking for in a designer, emphasize what makes these professionals so unique. For instance, you'll likely want to hire a web designer who has a unique combination of technical know-how, visual flare, and customer focus.
3. Assess Designers' Resumes and Digital Portfolios
Once you start getting responses to your job listing, you'll need to gauge applicants' resumes for qualities that make a good web designer such as:
A bachelor's degree in graphic design, digital design, or web development or relevant work experience
A demonstrated sense of visual design fundamentals, including image composition, typography, and informational hierarchy
An understanding of user experience and information architecture
Experience using coding languages, such as HTML or JavaScript
Familiarity with cascading style sheets, content management systems, and leading industry software
Understanding of search engine optimization and mobile optimization
Once you've narrowed down the resumes, you're almost ready to hire a web designer. The next step is assessing designers' digital portfolios, which will include work they've done for other employers or clients. The top candidates' portfolios will demonstrate web design best practices, such as clean design, intuitive navigation, and actionable calls to action.
4. Ask the Right Interview Questions
The best web designers tend to have a unique skill sets. They're visually gifted and technically innovative problem solvers. They're creative, but also deadline-driven and highly organized. The questions below will help you select a candidate with this rare combination of skills:
What kind of information do you look for from your clients before you begin a project?
What are the differences between desktop and mobile design?
How do you manage the expectations and opinions of multiple stakeholders on a project team?
How would you assess your time management skills, and what do you do when deadlines approach and some elements of a project are still unresolved?
Describe a web design project you worked on that you're proud of.
As you assess each candidate, consider the essential qualities they'll need to successfully work with your team and complete the project, such as clear communication, flexibility, and technical knowledge. You may also want to ask if you can talk to some of their past clients and colleagues.
5. Draw Up a Project Brief and a Contract
If you're planning to hire a web designer on a freelance basis, you should provide your top candidates with a project brief outlining your design needs and goals, timeline, and budget. In turn, they will supply you with a design proposal. Select your final applicant based on how well their proposal reflects your company's goals, brand ethos, and target users' needs. Then you'll need to draw up a design services contract for the designer of your choice.
If you're making a staff hire, it still makes sense to draft a project brief, but your newly hired web designer can help you with this task, and all the tasks that follow, from sketching out wireframes for each stage of functionality to the launch of your newly redesigned web site.
You Know How to Hire a Web Designer. Now Spread the Word and Find the Right Fit
Now that you know how to hire a web designer, get the word out with a free job post from Monster. You'll reach qualified candidates quickly.