How to Hire a Graphic Designer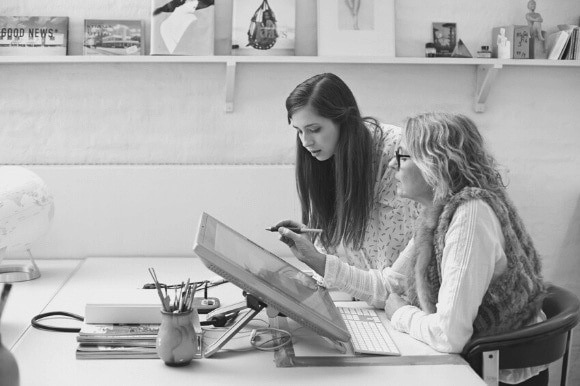 From brick-and-mortar retail to digital storefronts, we all know good design when we see it. Every element, from the color palette to the logo, works in harmony to appeal to us and draw us in. But being able to spot a good design is very different from being able to create one. For that, you'll need to learn how to hire a graphic designer.
When you're looking for a graphic designer, you need someone with the skills to meet your business needs and the vision to catch your customer's eye and appeal to their sense of style.
A talented graphic designer can create a logo, signage, and menu board to ensure that your business concept is clear and that you appeal to your intended customer base. They can do the same for your website and online menu, leveraging visual aesthetics to broaden your product's appeal.
What Can a Graphic Designer Do for My Business?
Whether you manage a startup or an established business with a stale look you're hoping to modernize, a graphic designer can help you refine the message that you hope the designed elements of your product or business will convey to potential customers.
A skilled graphic designer uses visual elements to:
Express your brand's values
Convey your product's personality (Fun and casual? Polished and sleek?)
Support marketing initiatives
Enhance the customer experience
Help your company stand apart from the competition
Some graphic designers have additional skills in the visual arts, such as photography, but you can't assume they do. They're more likely to have the visual skills to oversee how photography or illustration can be used within your design approach.
What Should I Consider Before I Hire a Graphic Designer?
The way you approach the challenge of how to hire a graphic designer will be guided by whether you want to hire a staff designer or a freelancer. Hiring a full-time designer builds efficiency, as hiring a specialist for each of your business's design needs when they arise can be time-consuming. In addition, a staff designer will become familiar with your brand, helping to guarantee a consistent aesthetic.
If you hire a freelance designer on a per-project basis, you'll only need to pay design costs when needed and you can select a designer with specialized expertise for each job as it comes up.
How Do I Write a Job Description for a Graphic Designer?
Once you decide whether you are hiring a staff designer or a freelancer, you'll need to write a job description. If you're looking for digital design, it's common to work with graphic designers remotely. If you're looking for a designer who understands your town or city, it makes sense to look for a local designer who knows locally based vendors.
Your job description should have the following elements (in this order):
Intro Paragraph: Explain why the role will be exciting and what makes your workplace fun, professional, or flush with opportunity.
Job Responsibilities: Provide a list of day-to-day responsibilities in order of importance.
Hours and Benefits: Is it full-time or part-time? Permanent or contract? If you offer remote work or other benefits, mention them here. You'll also want to mention salary or fee.
Skills, Qualifications, and Experience: List the skills you're looking for, from publication design to logo creation and any educational or other requirements.
Call to Action: End by urging candidates to apply.
If you're hiring locally, it can be helpful to look for designs used by other local businesses or nonprofits that you like, and then ask who created it for them. If they worked with a freelance designer, ask for a referral.
If you're looking for a freelancer, before you consider how to hire a graphic designer, you'll need to create a project brief outlining what element you need to be designed, a timeline, a budget, your target audience, and your goal.
How to Hire a Graphic Designer: Assessing Online Portfolios
Even before you start bringing in candidates for interviews, you should view their portfolios, which are likely to tell you at least as much about their aesthetics and capabilities as their resumes. Look to see if they contain samples that parallel your design needs. If you need a logo, for example, you'll want to check if the designer's portfolio includes logos they've designed.
Decide whether their style matches your own. If you have a traditional, more conservative brand or clientele, you should probably steer clear of any designer whose portfolio contains only edgy, youth-focused designs. Be sure to look at several items in each portfolio, as some designers are adaptable and can cover a wide range of styles.
What Interview Questions Should I Ask a Graphic Designer?
Once you've narrowed down your applicants to those you may want to work with, don't feel like you need to be a design expert to ask the right interview questions. The best designers will ask you questions about your customers, your product, and your vision of what you want the design to accomplish for you.
Design candidates will bring a physical portfolio or a laptop to show you designs. Start by asking them to show you their favorite work. Ask why they're proud of that piece. How did they create it? How effective was it with its intended audience?
Ask about their approach to collaboration, for example:
What kinds of information and direction do they look for from clients?
What types of clients do they typically work for—retail, digital, local, corporate, service providers, nonprofits?
Do they have a roster of photographers, illustrators, and web developers with whom they regularly work?
The final step of mastering how to hire a graphic designer is to ask for a list of past clients and check out those clients' designs. For a staff position, this will likely be your final step before making an offer.
If you're hiring a freelancer, you'll send your creative brief to a select group of applicants and ask for a project proposal from each. Their proposals should include details about the design work you want to be completed as well as costs and a detailed timeline. The proposal that best meets your budget and lives up to your vision will determine who you hire. All that's left is drawing up the contract and getting to work.
Now that You Know How to Hire a Graphic Designer, Post Your Job
Whether you're hiring a staff designer or a freelancer to help you design the best visual elements possible to attract customers and clients, you'll want to reach a broad range of applicants. Get the word out to the most talented candidates with a free job listing on Monster.