Telemarketer Interview Questions to Ask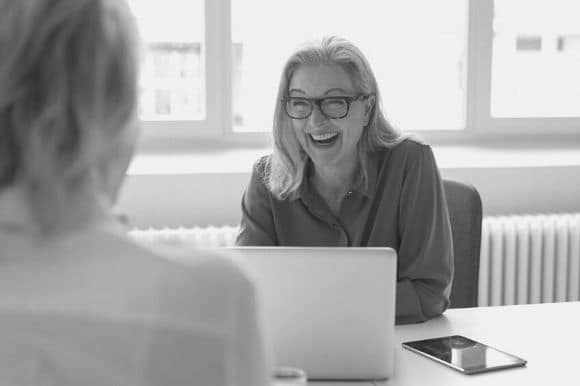 Studies show that having quality talent on a customer service team motivates 87% of customers to change their buying behaviors in the company's favor. This can increase a company's long-term revenue and build its brand. Since the quality of your customer service and outreach can have a sizeable effect on how customers do business with you, it's important to hire the right fit for your telemarketing position.
The right telemarketer interview questions will help you uncover which candidates have the skills, education, and experience necessary to succeed in your open role. To recognize the best candidates, here's what to ask.
Telemarketer Interview Questions About Experience
Telemarketers are often the first contact that customers have with your business. They are also responsible for cold calling, describing your products and services, and increasing sales.
Whether you're looking for an entry-level telemarketer or one who has years of experience, the first step is to write a detailed telemarketer job description. Once you get quality candidates in the door, these questions will help you determine which candidate will add the most value to your team:
How did you get started in telemarketing?
How has your prior employment — telemarketing or otherwise — prepared you for this role?
What is your sales experience?
Have you had any customer service experience?
What is your experience using common telemarketing tools and technology?
What is your experience using uncommon telemarketing tools and technology?
What experience do you have reviewing customer calls and evaluating quality?
What are three key telemarketing best practices?
What were your main responsibilities in past roles?
Which responsibilities would you like to explore more?
How did you measure success? (Number of sales, abandonment rates, customer satisfaction ratings, etc.)
What do you enjoy most about telemarketing?
Interview Questions About Skill
After learning about the candidate's experience, ask about their skills. Are they good listeners who can multitask and build rapport with customers? Can they be refused repeatedly and remain cordial? Can they multitask, such as speaking naturally about your products and services while helping customers take the next steps?
These telemarketer interview questions will help you cover all the bases:
Which are the five top skills that you think make a great telemarketer?
Which telemarketer skills do you excel at?
Which skills would you like to develop?
How comfortable are you using scripts with little direction?
How would you describe your customer service skills?
Why is it important to have good communication skills?
How comfortable are you teaching customers about new products and services?
How would you market our products and services to someone who isn't familiar with our brand?
How do you keep customer information confidential?
What does your customer follow-up process entail?
How would you describe your time management skills?
What do you know about our industry and how it works?
Behavioral Interview Questions
Now that you've discovered whether the candidate can handle the technical aspects of the job, you want to ensure that your candidates understand how to ensure customers have a great experience — no matter what scenario unfolds.
This is where behavioral interview questions come in. These are the telemarketer interview questions that ask candidates to describe how they acted in similar situations. This will give you insight into how the candidate would react to situations that commonly arise in telemarketing and whether they will fit into your company culture.
These behavioral interview questions will get you started. Adjust them according to your team's needs:
Tell me about a time you made a mistake on a job. What happened and how did you address it?
What has been the biggest challenge you faced with a customer? How did you overcome it?
What's a time you disagreed with a manager or colleague? How did you resolve the disagreement?
Has there ever been a time you had to complete a task you weren't trained for? What did you do?
Has a customer ever asked you a question you didn't know the answer to? What did you say?
How have you responded to customers that became agitated or impatient?
Have you had customers say they no longer wanted your services or to be contacted? What steps did you take?
General Interview Questions
You may want to know whether a candidate will be a good cultural fit for your team. These questions are more general but will provide insight into the candidate's work habits and general preferences:
What sort of work environment are you accustomed to working in?
What type of procedures and policies were you responsible for following?
What do you know about this company and our services?
What makes you a great fit for this position?
What type of schedule are you looking to work?
Would you be available to work extra hours if needed?
Hire a Top-Notch Telemarketer
The right telemarketer interview questions will help you find customer service professionals whom you can depend on to be a strong team player and increase sales. Find qualified candidates with a free job posting at Monster.