Chef Interview Questions to Ask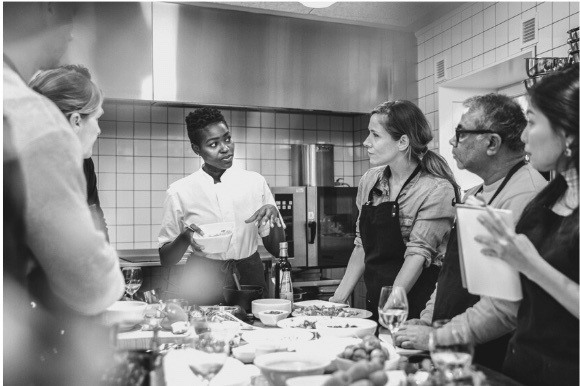 Hiring a head or executive chef requires restaurant owners and managers to consider more than culinary talent. That's because the executive chef is part of the leadership team, which makes the role equal parts technical cooking skills, creativity, and business management.
Once you understand how to hire a head chef and what to look for based on your restaurant's specific requirements, you'll need to create a list of chef interview questions that ensure you find the right candidate.
A thorough interview will allow you to fill in the blanks that you could miss even with a strong resume and an in-person cooking test. Whether you're hiring an executive or head chef, the following interview questions will help guide you through the candidate screening process.
General Icebreaker Chef Interview Questions
The first part of the interview should focus on setting the tone for the conversation. Ask open-ended questions that encourage the candidate to share freely about themselves and their experience. Avoid overly-personal questions or those that may inadvertently violate fair hiring laws. Also, steer clear of "flat" questions that the candidate can answer with a simple "yes" or "no." Some general chef interview questions to jumpstart the conversation include:
When did you decide to become a chef?
What is your signature dish? What do people love about it
What is your favorite or least favorite dish to prepare? Why?
How do you describe your overall cooking philosophy?
Name the three kitchen tools you can't do without?
Why are you considering a new position?
What made you apply for this head chef position?
Describe your management style.
Name two of your strengths and two of your weaknesses as a chef?
What chefs do you follow on social media (or admire their work and career in general)? Explain why.
Chef Interview Questions to Assess Background and Skill Level
Restaurant owners routinely use evaluation tools like cooking demonstrations, tastings, and mystery basket challenges to get a first-hand account of a chef's skills in the kitchen. Well-crafted interview questions allow you to dig deeper and uncover the inspiration and thought process behind how the potential executive chef executed the demo portion of the interview. Such questions may include:
Tell me about any formal training you've received.
Do you have any relevant industry certifications?
Where did you receive the most hands-on training?
Have you ever been responsible for creating or updating menus? Describe your approach.
What menu concepts do you have experience executing?
Do you have experience creating seasonal or region-specific menus?
How do you approach modifying dishes for dietary restrictions?
Have you ever had to include wine and spirits pairing to a menu?
How do you control the quality and consistency of dishes to ensure customer satisfaction?
What is the biggest staff you've managed?
Do you have experience managing diverse, multilingual employees?
Scenario-Based Chef Interview Questions That Show Problem-Solving Skills
Between managing staff, liaising with vendors, and ensuring customer satisfaction, an effective head chef must know how to stand the heat in more ways than one. Fast-paced, demanding environments like restaurants require a head chef who demonstrates strong leadership and problem-solving skills. The ability to multi-task, remain organized, and pay attention to detail also tops the list of qualities for a successful executive chef.
The following scenario-based chef interview questions will help you get a true picture of how the candidate manages typical back-of-the-house and front-of-the-house restaurant challenges:
What steps do you take when a staff member is underperforming?
How do you manage conflicting schedule requests from employees?
Describe an instance where you had to manage a conflict between the kitchen staff and the wait staff? How did you resolve the matter?
How do you make sure you don't order too much or too little of a food item for the week?
What is your process for replacing a long-time vendor that no longer meets the restaurant's needs?
How do you work with the wait staff during peak business hours to keep customers happy?
Describe two or three team-building techniques you use to keep employees engaged during stressful situations?
When was the last time you had to fire an employee? How did you manage the process?
Questions that Uncover the Chef's, Business Savvy
Profit margins for full-service restaurants generally range between 3 and 5 percent. For many restaurants, the executive chef is responsible for managing two of a restaurant's biggest expenses: staff and cost of food and beverages. In addition to controlling costs, a great head chef understands how to create a well-thought-out menu that easily doubles as a marketing tool to attract new diners. That's why learning about a candidate's business expertise in both operations and marketing is an important step in hiring an executive chef who will help your restaurant grow.
Questions that uncover a candidate's business knowledge include:
How do you incorporate food costs into your menu development process?
Do you have a process for comparing food and beverage costs to make sure you're maximizing the budget?
What strategies do you implement to control labor costs without endangering production or quality?
Describe how you address food waste to decrease overhead.
Do you have experience optimizing menus for premium pricing opportunities or upsells?
What food and beverage trends do you follow?
How do you incorporate food and beverage trends in your menus to help with marketing efforts?
Put Your New Interview Knowledge and Skills to Work
Whether you operate a startup restaurant or an established eatery, much of your business's success depends on solid leadership and proven culinary expertise from your head chef. The right chef interview questions are valuable tools for finding the right head chef for your restaurant. Move one step closer to putting those tools to work by posting your job for free on Monster.