Architect Interview Questions to Ask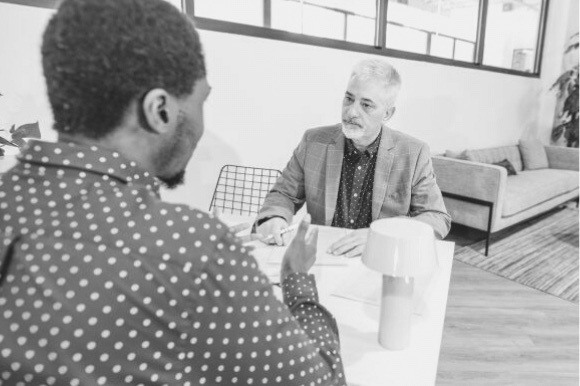 If you're looking for someone to build a sandcastle, you can settle. If you're hiring an architect for a building people will live and work in, good isn't good enough. Whether you are hiring for your firm or a personal project, you'll save money, time, and unnecessary aggravation if you find a great architect.
A good architect has the technical skills to design beautiful and structurally sound buildings. A great architect has the soft skills to collaborate with clients, stick to timelines and budgets, and build strong relationships with coworkers and contractors.
The key to finding a great architect is to ask insightful interview questions to understand a candidate's previous work experience, skills, and professional values. So, how do you find someone who can confidently take you from blueprint to building? Here are some key architect interview questions you can ask, and insight into what their answers may reveal.
Learn About an Architect's Work Experience
You've got the candidate's resume and cover letter, but there is only so much you can tell from two pieces of paper. Get more in-depth information by asking about their previous roles and responsibilities and their credentials.
Ask the architect interview questions about their background, such as:
Please walk me through your resume. What were your main responsibilities and the skills you gained?

Keep in mind that an architect who hasn't tackled every responsibility in your job description can still be a great fit for the role. A candidate may have the necessary transferable skills from similar tasks and projects.

Do you specialize in residential, commercial, or industrial projects? Have you done them all?

If you are hiring someone for your personal project, it may be easier to find someone who has worked on a similar project. If you are hiring an employee to work at your firm, consider if you have the resources to teach them. With the right resources and a good manager, a driven architect could quickly outshine someone with years of experience.

Do you have the necessary certifications and licenses to work in this state? What certifications, licenses, and accreditations do you hold?

You likely listed the non-negotiables on the job description, but it's so important that you'll want to double-check during the interview.
Evaluate the Architect's Hard Skills
Certain technical skills, or hard skills, will be necessary depending on your needs. At a baseline, architects will need to prepare blueprints and make sure all state and local building codes are followed. An architect also may be required to pitch new business, manage the client relationship, determine the project cost and timeline, and oversee engineers and construction workers.
Ask the prospective architect interview questions related to the skills and techniques they'll need to get the job done, for example:
What computer-aided design (CAD) software have you used in the past? Do you have experience with 3D modeling?

It would be great if a candidate knew the specific software your firm uses and could dazzle clients with their 3D modeling skills on their first day. However, a smart architect can quickly learn new skills and software with some training.

What is your typical involvement in the construction process? Do you oversee the construction process on-site and manage the budget and timeline?

The ideal answer to this question depends on what you need. Do you just need someone to draw the blueprint or are you looking for someone who can manage the entire construction process? See if they'd be willing to bridge the gaps.

Please tell me about three of your favorite projects from your portfolio. What was your strategy?

Look for a candidate who can clearly describe their projects and strategy. An architect will need to be able to explain their design to clients and coworkers and why they made certain architectural decisions.
Ask the Architect Interview Questions That Showcase Their Soft Skills
An architect needs certain interpersonal skills, or soft skills, to be successful. An all-star architect is a strong communicator, a fast problem-solver, and can work independently and with a team. It is also essential that they are detail-oriented, responsible, and trustworthy because a small mistake could cause a big problem.
A candidate could say they've got all those soft skills and more, but do they? Reveal a candidate's soft skills by asking behavioral interview questions that prompt the candidate to reflect on past roles and projects and consider how they'd handle situations they may face in this one.
Here are a few architect interview questions that show a candidate's soft skills in action:
Please tell me about a time you worked with a difficult client. How did you handle it?

You want to hire someone who is calm, professional, and doesn't make a habit of burning bridges. A good answer would be something along the lines of, "I worked with a client on a home renovation, and they wanted to make a change that I knew could cause problems. I worked with them to create a similar floorplan that would be structurally sound."

What would past clients say are your strengths and weaknesses?

Look for someone who has the strengths you value most and who shares an actual weakness (not that they are a perfectionist) and how they are working to improve it. For example, maybe they're taking classes to learn new tools and techniques, or they hired an assistant when they realized they couldn't spend as much time on-site visits as they could before their business was booming.

What steps would you take if you thought you were going to go over budget?

Ideally, the first step would be bringing it up with their manager or the client right away. Next, they might suggest ways to make the project less expensive, like using different materials or making updates instead of a total gut renovation.
Find an Architect Who Measures Up
You know the most revealing architect interview questions to ask and you're ready to find someone who has all the answers. Get there faster by posting a job on Monster for free to reach a large pool of qualified candidates.